This Valentine's Day, we're celebrating finding love with hearing loss. Whether your valentine is a first date, your long-time love, or a cherished friend or family member, you can use these tips and tricks to make this holiday special. And if you need some inspiration, enjoy the stories of Cochlear recipients finding love with hearing loss.
Hearing loss can impair communication with others and can cause increased feelings of isolation and loneliness. With a hearing device from Cochlear, you can enhance the quality of communication with your loved ones and find new ways to connect this Valentine's Day. To help, we've provided some tips and tricks for finding love with hearing loss and shared the heartwarming stories of Cochlear recipients who have found their life partners.
Top Tips for Finding Love with Hearing Loss this Valentine's Day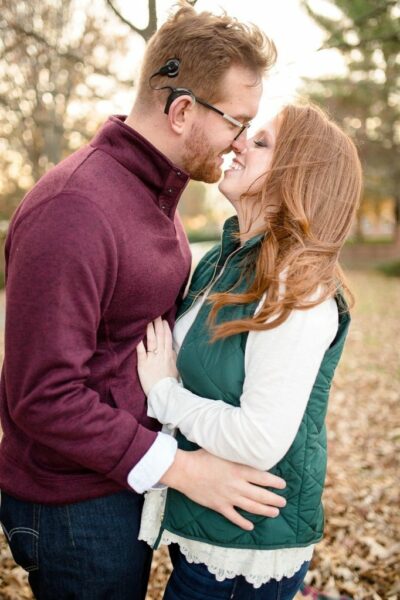 If you're ready to celebrate love with a special someone this Valentine's Day, these tips can help you cut through the noise and connect.
Plan your date night carefully to make the most of your special evening. How do you decide between going out to a nice Valentine's Day dinner or cooking a gourmet meal together at home? In addition to considering your wallet and your tastebuds, you should also plan Valentine's Day festivities with your hearing device in mind. For recipients who are still adjusting to strategies for hearing in noise, a quiet dinner at home may be the easiest way to turn up the volume on your romance. If you're opting for a night out instead, you might choose a smaller, more intimate restaurant to limit background noise or call ahead to ask for a corner booth.
Practice your listening skills with hearing rehabilitation. Listening is a skill, and like many skills, you may be able to improve your hearing with consistent practice. It's a great time to brush up on your listening skills now, so when the big night comes you can give your valentine your undivided attention. We offer some great resources for hearing therapy, like the CochlearTM CoPilot1mobile app with interactive listening activities or the auditory training exercises on our website, which are designed to be completed with a practice partner. Aural rehabilitation can help you improve your listening skills in challenging hearing environments, too – before you plunge yourself into a crowded restaurant or a dark movie theater, develop your hearing skills in advance so you won't miss a beat on Valentine's Day.
Use Cochlear's True WirelessTM technology to connect directly. While your sound processor may already provide you with outstanding hearing, Cochlear's True Wireless devices can help you take your hearing to the next level. The Wireless Mini Microphone 2+ can be clipped to your date's clothing so you can stream the sound of their voice directly to your sound processor, or placed on a table so you can clearly hear the ebbs and flows of conversation in a group. The Wireless Phone Clip and Wireless TV Streamer can help you engage in conversations and activities with your partner in real time.
Opting for a special activity like a concert, an exercise class or an evening swim? We can help with that, too. A creative and thoughtful date is a great way to make Valentine's Day special. If you're looking to dance the night away this Valentine's Day, research shows that focused attention and listening practice can improve a cochlear implant patient's appreciation of music.2 Get started now with Bring Back the Beat, an interactive mobile app designed to help you reconnect with the magic of music. Interested in taking your partner on an active date like a bike ride, rock climbing, or skiing? Don't forget that Cochlear offers a wide variety of options to help you keep your device in place, including headbands, safety lines, hair clips and more. If you'd rather opt for a date at your local beach, pool or hot tub, it's always a good idea to bring along your Aqua+ Kit3 and other water-safe accessories to protect your sound processor and give you the peace of mind to swim, soak, and splash around with your valentine.
Inspiring Stories from Recipients Who Have Found (or Celebrated) Love with Hearing Loss
Are you looking for a little extra inspiration to put yourself out there with a new love interest or celebrate life with your spouse this Valentine's Day? These encouraging stories from Cochlear recipients who found love with hearing loss may motivate you to get out of your comfort zone and make this Valentine's Day one to remember.
Ready to make the most of your love life this Valentine's Day? Visit the Rehabilitation Resources section on our website to find more resources to hear your best.