Getting started with your new device can be daunting at times. Our Cochlear™ Recipient Solutions Managers (RSMs) are eager to meet with you to increase confidence with device use, pairing accessories, hearing therapy and more. You can even enjoy this meeting from the comfort of your own home! Read on to meet part of our expert team from the Central region and how to get started with the program.

Laura Chesky, M.S. Speech and Hearing, Teacher of the Deaf and optimist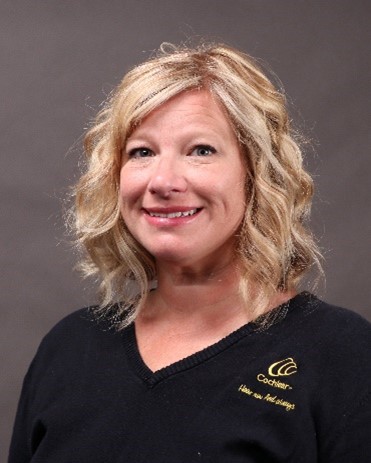 Recipient Solutions Manager – Central
Prior to joining Cochlear Americas in 2021, Laura was a Teacher for the Deaf in a public school system in Plainfield, IL. She served as an independent provider in Illinois' Early Intervention system as a Developmental Therapist and credentialed evaluator. While there, Laura served as a consultant for Hearing and Vision Early Intervention Outreach in the state of IL. She earned her B.S. in Communication Disorders and Sciences at Eastern Illinois University and a Master's in Speech and Hearing Sciences at Washington University-Central Institute for the Deaf in St. Louis, MO.
"Hearing from recipients about how implantable solutions have changed their lives socially and emotionally is the best part of my job. I love the interactions and sense of community in group sessions and leaving recipients and their families feeling educated and empowered."
Hear from Laura:
Most of my life was spent living in Illinois, however, I spent most of my 20's living in other parts of the country including North Carolina, Missouri and Arizona. One day, I hope to move back to North Carolina!
I have taught students of various ages and abilities the self-advocacy skills necessary to achieve life goals. In my current position, I help empower recipients to access resources, apply knowledge from sessions and provide hearing therapy suggestions. This increases confidence levels and ensures they are pleased with their decision to get implanted. Teaching was a perfect segue to my current position!
When I'm not supporting recipients, I enjoy watching my own teenagers succeed in sports, jobs, volunteer work and clubs. I especially enjoy coaching their sports teams or serving as a leader for their activities – these are "cup-fillers" for me! Lastly, Europe is my happy place – I'm happiest when I'm anywhere in Europe with loved ones.
My life motto is: Laughter is the best medicine and everyone should do more of it!
Kayse Urbina, Bilateral recipient and movie-buff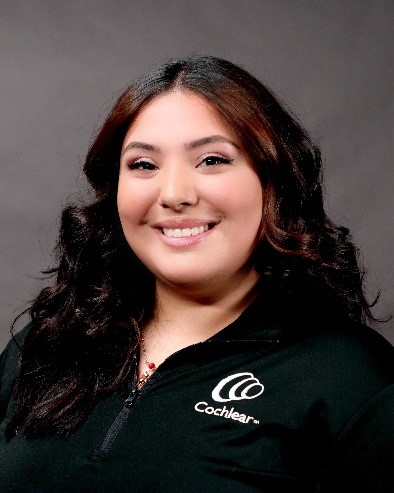 Recipient Solutions Manager, Bilingual, Texas/Oklahoma
Kayse joined Cochlear in 2021 as the Recipient Solutions Manager for Texas and Oklahoma. Prior to this role, Kayse worked as an audiology assistant at the University of Miami Ear Institute and completed her Audiology Assistant certification in Nova Southeastern University. Kayse is a bilateral recipient.
Hear from Kayse:
Before joining Cochlear, I worked in an audiology clinic, where I had the privilege of supporting recipients and their families. I provided device counseling and offered insights, words of encouragement and a smile.
As a recipient myself, implanted as a teenager, and after witnessing my younger brother's cochlear implantation at the age of two, I became aware of the challenges our Spanish-speaking parents faced with device knowledge. We were always grateful for the support we received from our audiology clinic – it was tailored in Spanish in order for my parents to understand how to best support us at home or at school.
As an RSM, I now have the chance to pursue my passion, which is helping others. I find immense fulfillment in supporting bilingual families who are grappling with their hearing journey or that of their loved ones. It's a privilege to be able to bridge the gap and make their journey a little less overwhelming.
For fun, I enjoy watching the latest Marvel and DC Universe movies on the big screen while eating buttery popcorn in a reclining chair. The excitement of these cinematic universes never fails to captivate me! Additionally, I often find myself yearning for new adventures, driven by wanderlust. If I were to choose one favorite beautiful travel destination, it would undoubtedly be returning home to visit my family in Miami, Florida. Following that, embarking on a journey to what I consider the most enchanting place on earth, Disney World, adds an extra layer of joy to my travels.
However, what truly fills my cup is the cherished time spent at home with my significant other and my two beloved dogs Loki and Odin. While I am home, I like to bake different kinds of desserts and create a mess in my kitchen while exploring different recipes.
Colin Lyle, globetrotter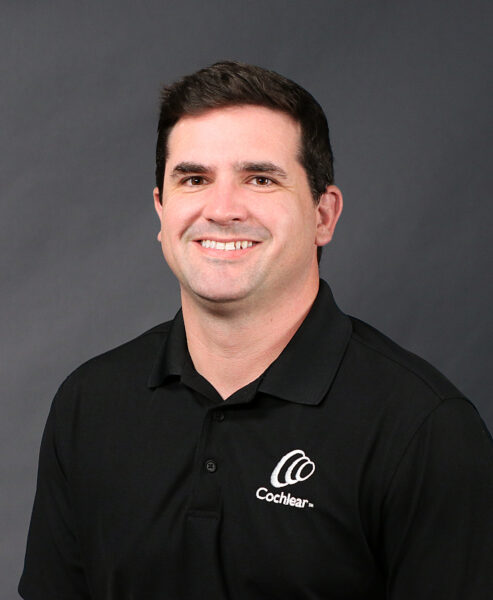 Recipient Solutions Manager III – Mid-central and Canada
Colin is the Recipient Solutions Manager for the Mid-central and Canada regions at Cochlear. Prior to joining Cochlear in 2019, Colin worked as a Deaf & Hard of Hearing Guide for Texas Hands and Voices, and as an operational manager in the oil and gas industry. Colin received his bachelor's degree from the University of Colorado, Boulder.
"I love the moment of recognition that occurs for new recipients toward the end of appointments – when they realize they are on the right track and have the tools to take charge of their hearing journey with lots to look forward to."
Hear from Colin:
For over 20 years I have actively sought out, engaged with and learned from the hearing loss community as we work toward increased confidence and satisfaction along our hearing journeys. I have had these opportunities as a Deaf and Hard of Hearing Guide for Texas Hands and Voices, as a volunteer for Listen Foundation, LoDo Sertoma, and Colorado Neurological Institute, as well as everyday interactions with people curious about cochlear implants. I feel strongly connected to and motivated by the hearing loss community.
I have the daily opportunity to connect with people who are just getting started with their cochlear implant and may be feeling a bit unsure. The highlight is when I start to wrap up a session with recipients where I can see and hear their increased confidence and excitement about their Cochlear technology and all that will be possible with it.
I enjoy playing tennis, seeing live music and seemingly endless sessions of fetch with my dog. I also enjoy traveling and exploring giant cities on foot – Rome, Mexico City and New York have all been highlights.
The Cochlear Recipient Solutions Program is for educational purposes only. Visit support.cochlear.com for all immediate troubleshooting needs!
When booking an appointment, you will see a variety of dates and times to choose from. It will only take you a few minutes. Before signing up, talk to your audiologist about using the Recipient Solutions Program.
If you are from the Eastern region, meet our RSMs from the East here.