Meet Greg White, bilateral cochlear implant recipient and head of the Cochlear™ Recipient Solutions Managers (RSM) Program. We asked Greg about the impact of the RSM Program and how to get started.
What is the Cochlear Recipient Solutions Managers Program and how do recipients benefit?
The Cochlear the Recipient Solutions Managers Program provides a virtual learning experience for hearing implant recipients looking to increase confidence with new devices and to achieve hearing goals. Recipient Solutions Managers provide a range of focused sessions, allowing recipients to join other recipients who are also learning. One-on-one education is available if extra help is needed.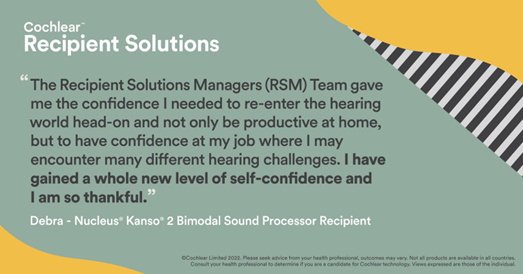 What topics do the Cochlear Recipient Solutions Managers cover?
Patients who attend these educational sessions learn how to use and care for equipment, real-world hearing therapy tips, how to pair accessories, how to use smart apps and how to utilize the many resources available at Cochlear. Sessions are available in both English and Spanish.
Who can join?
Recipients of any age and with any Cochlear hearing implant are encouraged to join! I encourage those who are newly implanted to take advantage of this program right away, but those who are newly upgraded or have been implanted for a while can also join. Even if you don't consider yourself 'tech-savvy', we want to meet with you and we will ensure you have all the steps and tools needed to join a virtual appointment. You can enjoy it from the comfort of your home!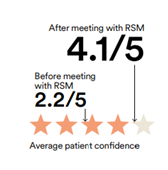 Should this team be contacted for troubleshooting?
The Cochlear Recipient Solutions Managers Program is for educational purposes only. Head to support.cochlear.com for all troubleshooting needs!
How do I sign up?
When booking an appointment, you will see a variety of dates and times to choose from! It will only take you a few minutes. Then, you'll be ready to roll! Before signing up, talk to your audiologist about using the Recipient Solutions Managers Program. Then, you can learn how to book here to get started.
If you are a new recipient, book now!