The Cochlear™ Recipient Solutions Program provides a virtual learning experience for hearing implant recipients looking to increase confidence with new devices and to achieve hearing goals.
Debra, a recipient who recently met with a Recipient Solutions Manager (RSM), said, "My RSM gave me the confidence I needed to re-enter the hearing world head-on and not only be productive at home with my family and friends, but to have confidence at my job where I may encounter many different hearing challenges. I have gained a whole new level of self-confidence and I am so thankful."
Read on to meet part of our expert team from the East region and how to get started with the program.
Melissa Horning, Au.D.,CCC-A
Recipient Solutions Manager – Atlantic and proud mother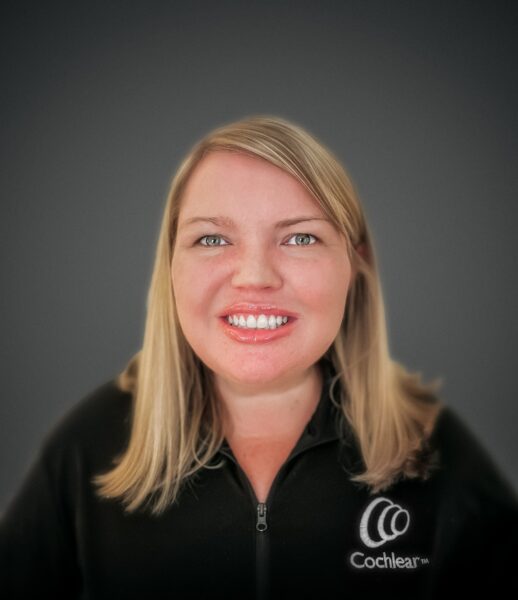 Melissa is a Recipient Solutions Manager for Cochlear Americas in the Atlantic region. Prior to joining Cochlear in 2021, Melissa worked as a pediatric and adult cochlear implant Audiologist at a large multi-center ENT practice. Melissa earned her Bachelor of Arts Degrees in both Communications and Biomedical Humanities from Hiram College in Hiram, Ohio in 2009 and earned her Doctorate of Audiology from Syracuse University in 2012. She holds licensure with the North Carolina Board of Examiners for Speech and Language Pathologists and Audiologists. Charlotte, North Carolina is home for Melissa and her family.
"Helping our recipients hear and be heard never gets old. Whether it is a recipient realizing their cuckoo clock actually cuckoos to hearing their family through direct streaming on their phones, I enjoy being part of the education process that leads up to these moments."
Hear from Melissa:
Prior to joining Cochlear, I served as an Audiologist evaluating, activating and programming cochlear implants for both children and adults. Whether helping a child learn to hear for the first time or reintroducing the sounds of life to an adult, my enthusiasm to continue to enrich the speech and language of the recipients that I work with daily has not wavered. Although I occasionally miss the "YouTube moments" of being a part of initial activation, I find it just as rewarding when I am able to help recipients increase confidence with their device use. I've been able to still experience some of these moments, but the setting just looks a little different.
A highlight of working at Cochlear is the recipients and families I am able to meet. The option for virtual appointments has allowed me to connect with recipients from just about anywhere! I have met with recipients who have been on deployments overseas, or even with families while they were traveling in their campers or who have recently landed at port from boating excursions. Whether connecting with a recipient who is in my own backyard to oceans apart, I find joy knowing that I was able to be a part of their hearing journey. Our recipients teach me so much and I also grateful to share my knowledge with them, and hopefully educate and encourage along the way.
Outside of work, most of my time is spent with my growing family. Our young daughter and baby on the way keep me busy. As a family we enjoy getting outside as much as possible, exploring our state, and finding excuses to stop for ice cream along the way. In the last year I have become a 'Dance Mom', as my daughter has entered the world of competitive dance. Nothing makes me more proud then seeing her enthusiasm, confidence and passions grow.
Although the Carolinas have been home to us for the past nine years, I was born and raised in Cleveland, Ohio and am a Mid-westerner at heart. I still cheer for all Cleveland sports teams and of course THE Ohio State Buckeyes. Perogies makes my list of favorite foods. In true mid-western fashion I will say "Hi" if you pass me in the grocery store.
Ronald Hidalgo, M.A.
Recipient Solutions Manager, Bilingual – Southeast and sneaker-head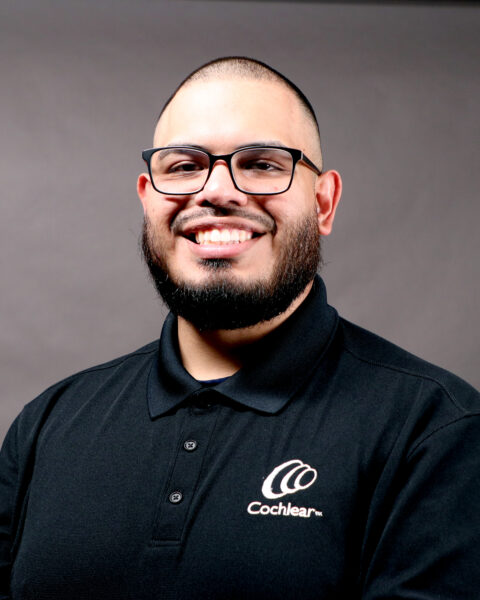 Ronald is the Bilingual Recipient Solutions Manager (RSM) for the Southeast region. Ronald supports and provides resources for newly activated recipients and their families as they embark on their Cochlear journey. He earned his Master's degree in Communication Research at West Virginia University.
Hear from Ronald:
My research background introduced me to health campaigning, utilizing theory and data to encourage healthy practices specific to a community. My wife is an audiologist and works with cochlear implant patients. We met prior to the start of our respected graduate programs. At the time I was unaware the late night Audiology study sessions would benefit me down the road. Another driving factor that shapes me as an RSM is my niece. Implanted at the age of three (now 18!), she grew up in a tremendously rural part of West Virginia. The specific care she required was not readily available, or accessible, throughout her childhood. This is the reason I believe the virtual component of the RSM role is critical. Geographical location should not restrict a recipient's access to information and support.
There are several experiences that come to mind, whether it was helping a patient reconnect with their loved one, attending an initial activation of a recipient or spending time with my colleagues. There is something special about being a part of a team that naturally works cohesively. All RSMs are aligned with the goal to offer quality, accessible support to our recipients, because they deserve it. Best way to put it, iron sharpens iron. I am proud to be an RSM.
Outside of work, a lot of my attention and energy goes towards my 15-month-old son. He is showing more of his personality which has been incredibly fun to witness. A nice thing about where I live is the proximity to Disney World as annual passholders! A favorite activity of ours is to walk around Epcot during one of the many festivals throughout the year. The festivals often produce some of the tastiest cultural foods. Lastly, a well-known fact about me amongst my colleagues is I am a 'sneaker head'. I take pride in expressing my personality, mood, social connections, through the sneakers I choose to own and wear on my feet.
Lea Hoff, M.S., CCC-SLP
Recipient Solutions Manager II – Northeast and outdoor enthusiast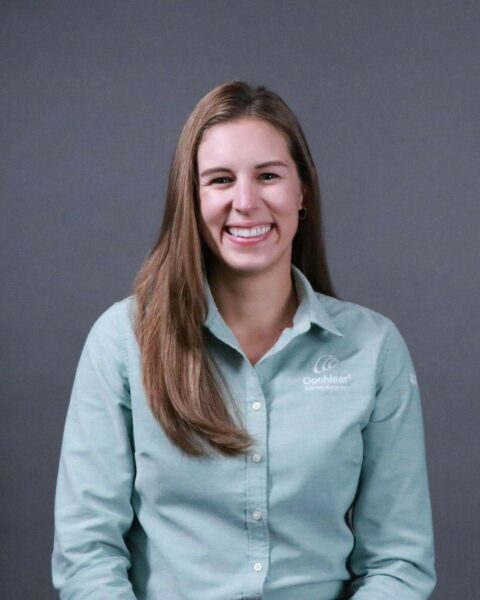 Lea Hoff is the Recipient Solutions Manager for the Northeast Region. Prior to joining Cochlear in 2021, Lea worked as a pediatric Speech-Language Pathologist at the Summit Speech School in New Providence, NJ. Lea earned her Bachelor's Degree in Communication Disorders and Deaf Studies from The College of New Jersey and her Master's Degree in Speech-Language Pathology from Fontbonne University in St. Louis, MO.
"I have the unique opportunity to meet with people during a time that's life changing – getting a Cochlear device. When I first meet new recipients, they may feel nervous or overwhelmed by the equipment in their backpack or by the Cochlear journey itself. Over the course of just a few sessions, I get to watch those same people transform into confident recipients – it's incredible! I love being a part of the Cochlear journey."
Hear from Lea:
I have always felt a calling toward education. Prior to joining Cochlear, I spent several years working as a Speech-Language Pathologist for preschool-age children with hearing loss in New Jersey. During that time, I learned how to teach individuals with different learning styles, which has served me well in supporting recipients of all ages. It's always been important to me that recipients feel ownership over their Cochlear experience. My sessions can provide them with the knowledge and tools to feel empowered and proud to be a Cochlear recipient.
I typically meet with new recipients just before their activation appointments. The Cochlear experience is exciting, but also can be a little overwhelming! I love helping individuals prepare for their activation appointment so they know exactly what to expect and how to manipulate their equipment. After that Getting Started session, I often hear comments like this one, "Wow – I am so glad I met with you. I feel so much more prepared and way less nervous than before!" When armed with knowledge and resources, recipients are excited for their activation, well-prepared for the journey ahead, and already looking forward to their next session with me to learn more about rehabilitation and accessories! The education I provide during my sessions supports individuals in unlocking their own potential when it comes to confidence and self-advocacy skills. It is a privilege to be a part of each recipient's Cochlear journey!
Outside of work, I love to read and spend as much time outside as possible, either walking around my neighborhood or doing yoga. I especially enjoy cooking and discovering new vegetarian recipes that both me and my carnivore husband can enjoy! In the evenings, we love to play card games and watch old television programs, like Soap, I Love Lucy, and the Andy Griffith Show!
Stephanie Noeller, Au.D., CCC-A
Recipient Solutions Manager – Great Lakes and horseback rider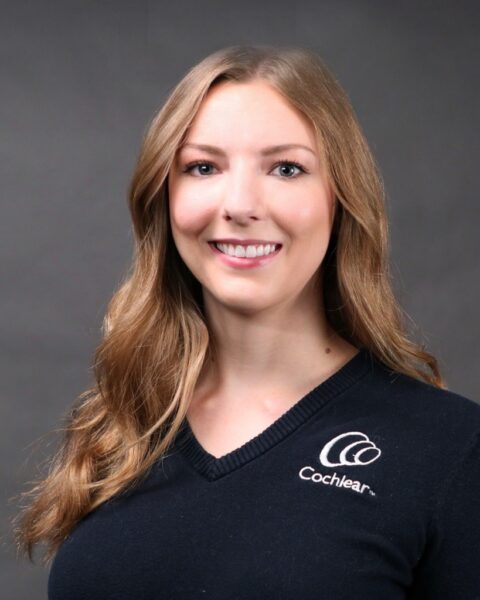 Stephanie is a Recipient Solutions Manager for the Great Lakes region, which includes Ohio, Michigan and Indiana. Stephanie graduated with her bachelor's degree from the College of Wooster and went on to earn a Doctor of Audiology degree from the Northeast Ohio Au.D. Consortium after completing a 4th year externship at the Cleveland Clinic. Stephanie joined Cochlear in June 2022 and has a special passion for providing increased access to care for older adults who receive implantable devices, as she also earned a graduate certificate in Gerontology from the University of Akron. Stephanie resides in northeast Ohio and continues to look forward to providing exceptional onboarding and educational services to recipients of Cochlear devices across the Great Lakes.
Hear from Stephanie:
My background as an AuD provided the privilege of observing people with hearing loss in all stages of their journey to better hearing. I had the opportunity to care for patients with hearing loss from their initial hearing test, hearing aid trial, cochlear implant evaluation, activation and subsequent programming appointments. With this experience comes the understanding of the process of cochlear implantation, as well as all the emotions and real-world barriers that come with it. I have been able to build relationships with recipients to help them gain increased confidence with their devices by reassuring them that they are not alone along their hearing journey. By providing hearing expectations and milestones for hearing goals, recipients feel more confident in achieving their goals over time. It is normal to feel overwhelmed by the equipment in the Cochlear backpack and the time it takes to achieve better hearing with a cochlear implant. When we can break down the equipment, devices, and hearing goals together, recipients have a sense of confidence and encouragement for success with their device.
My highlight of working at Cochlear as an RSM has been hearing the positive life changes that recipients and family members achieved with their devices. Many have reported hearing birds again, engaging in conversations, talking on the phone with loved ones, etc. These stories warm my heart and give me something to look forward to continuing in this role. It is validating to hear that cochlear implants have changed many people's lives in a positive way.
Outside of work, I enjoy spending as much time as I can outside on restaurant patios and have a newfound interest for working out! I enjoy spending time with friends and family and having been thinking about getting back into horseback riding, as I used to compete in college. I have enjoyed traveling frequently this year, but my favorite place to visit thus far has been New Orleans, Louisiana. I enjoyed all the culture and food New Orleans had to offer.
The Cochlear Recipient Solutions Program is for educational purposes only. Head to support.cochlear.com for all troubleshooting needs. When booking an appointment, you will see a variety of dates and times to choose from! It will only take you a few minutes. Before signing up, talk to your audiologist about using the Recipient Solutions Program.