We're halfway through 2023, and it's a great time to consider how to make the most of your insurance benefits before the end of the year. One option is to upgrade your Cochlear sound processor.
As you look to maximize your 2023 insurance benefits, Cochlear is here to help you navigate the process. If you're ready to place your sound processor order, you can go to the online Cochlear Store or call Customer Service at 1-800-523-5798. If you would like to speak with an upgrade expert for help in the process or to learn about the benefits of new technology, you can book a virtual appointment here.
Cochlear can work with your insurance provider and clinician on your behalf.  This includes collecting the necessary documentation to determine coverage and billing your insurance directly – even if Cochlear is not in-network with your insurance provider. Cochlear can also bill your insurance directly for covered parts and accessories, such as cables, coils, and rechargeable batteries if we are contracted with your provider.1234
Upgrade today to maximize your 2023 insurance benefits
It is important to keep in mind that benefit qualification by your insurance company is dependent on when your order is shipped from Cochlear, not when the order is placed. Insurance companies require replacement order claim submissions to have a ship date within the calendar year of 2023. Please note that the last day Cochlear will be shipping orders is December 29, 2023. Since the average processing time for a replacement sound processor order is approximately 6-8 weeks, we recommend that you plan ahead and place your replacement sound processor order no later than October 31, 2023, if you plan to use your benefits in 2023.5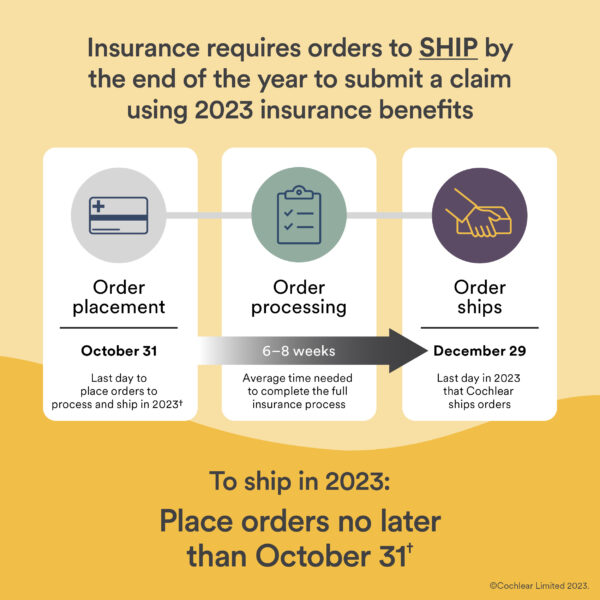 Hear from an expert
We spoke with Jessica Martin, a Customer Relationship Specialist (CRS), here at Cochlear. Jessica is an expert at helping recipients understand the benefits of upgrading to new technology and guiding them through the process. "How deductibles work and why it's important to use your insurance benefits before year-end are common questions I get," Jessica says.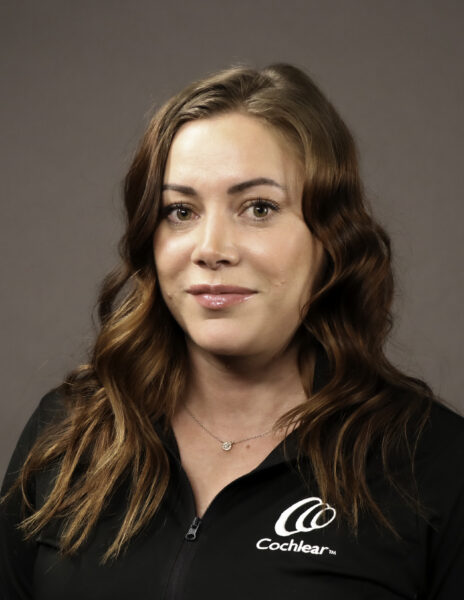 Maximizing your deductible
Your deductible is the specified amount of money that you must pay out-of-pocket before your insurance will pay toward your services. Depending on your plan, once deductible is met, your insurance will pay for a higher percentage of your covered services. This typically means lower costs to you.
"Many recipients don't realize that upgrades are often covered in full or in part by insurance if their healthcare provider deems it to be medically necessary," Jessica says. "It's exciting to tell a recipient when the upgrade ends up being more affordable than expected."
In most cases, insurance will also cover medically necessary parts and accessories. This can include cables, coils, and rechargeable batteries. "It's worth checking if insurance will cover the cost of necessary parts or upgrades. A lot of people just assume insurance won't cover anything. Cochlear's Reimbursement and Insurance Services team are experts in the insurance process. You may be surprised!"
To Jessica, "Recipients save time and energy by having Cochlear work with insurance on their behalf. A claim isn't as simple as calling to be authorized or denied. The process can be frustrating and confusing. There is a fair amount of documentation, reviewing, and communication back and forth with the insurer. Reimbursement and Insurance Services is a great resource. Cochlear can help by taking on some of the heavy lifting."
Jessica notes the benefit of receiving an upgraded sound processor by the end of the year. "It's so close to multiple holidays.  It's special to hear about recipients hearing their relatives better at celebrations. Some get to open their sound processors as holiday gifts."
Want to learn more about our latest technology?
As part of our lifetime commitment to you, Cochlear is constantly innovating to improve comfort and performance. Our latest sound processors are designed to help you hear your best. Learn more about our next-generation Cochlear™ Nucleus® Sound Processor and Baha® Sound Processor technology.
To connect with a specialized upgrade expert, like Jessica, to better understand the upgrade process or the benefits of new technology, book a virtual appointment.
 Contact us to make the most out of your 2023 insurance benefits and get started with your sound processor upgrade order today.