Caring for a loved one with hearing loss can be a challenging experience, but it can also be a joyful one. Whether you're caring for your partner, your parent, a relative or a close friend, you can play an important and impactful role in helping your loved one hear and be heard. For caregivers of recipients with Cochlear hearing devices, especially those who are newly activated and getting used to their hearing device, these tips can help you and your loved one be successful in the hearing journey.
Helping to care for an adult loved one with hearing loss can require patience, determination and grace. You might be attending audiology appointments or navigating insurance questions. Maybe you're helping your family member bridge communication gaps. You might be looking forward to the day when your loved one will receive their cochlear implant or hearing device. And when that amazing day arrives, these tips can help you support your loved one as they get to know their device, practice their listening, and learn to thrive with their hearing device.
Get to know the basics of your loved one's hearing device.
While it's great for the recipient to have the primary responsibility for understanding and operating their hearing device, it can be helpful for you to also understand the basics.
– To understand how your loved ones' hearing device works, including how to pair it with compatible devices and how to use accessories, visit our device basics webpage.
– You can find videos on the Cochlear YouTube1 channel about each processor, including what's inside each sound processor kit and how to use different tools and accessories. There are video playlists that explain the features of many different Cochlear sound processors, including the Cochlear™ Nucleus® 8 Sound Processor, the Kanso® 2 Sound Processor, the Baha® 6 Max Sound Processor, and more.
– As the caregiver of someone with a hearing device, one of the most impactful items you can learn to use is the Cochlear Wireless Mini Microphone 2+. This wireless accessory can stream your voice directly to their sound processor. This can help them engage in group conversations and hear your voice more clearly in noisy environments.
Simple strategies can make communication easier with hearing loss.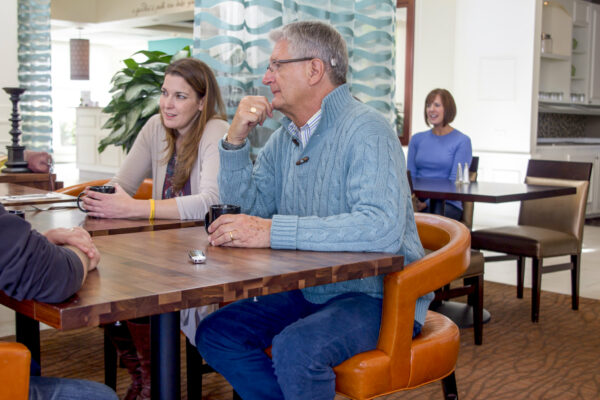 When someone you care for has hearing loss, remembering some easy tips and tricks can make communicating much easier. Imagine you're trying to talk with someone at a loud and crowded concert, or you're attempting to speak with someone who is listening to music with headphones on. The same strategies you'd use in those scenarios can be helpful for communicating with your loved one with hearing loss.
– Get their attention before you begin speaking. Once they know you're trying to talk with them, they can engage their active listening skills.
– The closer you are, the easier it will be for them to hear you. Even if they're making great progress with their hearing device, it may still be challenging to hear you from the other room.
– Seeing your face can make all the difference. For someone with hearing loss, visual cues in your expression and lipreading can help fill in gaps in a conversation. When possible, make sure you're speaking in a well-lit environment and your face is clearly visible.
– Let them know when you're changing the topic of the conversation. For example, starting with "I'd like to talk to you about our dinner plans" can help them make the transition to a new topic and apply context clues.
– Minimize background noise. While it's not always possible to eliminate background noise, doing your best to reduce it can help a lot, especially for new hearing device recipients. Mute the television, go for a walk on a secluded trail instead of near a busy highway, or sit outside at the restaurant. You can also use Cochlear features and accessories to help your loved one minimize disruptions due to background noise, including the Mini Microphone 2+ and the ForwardFocus2 feature. ForwardFocus must be enabled by your loved one's clinician and is then controlled within the Nucleus Smart App3.
Take on the role of listening practice partner.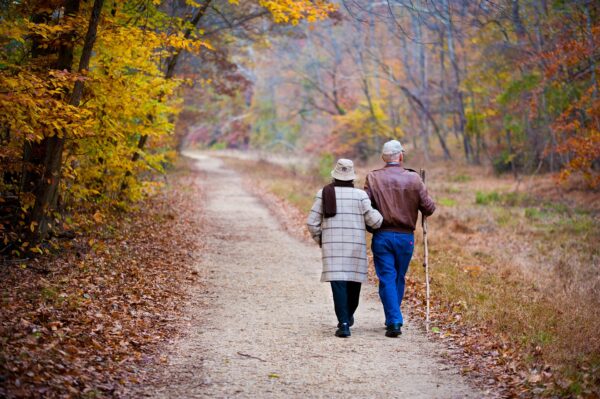 This can be one of the most rewarding components of caring for an adult loved one with hearing loss. When your parent, spouse, relative or friend receives their hearing device, things might not sound quite the same for them as before they lost their hearing. Through at-home practice activities and hearing therapy, your loved one may be able to improve their hearing outcomes and help their brain adjust to a new way of hearing.
– Develop a routine. The best way to make progress with hearing therapy is to set a time each day and stick to it. Find a time when your loved one is feeling fresh, relaxed, and motivated to practice their listening. Maybe they're most alert in the morning after their first cup of coffee, or perhaps they prefer to practice over the lunch hour or just before dinner. Find what works best for your family member and build hearing activities into your routine. Audiologists recommend practicing your listening for at least 30 minutes per day, five days a week.
– The more they wear their sound processor, the better. One of the most important things your loved one can do to get the most from their hearing device is to wear it all day, every day. Many audiologists advocate for the "eyes open, ears on" approach – wearing your sound processor from the time you wake up in the morning until the time you go to bed. Your family member or friend should be wearing their hearing device for 10+ hours a day. If they're feeling fatigued or overwhelmed, it can be helpful to take short breaks, and you can help remind them to turn their sound processors back on after a few minutes and spend time listening and talking throughout the day.
– Practice the activities in the Adult Hearing Rehabilitation Manual. A robust workbook of different activities and practice sessions, the Hearing Rehabilitation Manual is in the backpack each recipient brings home from their activation appointment. It can be found here in English, Spanish and French. This manual gives you an opportunity to play a pivotal role in your loved one's hearing journey and help them hear their best.
– Use the Cochlear CoPilot mobile app. Your loved one can use their iPhone®, iPad®, or another Apple® device4 to access additional hearing activities through Cochlear CoPilot5. This interactive mobile app includes games, activities, and real-world tips and tricks to improve listening skills. Your loved one can complete many of the exercises on their own, but some exercises may be enhanced when you do them together. For example, you can help your loved one record and learn to identify environmental sounds in their home, like a phone ringing or the doorbell, through the My Sounds Skill Builder.
– Get introduced to rehabilitation resources with the Cochlear Recipient Solutions Team. This team provides a virtual learning experience for recipients of Cochlear hearing devices and their loved ones, including a virtual group session on rehabilitation. The rehabilitation resources session offers a variety of different tips, tricks, tools, and strategies for practicing your hearing. When your loved one registers to attend, they can share the link with caregivers, family and friends, so that you can learn about hearing practice exercises alongside them. You can register here.
– Find the hearing practice opportunities your loved one enjoys the most. Cochlear provides a variety of hearing rehabilitation resources, but the truth is, you and your family member can practice listening with whatever you both enjoy doing. Do they love reading the newspaper? Try reading it out loud while they follow along. If they like reading books, try listening to an audiobook and checking their hearing with a physical copy. If they're a long-time movie buff, you can watch old favorites with closed captioning, and slowly try to focus more on hearing the words instead of reading them. The listening practice activities your loved one is most likely to stick with are the ones they enjoy!
Don't underestimate the emotional impacts of hearing loss – or caregiving.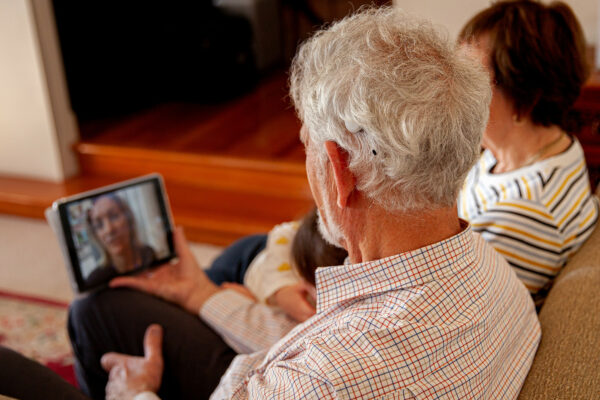 Hearing loss, especially untreated hearing loss, can be frustrating, isolating, and frightening. Your loved one might be feeling alone, anxious, or like their opportunities to communicate with the world are slipping away. Even if your loved one has received a hearing device and is making progress in their ability to communicate, these feelings may still linger.
Similarly, caring for someone with hearing loss may also be challenging on you. It's natural to feel overwhelmed at times, especially when you're juggling meeting your own needs and the needs of your loved one with the desire to learn about their hearing device and help them improve their hearing outcomes.
Whenever possible, enlist other family members and friends to be involved in your loved one's care. By sharing the responsibilities and joys of your loved ones' hearing journey, you can gain extra support and free up some of your own time for rest and self-care. You may also find that engaging in a support community can help you process your experience, whether that's joining Cochlear Family, finding an online community or social media group for hearing loss or caregiving, or asking your audiologist about local groups in your area.
Seeking support and making time for yourself will help you rest and recharge so you can continue to care for your loved one and offer encouragement in their hearing journey.6
Looking for more ways to support your loved one in their hearing journey? Our Rehabilitation Resources website provides tips, tricks, activities and exercises to help your family member hear their best.