As the parent of a child with cochlear implants, preparing to return to school after summer break is filled with the same joy and excitement other parents feel. However, there are often added emotions such as fear and worry.
Written by: Angel V.
Each year as we prepare to return to school, the feelings of fear and worry do not go away. Every year I have the same questions: has the teacher ever taught a child with cochlear implants? Will the teachers know what to do if something goes wrong with her equipment? In our situation, most often the answer is no to these questions. However, I have learned ways to help my daughter thrive in school.
The summer before my daughter, MaKayla, started kindergarten, she received her cochlear implant (she became bilateral the following summer). MaKayla is now a rising eighth grader and has been implanted for nine years. In the beginning, I had no idea what to expect when she returned to school each year. It wasn't until the summer after second grade that I began to realize I needed to put together resources to educate MaKayla's new teachers for the upcoming school year.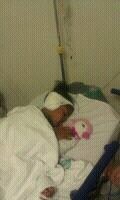 In early school years for MaKayla, it was helpful to share short stories with teachers and classmates about children with cochlear implants. Our favorite stories to share were Kaci's Hearing Adventures from Cochlear and Let's Hear It For Almigal by Wendy Kupfer. These stories were read by MaKayla's teachers to her classmates to help everyone understand what she wears on her head, the journey she went through to get her cochlear implants, and thereafter. Additionally, there were key turning points for MaKayla in school such as when she received an upgrade from the Cochlear™ Nucleus® 5 to the Nucleus 6 Sound Processor. This upgrade allowed MaKayla to be able to take full advantage of the Mini Mic 2+ in school, giving her better opportunities for listening to classroom instructions.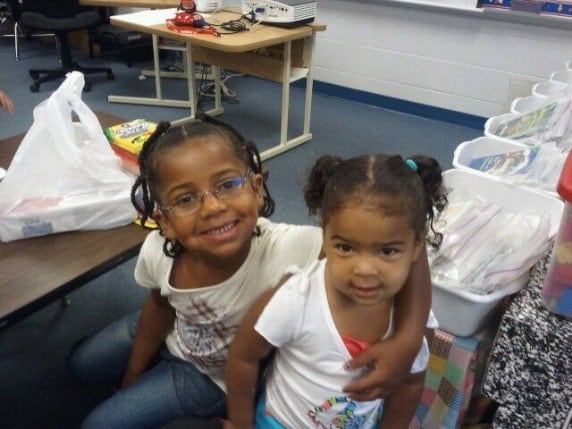 Partnering with teachers
Over the years, I've found that the most effective tool for partnering with MaKayla's teachers has been to share "MaKayla's Hearing Resume" during the "meet the teacher" event at the beginning of each school year. The idea for "MaKayla's Hearing Resume" came from a template shared by AG Bell to give parents a way to introduce their child with hearing loss to teachers each year. "MaKayla's Hearing Resume" gives a brief introduction to MaKayla's hearing loss and cochlear implants. Additionally, her resume discusses strategies and tips to help MaKayla succeed during classroom activities and lectures.
Now that MaKayla is in middle school, she has much larger classes and teachers are responsible for more children compared to when she was in elementary school. The one-page paper is helpful for the teachers to briefly read over the highlights as it relates to MaKayla. Feedback I've received from teachers regarding her resume has been positive. Many teachers say they refer back to her resume throughout the school year and it has helped them understand what MaKayla needs to be successful. MaKayla has come to love her resume and looks forward to giving it to her new teachers each year. I believe this resume could be beneficial for a young child entering kindergarten and/or teenagers entering his/her senior year in high school.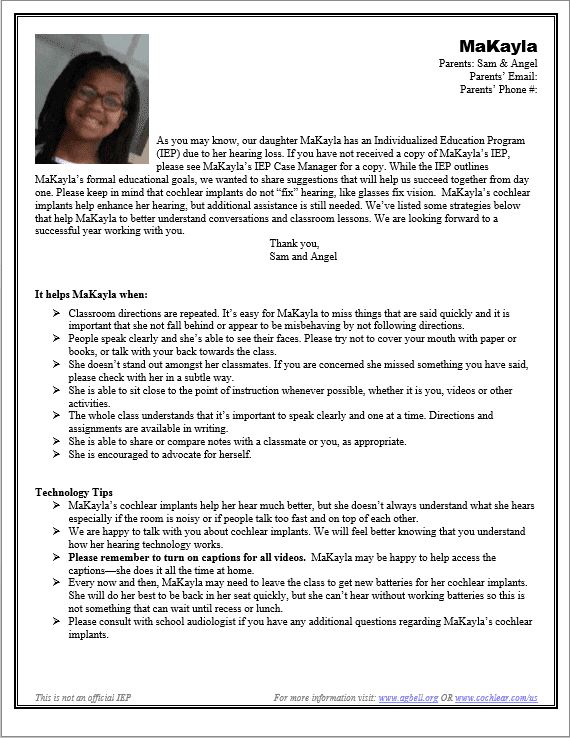 Preparing at home
Every summer, MaKayla and I work on tweaking her resume to reflect changes over the previous school year. Throughout the years, I've worked to prepare MaKayla for the school year by teaching her how to turn the captions on DVDs and YouTube videos, advocate for herself when she doesn't hear the question or what's being said, and by role playing with her so she feels comfortable enough to answer questions from peers such as  "what are those things on your head?".  Additionally, MaKayla and I have worked hands on with her Cochlear equipment so that she will know how to do basic troubleshooting if something happens to her equipment during the school day.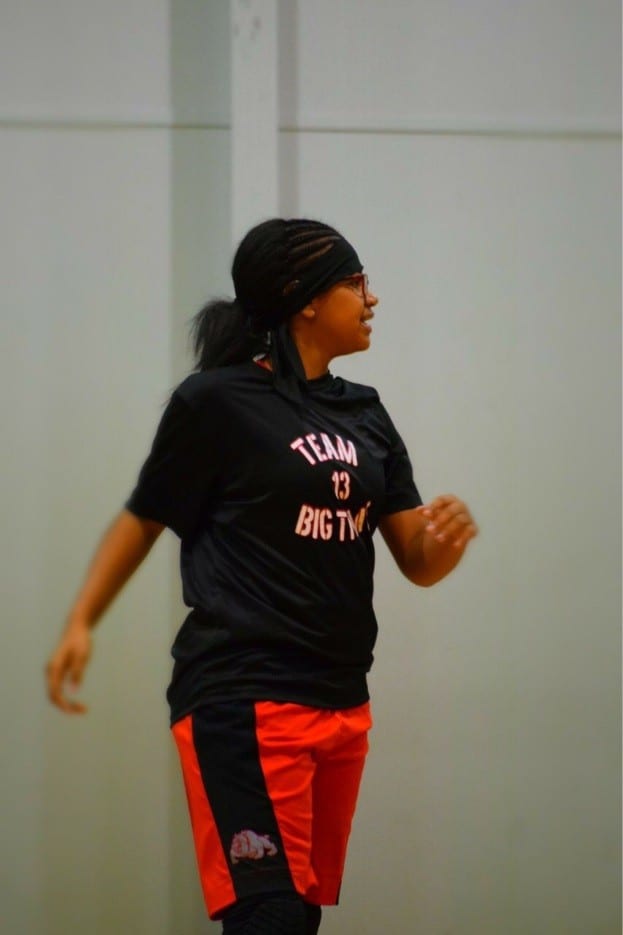 Advice from MaKayla
As we all prepare for our children with cochlear implants to return to school, MaKayla would like to emphasize how much her resume has helped her in school. She also says that "children should be encouraged to ask the teacher to repeat questions when they don't understand what's being said." Another tip that has been helpful for MaKayla is to sit in the front of the classroom. MaKayla's final words of advice are "don't be afraid to ask for help and always be yourself!"
Visit our school resource center for more helpful tips!