Meet Sam, a 2019 Graeme Clark Scholarship winner!
Name: Sam Bidwell
University: Wesleyan University
Major: Mathematics
Sound Processor: Cochlear™ Nucleus® 7, bilateral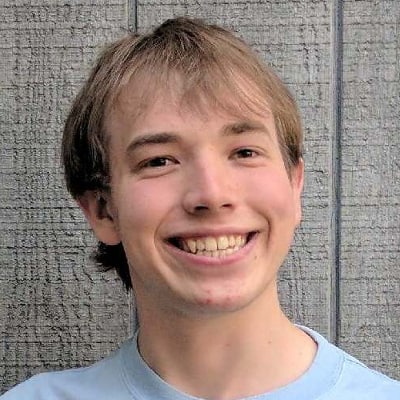 Sam's hearing journey
When Sam was 11 months old, he contracted bacterial meningitis. He underwent treatment, but afterwards he was diagnosed with profound hearing loss.
Sam was implanted on his left side when he was 14 months old, and on his right side when he was 5 years old.
"The left is still my preferred side because I grew to depend on my left side a lot in those four years," Sam said.
He said the main challenges he faced growing up with hearing loss were based on other people's perceptions of what he could and couldn't do.
"I've worked on counteracting what other people think about me, like the swim coach who said, 'No, you can't be on the swim team because you're deaf,'" Sam said. "Well, if you don't think I could be a good swimmer, by golly, I'll be a good swimmer. And if you don't think I can be a good math student, by golly, I'll be the best at math the school's ever seen."
Sam said those obstacles gave him the opportunity to disprove the negative stereotypes about deaf and hard-of-hearing individuals.
"The most powerful example was a school who said, 'We don't take your type here,'" he said.
After his family was told that, they pushed back and he was admitted into the school.
"By the end, they liked me a lot," he said. "They were sad to see me go."
He said those experiences helped give him the determination to work through adversity.
"I learned to never accept a 'no' when it's given unfairly," Sam said.
Choosing his path
Sam said he has always been interested in mathematics, so it was a straightforward choice to pursue the field further in college.
He chose Wesleyan because it had a great math program and it was a smaller college, better suited to his needs. It's also the school both his parents attended.
"My goal is to go all the way to PhD if I can," Sam said. "I'd like to become a professor so I can teach students and share my love of mathematics."
In his free time, Sam enjoys playing video games and board games, going for hikes, swimming, and spending time with friends.
Receiving the Graeme Clark Scholarship
Sam said he was excited to learn he had received the Graeme Clark Scholarship.
"It was an unexpected surprise, and it was really nice to get that news," he said.
He expressed gratitude for how his Cochlear™ Implants have helped him get where he is today.
"My Cochlear Implants have impacted my life in almost any way I can think of," Sam said. "I've never let my hearing loss define me, for good or for bad. I've always been that really smart kid who happens to be deaf, as opposed to that deaf kid who happens to be really smart."
Finding his inspiration
Sam said he's inspired by his mom's determination, especially when it comes to facing obstacles.
"She has relentlessly supported me in just about anything I've wanted to do for the past eighteen years," he said. "She cares that much about me, and if she's able to do that, so should I."
He also finds inspiration in the life of Srinivasa Ramanujan, an Indian mathematician who made several key breakthroughs in the field despite having no formal training.
"He came from the most humble conditions, with all the odds in the world stacked against him," Sam said. "If he can do such good things, why can't I?"
Advice for others
Sam's advice is to take every opportunity to network, because it helped him secure an internship and other opportunities.
"The power of networking can be very large and very powerful," he said. "Talk to people, and actually get to know them, you know? Networking is something you don't ever want to not do."
The Cochlear Graeme Clark Scholarship is a unique award open to Cochlear™ Nucleus® Implant recipients. It honors academic achievement and a demonstrated commitment to the Cochlear ideals of leadership and humanity.
Learn more about the Graeme Clark Scholarship here!
Read other scholarship winner's stories now:
Graeme Clark Scholarship Winner: Jessica Hayden
Anders Tjellström Scholarship Winner: Amber Greenburg