Meet Derek, a 2019 Graeme Clark Scholarship winner!
Name: Derek Lee
University: UCLA (University of California, Los Angeles)
Major: Master's in biostatistics
Sound Processor: Cochlear™ Nucleus® 6, unilateral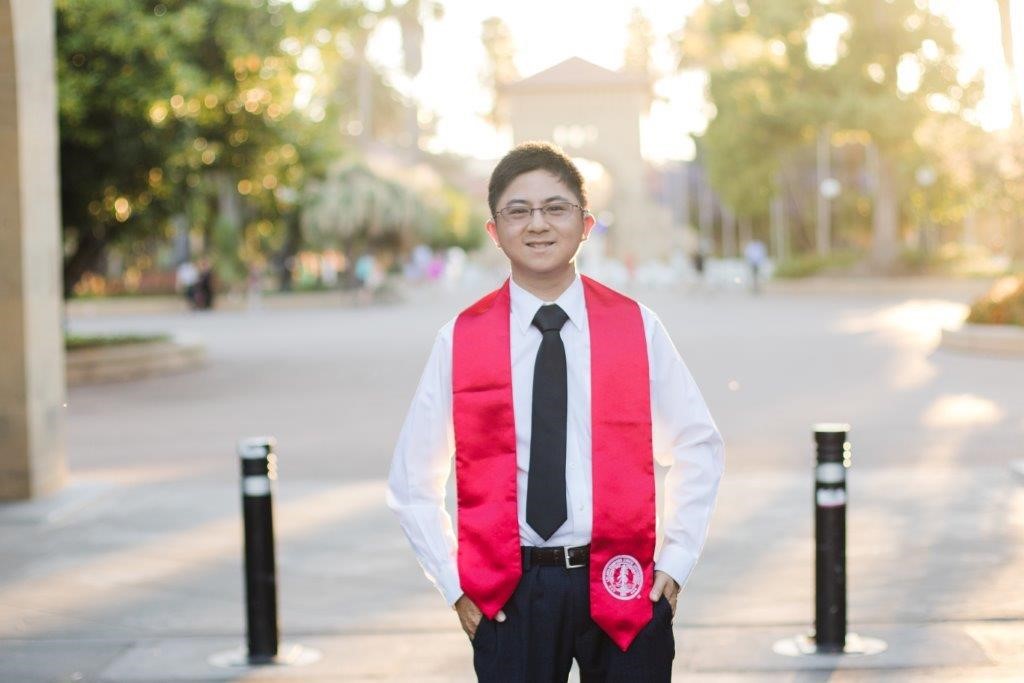 Derek's hearing journey
When Derek was 18 months old, he was diagnosed with a stage three neuroblastoma, a cancer of the nerves.
After undergoing chemotherapy, radiation, and surgery, he underwent a bone marrow transplant.
The transplant was successful against the neuroblastoma, but he lost most of his hearing as a result.
For most of his life, Derek relied on hearing aids.
"For a long time, I was afraid of getting implanted, because I grew up playing and listening to music," he said. "I didn't want to get the implant because I thought it would affect my hearing."
However, after his first year of college he decided to move forward with a cochlear implant.
"I realized I was having a lot of trouble performing well, socially and academically, at the undergraduate level," Derek said. "For me, it felt like the right thing to do, to go ahead and get implanted, and hopefully improve my hearing."
Derek received a cochlear implant on his left side in August of 2014. He said it has made a significant impact on his ability to hear in difficult situations.
"When I'm in a loud, noisy environment, I'm doing much better than I was when I had a hearing aid on my left ear," he said. "I think my cochlear implant has allowed me to be more confident and be able to speak on the phone, which is really crucial for interviews."
Choosing his path
Derek received his bachelor's degree in 2017 from Stanford University, where he studied human biology with a minor in urban studies.
Now he has begun working on a master's degree in biostatistics at UCLA.
Derek describes his area of study as "the statistics of health."
The field of biostatistics involves analyzing health data, setting up experiments, and creating models to explain patterns in science and public health.
Derek said he enjoys that line of work and he hopes to pursue a career as a data scientist or a biostatistician.
"I really enjoy being able to use data and translate that and present it to people who might not necessarily have a background in data analytics," he said.
He's especially interested in precision medicine, a field focused on designing personalized treatments for individuals.
"You basically target treatments based on the patient," he explained.
In his free time, Derek enjoys cooking, exercising, playing golf, going out to try new restaurants, and playing piano and viola.
Receiving the Graeme Clark Scholarship
Derek said his cochlear implant helps him to build meaningful connections.
"I find that I'm able to converse with people so much better," he said. "I'm truly grateful for the technology and really happy with the decision I made."
Derek said he wasn't expecting to win the Graeme Clark Scholarship, but when he did, he was "extremely happy."
"I put a lot of time in writing my essay and thinking through every single word I put in there," he said. "For me, the greatest thing is to be able to share my story."
Finding his inspiration
Derek said he is inspired by his mom.
"I look up to her a lot," he said. "She's my counselor, my supporter, she's been there all my life. I don't know what I would do without her."
Advice for others
Derek said his advice for others is to set a goal and work hard.
"There's always a cliché statement that you can do anything you can set your heart on, and I think it's cliché because it's actually true," Derek said.
He said a big part of that is moving forward with a positive attitude.
"When you set goals, and you work hard for it, eventually something's going to show for it," he said. "The end product may not be exactly matching the goal you planned for, but as long as you persevere, you keep a positive attitude, and be patient, I think you're eventually going to achieve that."
The Cochlear Graeme Clark Scholarship is a unique award open to Cochlear™ Nucleus® Implant recipients. It honors academic achievement and a demonstrated commitment to the Cochlear ideals of leadership and humanity.
Learn more about the Graeme Clark Scholarship here!
Read other scholarship winner's stories now:
Graeme Clark Scholarship Winner: Jessica Hayden
Anders Tjellström Scholarship Winner: Amber Greenburg
Graeme Clark Scholarship Winner: Sam Bidwell
Anders Tjellström Scholarship Winner: Katie Soudek
Graeme Clark Scholarship Winner: Rachel Knobel
Anders Tjellström Scholarship Winner: Laura Smith