Cochlear is proud to announce the eight winners of the 17th annual Graeme Clark and 8th annual Anders Tjellström scholarships. Named after hearing implant industry pioneers, the scholarships recognize Cochlear™ Nucleus® Implant and Baha® System recipients who not only demonstrate exemplary success in their academic pursuits, but also leadership and humanity in their local communities.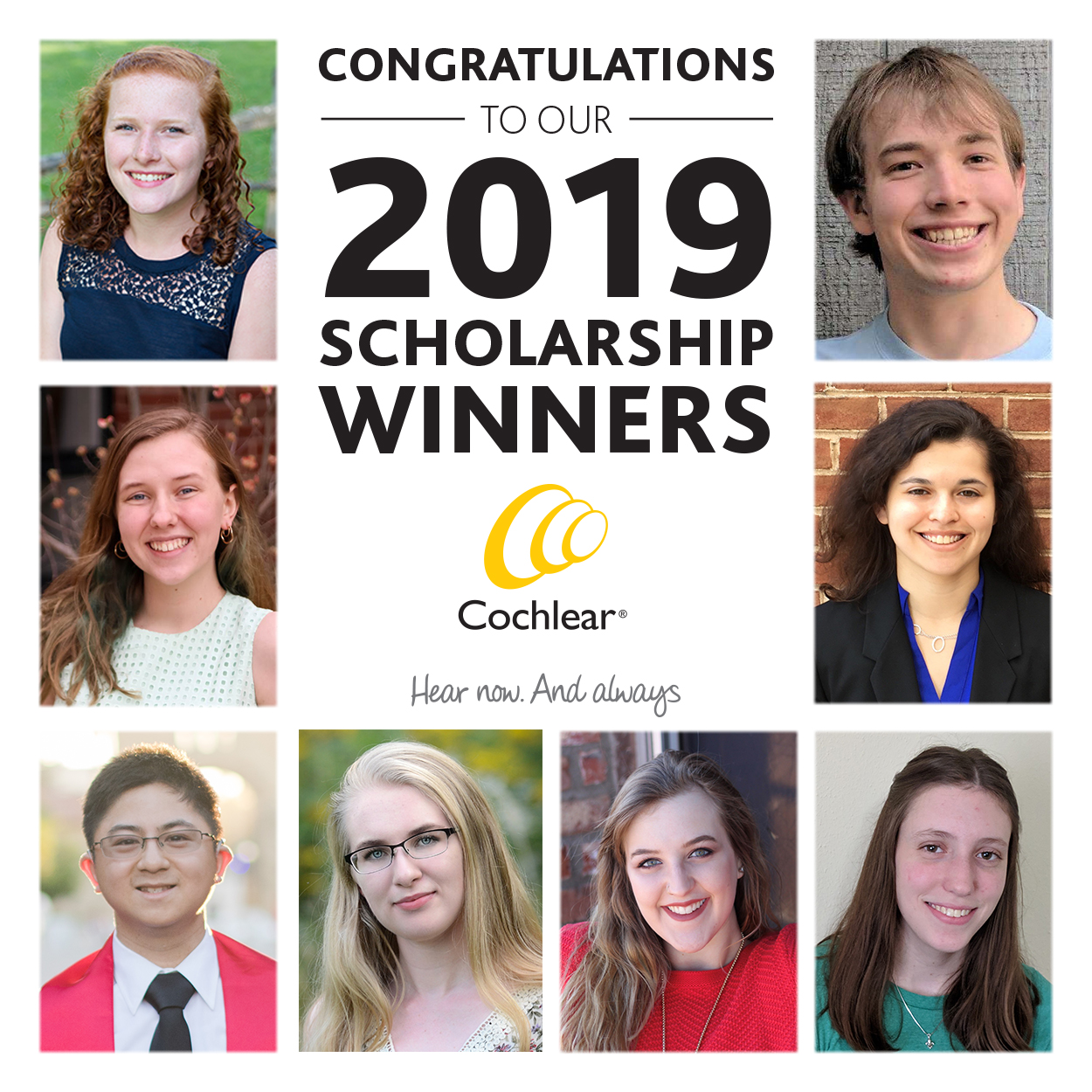 Five students were awarded the 2019 Graeme Clark scholarship, awarded to Nucleus recipients:
Sam Bidwell, Wesleyan University
"My cochlear implants have impacted my life in almost any way I can think of," Sam said. "I've never let my hearing loss define me, for good or for bad. I've always been that really smart kid who happens to be deaf, as opposed to that deaf kid who happens to be really smart."
Alexandra Bushby, McMaster University
"I wouldn't be where I am today without my cochlear implants," Alexandra said. "I just can't even imagine my life without them. I wouldn't be able to communicate with other people, my family, my friends. I don't think I would have gone on this far in academics if I didn't get cochlear implants, and it's made me really appreciate research."
Jessica Hayden, University of Maine
"When I found out I had received the Cochlear scholarship, I cried," Jessica said. "I didn't expect to win, but it was really an honor. I never thought that I would be recognized by Cochlear, because of all that they've done for me already, giving me the ability to hear and giving me a future. It was an experience I never could have imagined would happen."
Rachel Knobel, University of Delaware
"This year everything has been lining up, and this was the cherry on top," Rachel said. "Sitting here now, I know what I want to do with my career, with my life, and receiving the scholarship is incredible. I was very fortunate to receive cochlear implants when I was young, and now I want to take advantage of that and not let anything hold me back."
Derek Lee, University of California, Los Angeles
"For me, the greatest thing is to share my story," Derek said. "I'm grateful for Cochlear and their financial support, I'm humbled to have received the scholarship, and I'm excited to have other people understand where I come from and my unique story. I'm someone who was very skeptical of getting an implant, took a leap of faith, got it, and saw tremendous joy happen in my life."
Three students were awarded the 2019 Anders Tjellström scholarship, awarded to Baha recipients:
Amber Greenburg, Union University
"My Baha Sound Processor has improved my hearing and allowed me to appreciate the sounds around me," Amber said. "Knowing that I had worked so hard on the application and on getting good grades in high school and college, to know that it paid off in getting the scholarship, it was a good feeling."
Katie Soudek, Baylor University
"Without my Baha Sound Processor I never would have experienced sound the same way," Katie said. "It's the small things, like being able to hear in class and not struggle all the time, or being able to hear my friends whispering to me. I'm just incredibly thankful for the help, especially coming from Cochlear because they changed my life in so many ways and now they're just adding that to the list."
Laura Smith, Texas A&M University
"Because of my Baha Sound Processor I feel more immersed in conversations," Laura said. "It's just really convenient to not have to ask people to repeat themselves and to look people in the face when I'm talking to them instead of turning my head. Overall, it's helped me be more social."
Each of the students will receive $2,000 per year for up to four years at an accredited college or university, for a total of $8,000 per student.
The Graeme Clark Scholarship is named after Professor Graeme Clark from the University of Melbourne. The pioneering work of his university department led to the first research implant "bionic ear" being "switched on" in 1978 and the first Nucleus Implant in 1982.
The Anders Tjellström Scholarship is named after Anders Tjellström, a research physician at the Sahlgrenska University Hospital in Sweden. He collaborated with Professor Per-Ingvar Brånemark to treat the first patient with a Baha System in 1972.
Congratulations to these eight remarkable individuals! Watch for each of their stories over the next few months!
To learn more about the annual scholarship program, find out if you qualify, and even apply online, visit the Cochlear Scholarship Info Page!