With Valentine's Day on the way, it's a great time to reach out to your loved ones and celebrate those relationships. But did you know that they also play a vital role in your hearing success? Here are five ways family can support with hearing therapy– and why it's important.
Support from family and friends goes a long way – and it might mean something different for each person! When we talk about support, the first thing many people think of is the emotional support one might need after experiencing a major life change like getting a cochlear implant.
For hearing implant recipients, support may also include helping you develop confidence to deal with social situations, practice your listening skills, or with challenging family dynamics.
We asked adults with cochlear implants to share their experiences. Here are five ways your family can support with hearing therapy.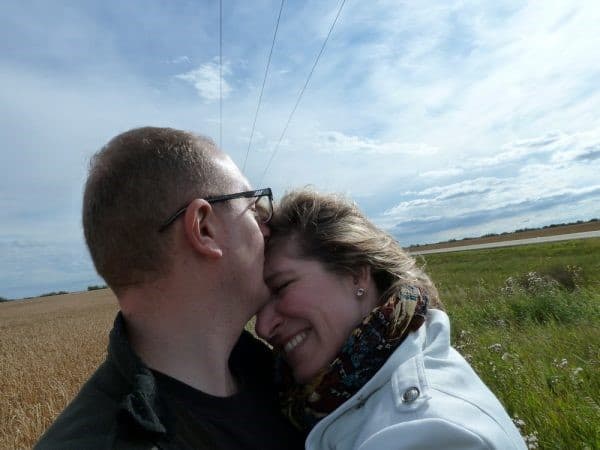 1. Supportive loved ones can help you understand you're not alone
Andreas and Caroline are a Canadian couple who have been together for 31 years. They are a tight team and believe spending a lot of time together has been key for Caroline's progress since she received her cochlear implant in 2018.
Andreas says that while a cochlear implant is a big change for the person in the relationship with hearing loss, life also changes for everyone else around them in their life, especially after activation.
"The emotional payload of restored access to hearing is immense, unexpected, and powerful," says Andreas. "What we were learning was just how fundamental hearing and listening is to the human experience. It connects us in ways we simply didn't appreciate. Now, we do."
Andreas also spends a lot of time with Caroline, helping her with her hearing therapy: "As the hearing spouse, you can act as a 'sound catalog' as they learn to listen to the sounds in your everyday life. Eventually, confirmation turns to confidence. Success breeds success."
2. They can encourage active hearing therapy
David is a cochlear implant recipient who lives in Australia with his wife Jodie and their four children. Life with a cochlear implant was not only an adjustment for David, but also for Jodie and their young family, and Jodie was by his side from the start. "It was about being patient, encouraging him to persevere," says Jodie. "You've got to stick with it and not expect to be able to hear overnight. You have to train your brain."
"Jodie's support was particularly crucial in those early days," says David. "It was a team effort; we both wanted the cochlear implant to be a success."
Tom, a cochlear implant recipient from the US, agrees and says a lot of recipients don't realize they need to take the time to practice their hearing – and that hearing therapy pays off.
Tom says his wife has played a pivotal role in his hearing therapy. For simpler listening exercises, she would read out Tom's work schedule or grocery lists. For a little more of a challenge, they regularly played cards and board games.
"There are a lot of things you can do at home to help your hearing. It's the simple things that make all the difference," says Tom. "Involve your family and friends as much as possible – you're not in this thing alone."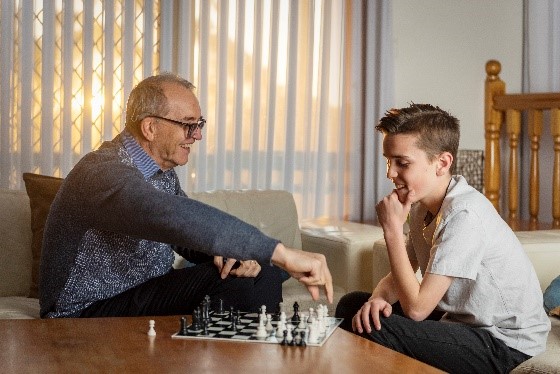 3. Mix it up with new adventures in hearing
After her husband's activation, Jodie played a support role by encouraging David to engage in social situations and helping him identify sounds.
For Andreas and Caroline, exploring new environments together has been crucial: "Don't wait for sound to come to you. Visit a construction site. Visit a farm, wineries, a repair shop, airbrush store, music stores… any place with a distinctive set of sounds is a listening target," says Andreas. "Our approach is to go and listen," which they routinely do together.
4. Overcome family challenges
While support from a spouse to practice listening is crucial, managing the overall family dynamic is also important.
Jodie remembers situations when there were struggles communicating with the kids, aged 6 to 16. There were times early on when normal conversation level seemed too loud to David and he reacted negatively. Other times, he missed the context or misjudged the tone of what was said. This was difficult for the children to understand and often upsetting for their six-year-old twins.
"It was just a matter of having to talk this through with the kids. [It was] not that they were in trouble, because they hadn't done anything wrong, but that it was difficult for their dad," says Jodie.
Simple strategies helped. Jodie reminded the children to get their father's attention before speaking to him and encouraged them to speak directly with David and not to rely on her as an intermediary.
5. Give you confidence to expand your "family"
While engaging family and friends is important, reaching out to others with cochlear implants is also very powerful. Sue is one of Australia's earliest recipients and she runs a not-for-profit support group for adults with cochlear implants.  She says that fellow recipients play a different role that is also very important to being fully supported.
"Recipients can help each other with advice and tips for everyday activities, social engagement and managing phone calls. They understand the difficulties that present in all sorts of daily circumstances," says Sue.
"It's important to build your confidence and get the maximum benefit from your cochlear implant."
So when you reach out to people you love this Valentine's Day, it may also be a good time to reflect and celebrate the role they have played in your hearing journey.
Find out more ways family can support with hearing therapy directly from Cochlear™ CoPilot.  It's our free mobile app full of articles from recipients and experts plus interactive activities to help improve your listening and communications skills. Download now for free from the Apple® App store1 and get started today.
Apple, the Apple logo, FaceTime, Made for iPad logo, Made for iPhone logo, Made for iPod logo, iPhone, iPad Pro, iPad Air, iPad mini, iPad and iPod touch are trademarks of Apple Inc., registered in the U.S. and other countries. App Store is a service mark of Apple Inc., registered in the U.S. and other countries.