Background noise can be a challenging reality of going about our everyday lives. Would you like to practice listening to and identifying sounds in real life scenarios with background noise? We have a new skill builder in CoPilot for your iPhone® to help identify and connect with sounds while navigating background noise.
Being able to identify sounds around you, even when there is background noise, is an important part of navigating daily life in your home and out in the world.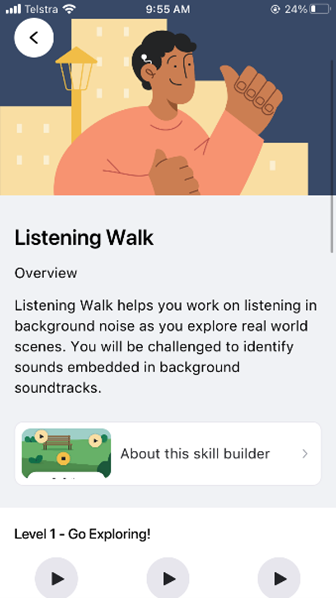 Yet for many with hearing loss, it can be challenging to sort through the background noise and focus in on what's important. This is why we've developed "Listening Walk", a new interactive tool especially designed for your iPhone to help you practice identifying sounds with background noise. Listening Walk is the latest in a series of skill builder activities featured in our free mobile app1, Cochlear™ CoPilot, developed by experts especially for adults with cochlear implants to build listening confidence.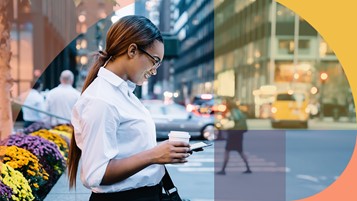 It allows you to practice listening to sounds with examples of everyday noise, such as a rainy street, café, supermarket, park, and kitchen, in the background with the goal of continuing to build your ability to recognize sounds that are part of your everyday life or sounds that you love and miss.
Are you ready to try out this new Listening Walk? Here's how to get started:
Download Cochlear CoPilot for free from the Apple®2 App store
Open the app and you will land on the "Discover" page
Tap "Practice" in the navigation bar at the top of the screen
Scroll down to Listening Walk
Get started!
Cochlear CoPilot is an app full of practical information and tips to help you get the most out of your device and live with hearing loss in daily life. The app is free, convenient and you can use it at your own pace.
Download Cochlear CoPilot and start identifying sounds in background noise today
For complete smartphone compatibility information, please visit www.cochlear.com/compatibility
Apple, the Apple logo, Apple Watch, FaceTime, Made for iPad logo, Made for iPhone logo, Made for iPod logo, iPhone, iPad Pro, iPad Air, iPad mini, iPad and iPod touch are trademarks of Apple Inc., registered in the U.S. and other countries. App Store is a service mark of Apple Inc., registered in the U.S. and other countries.