During the pandemic, when many offices and workplaces closed, remote working from home became the norm. Today, remote working, which allows employees to balance office time with working from home, is becoming not only normal, but expected.
Before the pandemic, in the UK, about one in 10 people had worked from home at least one day in the week, but by 2022 that figure had risen to one in five.1 In the US, data shows that, in 2022, about 42% of workers who could work remotely had a hybrid schedule, and 39% worked entirely from home – up from 8% pre-pandemic.2 And it looks like remote working is here to stay. A survey by global management consulting firm McKinsey, found that 85% of people currently working remotely want to stay that way. The survey shows this applies across industries, geographies, and demographics.3 Meetings remain a big challenge. A European survey by Owl Labs, the State of Hybrid Work 2022, found that many employees – not just those with hearing loss – find online meetings challenging.4
The most common concerns:
Unsure whether to interrupt someone who's speaking (79%)
Audio echo/distortion (78%)
Not hearing everyone (77%)
Not seeing people's faces and missing visual cues (76%)
Difficulty being part of or contributing to the conversation (74%)
Feeling disengaged (72%)
With a mix of face-to-face interactions and remote meetings and phone calls, how can you make that work for you? We asked cochlear implant recipients to share their hacks for hybrid working.
At home or at work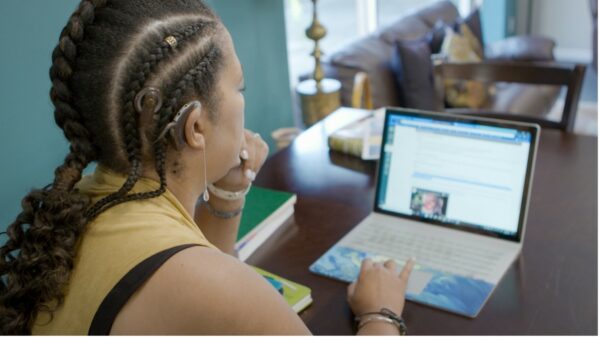 1. Request video meetings rather than phone calls
"Video conference calls provide valuable lipreading cues. Use speaker mode rather than gallery mode to enlarge the speaker's image, making it easier to speech-read," says Gael, co-author of Hear and Beyond, a book designed to help people live well with hearing loss.
2. Use your technology
If your employer uses video conferencing software that can be used with a smartphone app, use your compatible Apple® or Android™ phone5 to connect so that you can directly stream the audio to your sound processor.
"Being able to stream and hear clearly is an absolute game-changer for me as much of my job is handling and dealing with people," says Tom, a search and rescue officer who has two Cochlear™ Nucleus® Sound Processors.
"I was on a 2.5-hour Skype call, which involved a very large group of people and a PowerPoint presentation. I could not see the presenter, just his computer screen. The meeting organizer disabled the audio on his end, which enabled us to dial in using our cell phones for the audio. It was awesome as my Bluetooth® enables the sound to go right into my processors, which gives a stereo effect," Tom says.
If direct streaming to your smartphone is not possible, you can stream the audio from your computer to your processor using the Cochlear Wireless Mini Microphone 2+.
"I'm a fan of the Mini Mic with the auxiliary cord as the solution," says recipient Colin who is a Cochlear employee with a cochlear implant.
"What a difference streaming the audio makes in my speech understanding. I happen to have a desk mic for the audio component, but it's not a necessity. The desk mic is really for people on the call to hear better. It looks like a little podcasting mic that you keep on your desk and it sits right in front of you."
Emily, another recipient who also works at Cochlear, says another option is to use the Phone Clip. It can pair to the computer via Bluetooth. Be sure to select the "Phone Clip" in your computer audio output settings to stream to your processors.
3. Switch on captions
Some conferencing and call platforms have caption functions that can be helpful during calls. Some platforms will also save the captions once the call has ended so you can review what has been discussed. Check the accessibility settings of the platform you use to find out more.
4. Follow up work calls with a text or email message
"For phone calls, I use my Phone Clip, but I also make sure that I follow up with an email or a text just for clarification to make sure that nothing else was missed or misunderstood in the conversation," says Lynn, who uses Nucleus Sound Processors.
Other tools, such as instant messenger apps, also allow you to supplement your verbal communications with follow-up written communication.
5. Use smartphone for streaming audio and laptop for video
"This is a huge one for me," says Roger, also a Cochlear employee and cochlear implant recipient. "Teams lets you connect to a meeting from multiple devices, so I use a smartphone for streaming and a laptop for video. I think a lot of people choose not to use smartphones for streaming because they can't see the screen on their phone. But doing both is a a big benefit."
At work
1. Be open with colleagues and customers about your hearing loss
Tom says it's crucial to be open about your hearing loss at work.
"You need to communicate. At work, the important thing is to normalize it. I've had to educate the dispatchers so that if I'm on call and the phone rings, they have to give me a minute to 'get my ears on'. They need to give me time."
2. Set ground rules
For many, it's challenging to hear people talking on the phone if they are hands-free using a speaker or talking simultaneously. Let people know that's challenging for you and ask them to speak one at a time.
"Remind colleagues to get your attention before speaking to you," says Gael. "Do your best to replace audible messages with visual ones. Let colleagues know you prefer email or text over voicemail and explain this on your outgoing voicemail message as well."
3. Prepare ahead for in-person meetings
Ask for an agenda ahead of meetings to help you fully understand what to expect and topics to plan for.
"While this is generally good business practice, it helps you to prepare background information on the topics to be discussed and provides some boundaries on what might be said during the meeting," says Greg.
4. Suggest meeting locations and consider where you sit
Where you sit makes a big difference: "Choose a place to sit where you have a clear view of the people you'll talk with the most," advises Greg. Ask for meetings in smaller rooms, with lower ceilings and some soft furnishing if possible.
"Switch on the ForwardFocus feature via your Nucleus Smart App to reduce the noise coming from behind you. Otherwise sit at a table with your back to a wall," Greg says.
The latest Cochlear™ Nucleus® 8 Sound Processor has an improved ForwardFocus function so when you want to focus on a face-to-face conversation, it more powerfully reduces distracting background noise compared to the Nucleus 7 Sound Processor with ForwardFocus on.6
5. Ask others to use a microphone in meetings
Gael says: "Ask the organizer if a microphone can be used at the meeting. This benefits everyone and will minimize interruptions and cross-talk if people need to use the mic to speak."
For more information about the Cochlear Nucleus 8 Sound Processor visit Nucleus® 8 Sound Processor.
For information about Cochlear accessories, visit the Cochlear online store.