Plato said, "Music is a moral law. It gives soul to the universe, wings to the mind and flight to the imagination..." A little more recently, American musician Aretha Franklin said, "Music does a lot of things for a lot of people…It can take you right back, it's uplifting, it's encouraging, it's strengthening."
The primary objective of cochlear implants is to optimize speech intelligibility. Given the emotional power of music, it's no surprise that more than one cochlear implant recipient has said, I can understand speech with the sound processor, but music doesn't sound as good as it used to.
The issue is that music is a complicated mixture of rhythm, tone and pitch. Cochlear sound processor technology has not yet perfected the presentation of pitch—the perceptual quality that makes it possible to judge sounds as higher or lower.  A cochlear implant bypasses the damaged part of the ear (that is critical in perceiving pitch) to deliver electrical impulses directly to the auditory nerve, which requires the brain to understand the world in a new way. While it takes practice for the brain to organize the sounds of music in a meaningful way, it can be done.
Because of differences in auditory memory, previous music experiences and other variables, music enjoyment will vary from one recipient to the next. The key to music enjoyment is practice, focused attention and finding what works best for you. See a range of responses to music by cochlear implant recipients collected by the University of Southampton in 2017.
Six ideas for building music enjoyment
Here are a number of suggested listening techniques to help you improve your ability to enjoy music again—or for the first time. Your patience, practice and persistence will go far in moving you to enjoyment.
Start with songs you are familiar with and stay focused on the words and how they sound.
Read the lyrics of the music you're hearing. Most lyrics can be found online.
Watch music videos online to help connect lyrics and sound.
Experiment with different types of music; start by choosing simple songs or familiar tunes, such as folk or children's songs.
If your child responds positively to a particular instrument or type of music, use that as a starting point and build from there.
Set aside time to practice in a quiet environment when you are not tired.
Work with your audiologist to optimize your MAP and/or create a music program.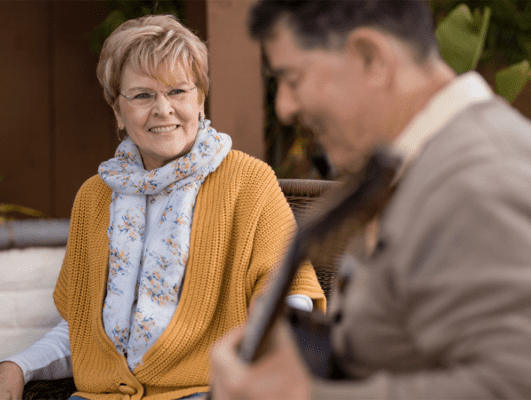 Try the new hearing therapy app to navigate note by note to music appreciation
Cochlear has developed an app for Apple® and Android™ users called Bring Back The Beat. It offers exercises presented as games to build and test your music listening ability and develop pitch perception:
A fun app that encourages focused attention to music
Explore five new worlds with lots of fun games
Start with simple notes and instruments
Build up to more complex melodies
Gain rewards and motivation as you go
Do you have the right accessories for music listening?
Over the years and generations of sound processors, Cochlear has built a number of ways to connect your sound processor to music.
If you are wearing the Cochlear™ Nucleus® 6 Sound Processor  with an audio port, you can use a personal audio cable to connect your sound processor to any battery-operated device with a headphone jack, such as a laptop, iPod® or iPad®, game-box,  or audio player to listen to music and audio.
If you're wearing the Nucleus 6,  Cochlear™ Nucleus® 7, Cochlear™ Nucleus® Kanso®, Cochlear™ Baha® 4, Cochlear™ Baha® 5, Cochlear™ Baha® 5 Power, or Cochlear™ Baha® 5 SuperPower, you can stream music wirelessly from other devices—such as smart phones—using the Cochlear™ True Wireless™ Phone Clip or the Mini Mic 2+.
For wearers of the Made for iPhone Nucleus 7 Sound Processor, Bluetooth® enables streaming directly to the sound processor from a compatible iPhone®, iPod touch® or iPad. You can enjoy your favorite movies, TV shows, apps, music, get GPS directions—even a FaceTime® call with audio streamed directly to your sound processor. With Made for iPhone technology, the Nucleus 7 Sound Processor lets you enjoy access to the latest entertainment and communication technology without the need for an additional cables, cords or accessories.
Download Bring Back The Beat here!
1
2
3
4
5
6
7