To get the most from your hearing, there are products and accessories you rely on. So, it's important that you can find and buy what you need, quickly and easily. That's why we've redesigned our online Cochlear Store to give you an improved shopping experience. Online shopping offers a convenient way to order what you need from the comfort of home and have your items delivered directly to your door. It also needs to be intuitive and enjoyable for you. To help, we've given the new store a refreshed look, clearer navigation and improved the power of the search tool.
What you'll find in the new store
You'll find everything you need for your sound processor to help keep you hearing your best, including our wide range of parts and accessories. It's always helpful to have spare rechargeable batteries on hand, or a storage case. Are you planning a vacation somewhere tropical? Grab a Dry-Brik to manage humidity. For those who love water, or the outdoors, you'll find water-resistant accessories1 2 3 for most models of Cochlear™ Nucleus® Sound Processors and Cochlear Osia® 2 Sound Processors.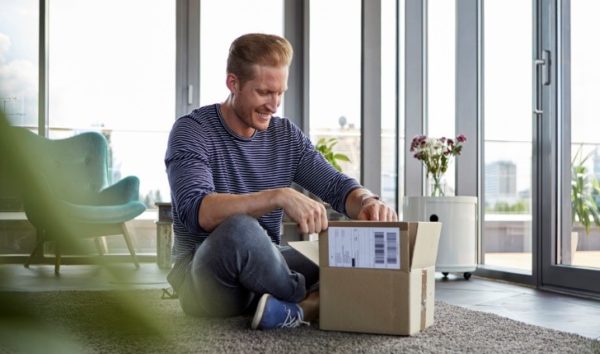 Searching tips
We know you want an easy way to find products that work with your sound processor. The improved search feature makes it easy to find the product you're looking for with autosuggestions. Click on the search icon, which looks like a magnifying glass at the top of the page to get started.


Making upgrading easier
It's now easier to learn about upgrading your sound processor to our latest generation. If you are a Nucleus recipient, you can find information to help you choose between a Nucleus Kanso® 2 Sound Processor or Nucleus 7 Sound Processor. If you are a Baha® recipient, you can learn about the advanced features of the Baha 6 Max Sound Processor. You'll gain insight into our streamlined payment process and direct billing and insurance reimbursement services.
Products are also easier to find as they are organized into product categories. You can start shopping by selecting one of the categories designed to help you find what you're looking for.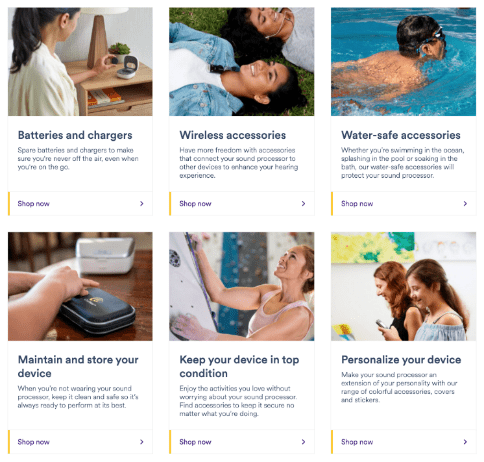 You can refine your selection by filtering for your sound processor model, so you know you're shopping for compatible products. For example, if you're looking for a rechargeable battery for your Nucleus 7 Sound Processor, you can select "Nucleus 7" from the filter menu to see the compatible battery, as well as other helpful items.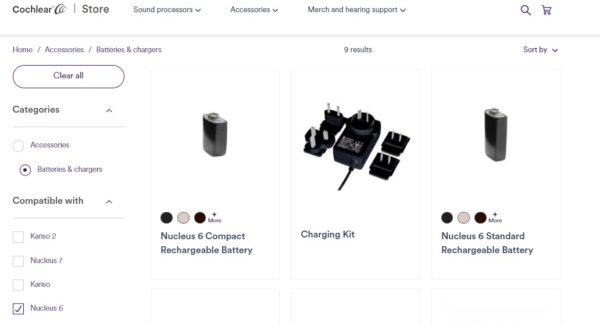 Pay your way
The new store gives you the option to choose your preferred way to pay for your purchases. You'll need to log in using your Cochlear Family account to add items to your shopping cart. Once you've logged in, you'll be asked how you would like to shop. Items can be bought using self-pay or billed directly to contracted private insurance4 plans or Medicare, state Medicaid plans and TRICARE.5 6 If you don't have an account, it's easy to sign up now.
If you want to pay through your insurance, you'll be asked to confirm your insurance details. At this point, you'll only see items in the store covered by your insurance. If you want to purchase something that's not covered, you can still opt to pay for products yourself or take advantage of CareCredit®7, a financing option. Just choose the self-pay8 option to use the secure checkout method, with most major credit cards accepted.

Looking for gift ideas?
As well as the essential items like rechargeable batteries and accessories available in the online Cochlear Store, you can also find useful items like alarm clocks designed for hearing loss. If you'd like to show your Cochlear pride, you can browse through our range of branded merchandise like backpacks and sweatshirts.
We hope you enjoy the new online Cochlear Store and all it offers to support you in your hearing journey.
Don't have a Cochlear Account? Quickly and easily set up your account to stay connected and shop in the online Cochlear Store.
Already have an account? Check out the new Cochlear Store