Traveling with a cochlear implant has unique challenges for recipients. Staying "on air" requires planning ahead and being prepared with back-up sound processors and extra batteries.
"Travel is very important to me­­­—seeing new places, meeting new people and experiencing different cultures is both exciting and fulfilling. After a COVID-19 forced delay I recently took a trip to central Europe to celebrate 20 years of marriage.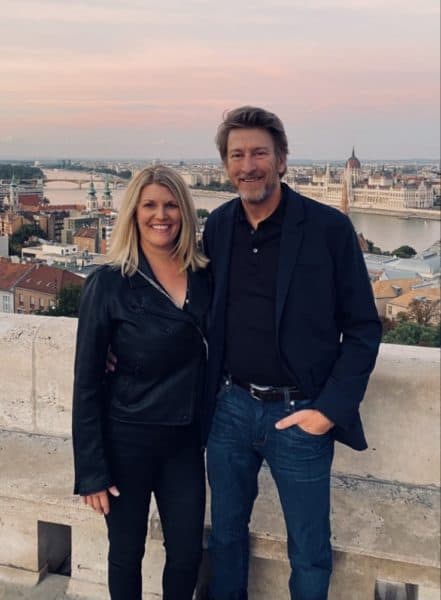 This is my first international trip travelling with two cochlear implants. I have travelled to Europe and other countries many times with a cochlear implant on the left and a hearing aid on the right side.
When travelling, I pack efficiently and light, but when it comes to my cochlear implants, I'm probably guilty of over preparing. Being far from home in a foreign country with no way to hear is not a situation I ever want to find myself in.
Preparing for the big trip
Before the trip I thought a lot about what I would need to hear on a daily basis. How would I carry the chargers, back-up sound processors and spare batteries? Would I have access to electrical outlets to charge up my Kanso® 2 Sound Processors1 after a long day of travel and multiple flights?
What would I do if I couldn't charge up my sound processors? Our plane landed in the morning after an overnight flight, and it was important I had a full charge to hit the ground running for a full day of sightseeing.
The first thing I did was search the internet to find out if our plane seats would have electrical outlets for charging. If you know the type of plane you're flying on and your seating class, you should be able to confirm seat outlet availability by searching online. If you don't have that info, you may need to contact the airline you're on to confirm.
Fortunately for us, our seats did come with electrical outlets. Knowing that, I decided the best thing to do was to put my Kanso 2 home charging docks in my carry-on backpack and recharge the batteries on the flight while I slept.
For my back-up, I have the Nucleus® 7 Sound Processors2. At first, I was thinking I would put my back-up processors, charging device and spare batteries in my checked bag. Then I remembered the time my checked bag was didn't arrive in my international destination until 4 days after I did. Or the other time our checked bags actually made the flight to Sydney Australia, but we didn't. Out of an abundance of caution I decided to put my back up Nucleus 7 Sound Processors, batteries and charging hardware in my carry-on bag too.
The Kanso 2 Home Chargers are light and easily fit into my carry-on bag. The home chargers have the built-in dehumidifier function, so I didn't have to take a dry and store box which saved a little space in my suitcase. Once onboard and situated I could see the seats had a storage nook where I could place the Kanso 2 home chargers, plug them in and not have to worry about tripping over the power cords.
Streaming and charging on the flight
Our seats had a built-in entertainment system with headphones to hear the audio. I was hoping for a way to connect my sound processors with that onboard system wirelessly and stream the audio using Bluetooth®3 but it wasn't possible. Fortunately, I had anticipated that and had a few movies and audiobooks downloaded to my phone for wireless audio to stream directly to my sound processors.
After a few hours it was time to recline the seat and try to get some sleep—I felt secure putting my devices in the home chargers storing those in the seat nook. (You'll know they are charging if the indicator light is  flashing green.) When I woke up, I put my Kanso 2 Sound Processors on and checked the Nucleus Smart App. As expected, they were fully charged and ready to go.
For my back-up Nucleus 7 Sound Processors, I took both rechargeable and non-rechargeable zinc-air batteries. I was probably over-preparing having both types of batteries to choose from, but in the very unlikely event something crazy happened, like the electricity grid was knocked down for an extended period, I knew I would still be able to hear.
Another internet search confirmed there was no restriction bringing the zinc-air batteries on the flight. And all the back-up sound processors, charging cables and spare batteries fit perfectly in the zippered Cochlear hard case which I then stuffed into my carry-on bag. Don't forget electrical adaptors specific to the country you're visiting.
My carry-on kit
Kanso 2 home charging docks
Nucleus 7 Sound Processors
Nucleus 7 charging device, cable and 4 rechargeable batteries
Disposable zinc-air batteries
Outlet plug adapters
Mini Microphone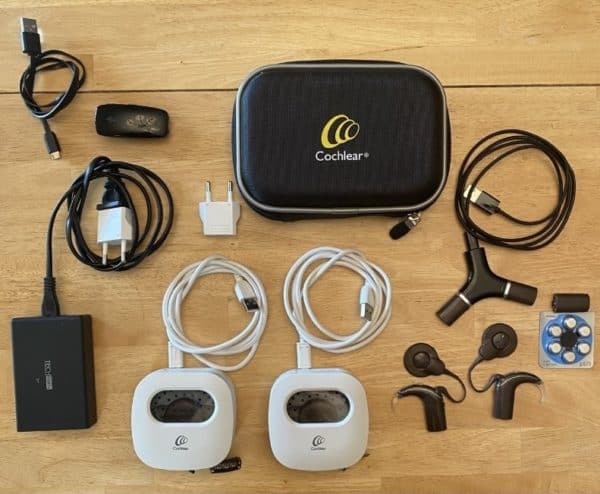 Know where to get help if you need it
Before you go, it's a good idea to change the microphone protectors if needed. (Some people recommend taking an electronic copy of your MAP with you. I didn't as I knew my audiologist could email it to me in an emergency.)
I also know I can find my processor details by logging into my account on the Cochlear Family website. And I took a look at the find a clinic page on Cochlear's website to see if the cities we'd be visiting had clinics listed on the locator, which they did. It felt good to know that if something awful happened I had professional assistance in the same cities we were staying in.
Once on the ground I double checked the Nucleus Smart App to verify I had a full charge on the batteries. Good to go! With no need to charge up, we dropped off our bags at our hotel and ventured out to visit the cultural and entertainment highlights of Vienna Austria. After three days in Vienna it was time to catch a train up to Prague for a couple days and then fly to Budapest. I moved the Kanso 2 home chargers into my checked bag for the short flight, but still kept the back-up Nucleus 7 Sound Processors and charging gear in my carry-on.
Our trip was incredible—we saw all of the historical and scenic highlights we had hoped. The Kanso 2 Sound Processors performed flawlessly and I never had a need to use my back-up sound processors.
For the return flight home, I repeated the same packing process. After a long day of travel and staying awake, driving to our home from the airport, I heard the "low battery" beep on my right side Kanso 2 Sound Processor. At that point we were 10 minutes from home when after over 20 hours of being "on air" I ran out of battery life4. I was really impressed with how long the battery had lasted.
After such an amazing trip we're already talking about the next one. When that happens, I'll pack mostly the same but would leave out the Mini Microphone 2TM and the rechargeable batteries and charger for the back-up Nucleus 7 Sound Processors. The Kanso 2 Sound Processors were so reliable and the battery lasts so long, I feel like I could still manage any situation with the back-up Nucleus Sound Processors and plenty of zinc-air replaceable batteries."
Interested in upgrading your sound processor? Click here to find out more