Do you love the holiday season, but dread noisy gatherings with family and friends because you struggle to hear the conversation? There's no reason to fear any holidays with these simple tips for hearing during the holidays from Cochlear volunteers who use the latest technology.
Mrs. Claus can hear children's voices with her sound processors
Adele, a recipient and Cochlear volunteer, has been playing Mrs. Claus alongside her Santa husband, Randy, for the past five holiday seasons. They've appeared in a variety of noisy public places – from churches, schools, community centers and businesses to private homes, breweries and even a military base.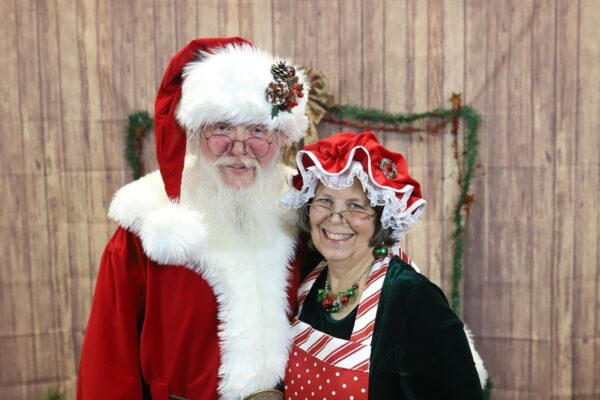 "This scared me at first because children's voices have always been the most difficult for me to understand. And most of our appearances are in very large groups with lots of noise," says Adele.
"My 'ears' have allowed me to be Mrs. Claus!" says Adele, who recently upgraded to two Cochlear™ Nucleus® 8 Sound Processors from Nucleus 6 Sound Processors. "I am still amazed at how well I have been able to do this."
Adele's Santa experience goes way back: "My husband portrayed Santa when he was 17 at my father's grocery store. He then dressed as Santa and asked my father for permission to marry me. My father said no, but we got married anyway – 47 years ago."
Adele wears a hat that doesn't cover her sound processors and keeps her Cochlear Wireless Mini Microphone 2+ handy to help hear even more clearly.123
"This is great because I can tell children it is my magic microphone to hear them. I love the innocence of young children. It feels great to see children smiling and happy. We bring a little magic to their lives.
"It also brings tears to my eyes. One story in particular, at a military base, Santa asked a little boy what his favorite thing about Christmas was. Without thinking the little boy responded: 'My daddy came home for Christmas.'"
Smarter hearing technology
Adele says the key to success is to "learn all you can about your technology." With her Nucleus 8 Sound Processors, she has discovered the automatic sound adjustment of SmartSound® iQ 2 with SCAN 24, which she loves. As Adele moves through the day, the new sound processors sense changes in her listening environment and automatically adjust to help deliver clearer sound.5678 "I like having processors that are smarter than me and can adjust to my environment without me having to stop and do it myself."
The Nucleus 8 Sound Processor features smarter hearing technology compared to previous Nucleus 7 and Nucleus 6 sound processors and is designed to make communicating in noise easier.9101112
Face-to-face conversations
Dennis, also a Cochlear volunteer, recently upgraded to two Nucleus 8 Sound Processors and loves the automatic hearing adjustments and says his social interactions have improved enormously.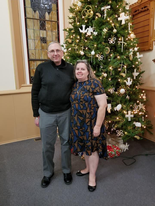 "I love the fact I do not need to change programs every time the hearing environment changes. To me, it makes hearing more natural in how it affects my day."
Dennis really likes being able to focus on the face-to-face conversation using ForwardFocus. The Nucleus 8 Sound Processor more powerfully reduces background noise compared to the Nucleus 7 Sound Processor with ForwardFocus on.1314
"Prior to the Nucleus 8, it would mean changing programs and lowering the sensitivity to a really small circle of sound to accomplish hearing well. This tended to distort the sound a bit, but it worked. ForwardFocus eliminates that."
As well as getting to know your technology, Adele and Dennis share other tips for hearing during the holiday season:
Plan ahead
"If it is a social gathering, such as a work Christmas party, I think ahead to who might be there, the setting, and the program I need," says Adele. "I make sure my Nucleus Smart App is connected, carry my Mini Mic and make sure it is paired."
Choose your location
"Location is everything," says Dennis. "I place myself where I have the best view of everyone at my table or gathering. Even though I do not lipread to hear, seeing their faces helps."
Adele agrees: "I also position myself for maximum hearing, so if someone in a group wants to talk with me, I might suggest we move to the side of the room so we can 'get out of the crowd' and hear each other."
Adele finds restaurants with loud music a challenge: "I ask for a table in a corner or side instead of the middle, with my back to the noise. I prefer sitting outside, which generally, is much easier listening for me. I sit facing my dinner partner and use my SCAN 2 setting. If there is a lot of noise behind me, I turn on ForwardFocus."
If you don't understand, just ask!
Adele simply asks people to repeat themselves if she misses conversation. "No one gets frustrated, and no one hesitates to help me understand. It is all a matter of asking nicely, educating others and taking responsibility for my own success."
Finally, don't get overwhelmed and "learn all you can about your technology. Find what works best for you and run with it," Adele says.15
These tips for hearing during the holiday season are fantastic. Discover all the benefits of the Nucleus 8 Sound Processor.