The U.S. Food and Drug Administration (FDA) first approved cochlear implant devices for adults in 1985 and for children in 1990. In the U.S. alone, people have had Cochlear implants for more than 30 years!  The backwards compatibility of Cochlear's cochlear implant systems has allowed our recipients to experience a variety of technological changes and advancements in their sound processors since receiving their implant.
Recipients who received their Cochlear implant in the 1980s and 1990s highlight how their devices and hearing experiences have changed over time.
Michael N.: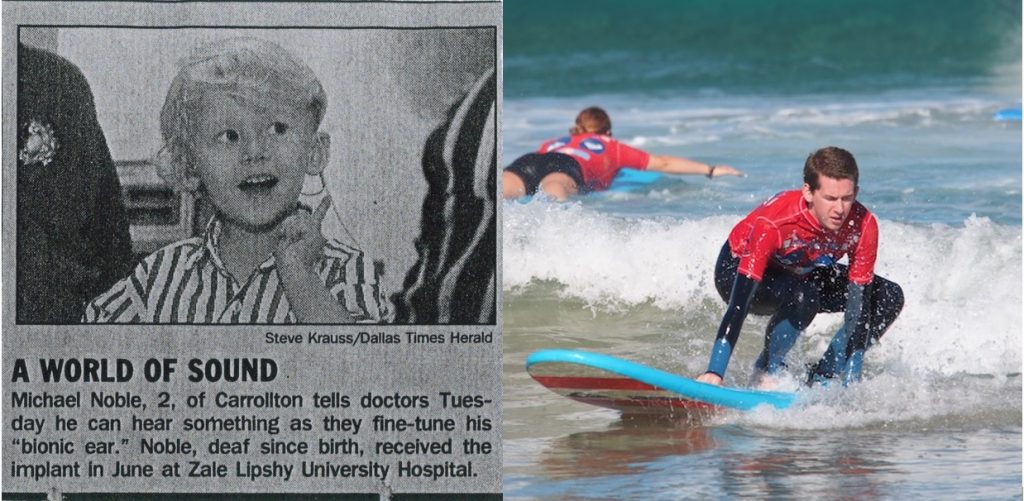 "In 1991, I was implanted with the Nucleus 22 Implant at two. I celebrated my 25 year anniversary with the implant in June! The very first sound processor I had was the Mini Speech Processor (MSP), which was body-worn, rested on my hip and connected to a behind-the-ear microphone via a long cord that ran up from the waist to the ear.
After the Mini Speech Processor, I upgraded to the Spectra 22 Speech Processor, a body-worn processor connecting to a behind-the-ear microphone via a long cord very much like the Mini Speech Processor. 
Right before I entered high school, I upgraded to one of my favorite sound processors, the ESPrit 3G Sound Processor. It was completely behind-the-ear. Long gone were the days of struggling to tuck in my shirt because the long cord that attached my behind-the-ear microphone to the body-worn processor was placed underneath my shirt.
Shortly after I started working for Cochlear in 2010, I was still using my ESPrit 3G Sound Processor. I loved this sound processor and felt no desire to upgrade, but then I tried out the Freedom Sound Processor. I couldn't believe how well I could hear with this upgrade from the get-go and how many new sounds I could here with it. It was the first all-digital sound processor with which I ever heard. My previous sound processors used analog processing technology. 
Five years later, the Cochlear™ Nucleus® 6 for Nucleus 22 launched. I had to upgrade to this sound processor immediately because one particular area that I struggled in was hearing in noisy environments. I got an all-new noise program with my Nucleus 6 Sound Processor, and I could not believe how well I could hear in noisy environments. Instantly, my confidence to join a lunch meeting or a dinner in a noisy café or restaurant skyrocketed.
One thing I treasure in life is the gift of hearing music. With the Nucleus 6 upgrade, I got the Cochlear True Wireless Phone Clip and the Remote Assistant. The music is so clear through the Phone Clip. Best of all, there are no wires. When I am traveling, it can be awfully noisy on the plane. With the Remote Assistant, I can adjust the mixing ratio so that I can completely eliminate sound coming through the microphones and completely focus on the sounds streaming through the Phone Clip. It is like having the world's best noise-cancelling headphones. The Nucleus 6 Sound Processor is the most comfortable and discreet sound processor I have ever owned. It is incredible.
Just recently, for the first time in my entire life, I heard in water with the Cochlear Nucleus Aqua+. Growing up, anytime I jumped into the pool, took swimming lessons, or vacationed at the beach, I always had to remove my external sound processor and return to a silent world. I took surfing lessons for the first time and used the Aqua+. I could hear the instructor who was behind me; this would have never happened had I not had the Aqua+. It was remarkable to hear the waves crashing and the birds chirping from above–all while in the water!"
Ruth F.: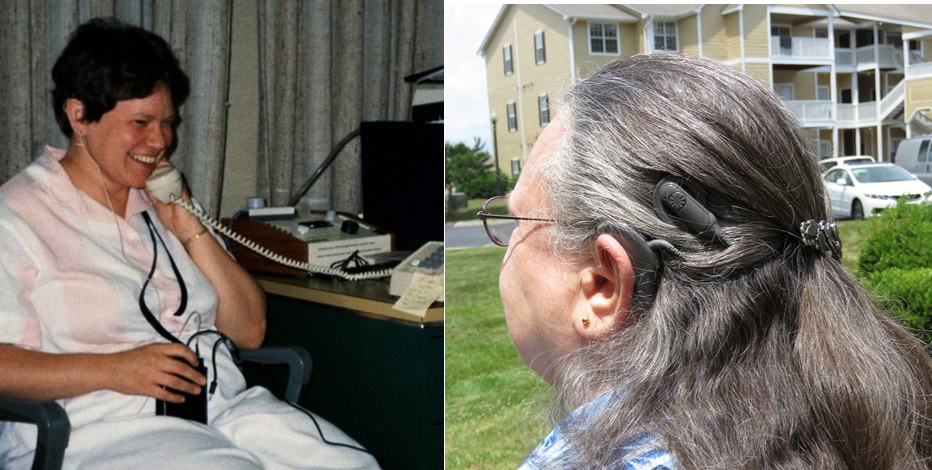 "After a progressive hearing loss from birth, I received my cochlear implant in 1987 at the age of 39. As one of the early CI recipients, my first processor was the Wearable Speech Processor (WSP). It was large (the size of two decks of cards placed side by side) and heavy, using 3 AA batteries. 
A main conversation between recipients who received the WSP as their first processor was how to wear it. Some people wore it on their belt loop, but most women, like me, didn't wear belts so we had to be innovative. I created an elastic band with Velcro closures, which went around my lower chest, under my shirt just above the waist. This band had another elastic band sewed perpendicular to this, into which I could slide my processor. To use the phone, I had to lift my shirt and plug a wire into my processor.
Today, I wear my Nucleus 5 Sound Processor on my ear; something I never thought I would experience in my lifetime. Each new processor (I have had seven thus far) has been smaller and more attractive. I could wear it under my hair easily, but I am proud of it and keep it visible for all to see and ask questions.
As the years have passed, new programming strategies have made speech clearer, noise less troublesome, and music more beautiful and complete."
Erik N.: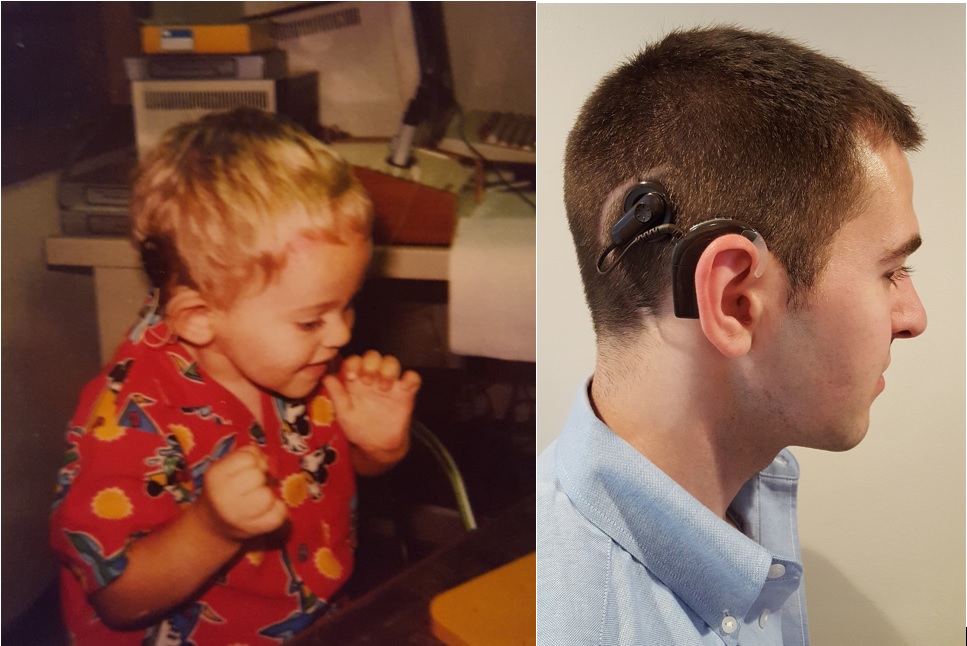 "I have had my cochlear implant since I was two years old, so I cannot remember my first device! I remember having a light gray pouch processor that looked like a deck of cards and a later dark gray pouch processor. I believe that before these processors, there was a bigger and bulkier one that had a dial on the outside (as opposed to the card-deck processors that had the dials mostly inside them).
I just upgraded to the Nucleus 6. The two accessories I really enjoy with this processor are the Wireless Phone Clip and the Wireless TV Streamer. I use the Wireless Phone Clip with my smartphone to listen to music on my commute. I use the Wireless TV Streamer to be directly attuned to sound when I watch movies and TV shows. Background music and accented voices stand out a lot more!"
Brittany P.: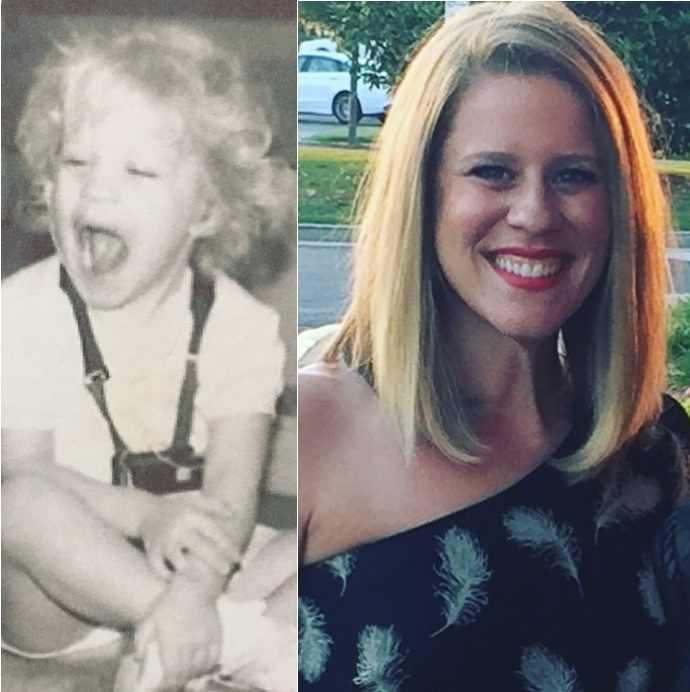 "I was born profoundly deaf and received my cochlear implant at four. My brother and I were the first brother and sister cochlear implant recipients in Memphis, Tennessee.
While it was very exciting to hear sounds and words, especially hearing my father telling me that he loved me for the first time, the first processor was a big, bulky body-worn processor. It was hard to adapt wearing the processor playing basketball.
Now, six upgrades later with the same internal implant, I absolutely love my Nucleus 6 Sound Processor. It is the smallest, most sweat-resistant and most water-resistant processor I've ever wore. Because I travel a lot, I love using my Phone Clip for listening to sermons and messages on my podcast. I also use the Mini Mic 2+ for restaurant and noise environments."
Greg W.: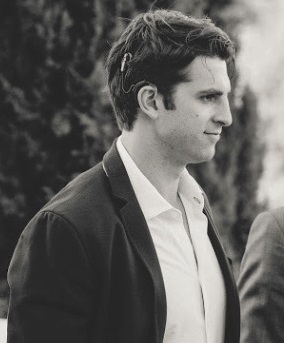 "My first processor was the Esprit 3G. I remember it had the metal ear hook, a dial/switch on it to adjust the program I was on, and used disposable batteries, so I always had a stash of disposables everywhere.
Since the Esprit 3G, I am now bilateral with N6s. The N6 is much sleeker. Being able to use the Phone Clip versus finding the telecoil 'sweet spot' for the phone is a tremendous improvement, coupled with the mixing ratio abilities of the remote assistant when using my wireless accessories. Having rechargeable batteries has also been easier and provides more consistency in my day-to-day life. I've also been enjoying SCAN, which speaks to the various features/programming strategies that the N6 is capable of these days."
Learn more about the benefits of our latest Cochlear implant system, the Nucleus 6, here.