Diagnosed prior to birth with Cystic fibrosis, Samantha has only ever known a life trying to treat the condition. The treatment however started a rapid decline in her hearing ability resulting in a diagnosis of severe hearing loss. Samantha, now with bilateral cochlear implants, has started a graduate degree in her field of choice and has regained her comfort and confidence. Read more:
"If you had told me as a young child that this was a piece I would write as a college graduate, I wouldn't have believed you. I spent nearly 20 years of my life as a hearing person, experiencing everything life had to offer to hear naturally.
I was diagnosed with Cystic fibrosis (CF) before I was born; I do not know life another way. The daily medications, lung clearance treatments, hospital visits and balancing a packed schedule were the typical day-to-day life I experienced. Lung infections are another common occurrence for someone with Cystic fibrosis. The nature of the disease involves many complications with the respiratory system. One of these complications is thick mucus that bacteria become easily trapped in.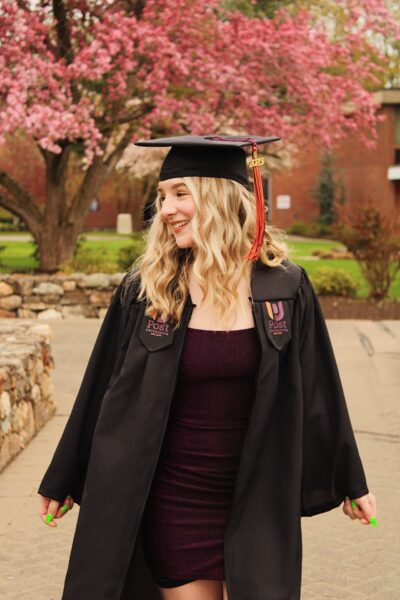 A history of my health
You may be asking yourself, 'What does this have to do with a cochlear implant?' Two years ago, I would have asked you the same question. I attended an agriscience-focused high school in my home state of Connecticut, where I spent a lot of time around soil, water and various growing media as part of my coursework. The bacteria that are present in the growing media became trapped in my lungs, and I was faced with continuous years of antibiotic treatment to attempt to manage the infection.
Something about these infections is that they are persistent and difficult to treat; they require heavy antibiotic treatment to keep the lung damage as minimal as possible. I was on maintenance medication through the end of high school and the beginning of college.
In the spring semester of my sophomore year of college, my CF care team found lesions in my lungs, and I had a PICC line placed in March 2021. I was getting Amikacin through my PICC line – a known ototoxic medication. When I had the PICC line placed, they brought me in for baseline hearing testing to monitor my hearing throughout treatment. By August of 2021, just days before my 20th birthday, I began to show hearing loss and was fitted for hearing aids.
Over the next several months, my hearing continued to decline. By the end of the year, I was facing severe hearing loss due to the necessity of continuing antibiotic treatment to save my lungs. The choice I was faced with every few weeks as my hearing declined – was to continue to treat my lungs or stop all treatment to preserve whatever hearing I had left.
By the fall of 2022, my hearing had declined even more, my speech was becoming unclear, and I was struggling in my academic, professional, and personal life to communicate. I was struggling with both volume and understanding.
Considering a solution for my severe hearing loss
At the first sign of my speech changing, my audiologist told me it was time to consider a cochlear implant. I wish I could tell you that this was exciting news for me. I had already been struggling throughout losing my hearing.
I spent 20 years of my life as a natural-hearing individual, so this was all very new to me. I felt as if I was grieving a part of myself, the person I was with my natural hearing. I felt great fear and apprehension and fell into a place of depression. I felt that I didn't recognize the person staring back at me in the mirror. I feared I would not be able to find my identity as a deaf person; I feared the people I met would never know the person I was prior to my hearing loss.
I was still in pediatric care, but for the implant surgery I decided to be implanted by an adult surgeon. I met with my new audiologist and the surgeon the following week and set a surgery date for December 2022. Despite the fear I felt, I trusted what everyone was telling me – that this was going to improve my quality of life and give me back the sense of control that I felt I had lost.
At this point, I was going into my last semester of undergraduate schooling. I had graduate school in my sights but feared if I would be able to attend given the state of my hearing. My desired career also required my hearing to be the best it possibly could be. I knew this was what I needed to do.
The benefits of the technology
I knew Cochlear was the right choice for me immediately. I talked with my audiologist about my active lifestyle, my love for music and the aspects of the implant that were most important to me. The look, feel and benefits of Cochlear's devices were a perfect match for me. And just like that, my implant had been ordered and surgery was fast approaching. I ordered accessories to go along with my implant and would soon find out I loved the Mini Microphone1. I have the people I am with wear it in noisy environments and sometimes hear better than the people around me.
Having the Cochlear™ Nucleus® Smart App and my implant connected to my phone2 has also been a key benefit in my hearing improvement. Through the recovery from surgery and the first few weeks of getting my implant turned on, I was still faced with a lot of fear; however, the person in the mirror was starting to look familiar again.
After a few months, my hearing improved greatly, and I felt like I had found my identity as a deaf individual. I no longer carried fear or shame around my hearing. I can go out in the world confident I can communicate and be comfortable on my own.
At the time of this writing I am approaching six months post-op and have just graduated with a degree in psychology, summa cum laude at the top of my class. I am attending graduate school in the fall for a master's in clinical mental health counseling – both things I do not think would have been possible without my cochlear implant.
I recently got a tattoo of a rose on my neck, under where my implant sits. I wanted to mark the location with something beautiful because, despite all the fear, my implant has transformed my life into something beautiful. As the saying goes, you can't have flowers without a little rain."
If you or your child have experienced severe hearing loss, cochlear implants may be a helpful solution! Learn more about them here.
For compatibility information, visit www.cochlear.com/compatibility.
For a full list of smartphone and app compatible devices, visit: www.cochlear.com/compatibility.