Your activation appointment with your hearing professional begins an exciting, life-long hearing journey. Did you know that there are some easy things you can do to help ensure your hearing success? Cathy, a recipient with 20 years of device experience and two Cochlear™ Nucleus® 6 sound processors, shares her top rehab tips after activation.
I believe in the 4 Ps
Patience, practice, perseverance and a positive attitude have been key to learn to listen again after activation, says Cathy, who received her first cochlear implant two decades ago and then her second five years ago. "I believe in the 4 Ps."
"I think it was easier the second time because I knew what to expect," says Cathy, a retired special education teacher who volunteers as a court-appointed special advocate in the juvenile court system. Cathy, who lives in Ohio, has two Cochlear Nucleus 6 Sound Processors.
"I did auditory training with an AVT [Auditory Verbal Therapy] for about a month, then did the rest on my own. I found the learning curve to be shorter. I think I was hearing well bilaterally within three months. I think my brain just had to get used to hearing sounds and speech from two CIs instead of one," says Cathy.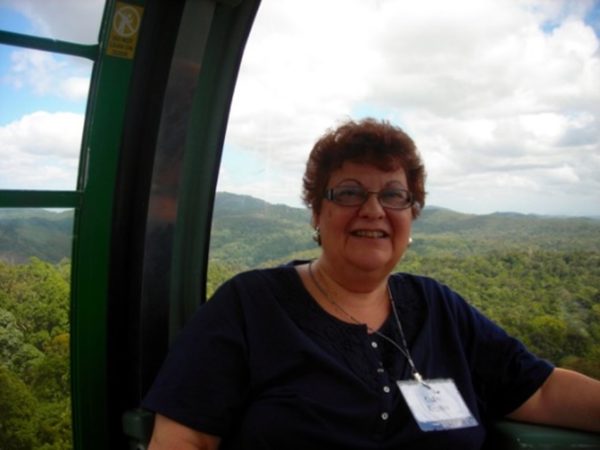 As a Cochlear Volunteer since 2007, Cathy has been sharing her tips for learning to listen again after activation with other recipients. Here are her top five tips:
1. Be realistic
"Don't expect to hear speech right away. You will hear sounds. One needs to have patience because it can take a while to hear speech clearly. The learning curve is different for everyone. It depends on how much time and effort one puts into learning to hear with a cochlear implant. It's not like a hearing aid where you will be able to hear instantly. The more you work at it, the more successful you will be."
2. Use audio books and apps
"Listen to audio books while reading the same book to learn what words or sentences that you are hearing correctly and what you may be missing. Try some of the listening apps such as Angel Sound™, or The Listening Room™."
Another app to try is Cochlear™ CoPilot1, Cochlear's new mobile app developed to help people with cochlear implants develop listening skills. The app features a series of interactive activities called skill builders including "Building Blocks of Listening" to help you with the fundamentals of communication – from distinguishing sounds and identifying words to helping you build your comprehension skills. You can choose from dozens of interactive sessions and you can select different levels to make it easier or harder to suit your personal needs.
3. Work with a therapist – if you have access to one
"It can be helpful to go to an AVT to help with speech and auditory training for the first few months. They will recommend appropriate apps that you can use for further training."
If you live in an area without access to a therapist, digital apps can help to make self-care possible. Self-managing your hearing loss is shown to be one of the key components of successful rehabilitation.2 The Cochlear app, Cochlear CoPilot, allows you to self-select content and activities suited to your personal needs and take an active role in managing your own health journey at a pace that suits you.
4. Work with your audiologist
"Attend all the initial mapping sessions with your audiologist. They will adjust your maps as needed to help you learn and adjust to hearing with a CI. Your audiologist is your best friend on your hearing journey. I like to keep a log of how you hear with each map. The audiologist can use
this information to create the right maps for you."
5. Be honest
"Tell your audiologist if there is a particular environment or situation that may be more challenging for you. For instance, I enjoy going to plays and musicals. I had my audiologist create a map just for this purpose. The nice thing is the mappings are all individualized for you. It is what works best for you. Your processor will not be mapped the same as another CI recipient. It is not one size fits all."
Visit here for more rehabilitation resources
Cochlear CoPilot is available on Apple® App Store®. For compatibility information visit www.cochlear.com/compatibility