Mathias B. started losing his hearing in his early 40s. As a working and active father and husband, his hearing loss began to impact his whole life. Hearing aids weren't giving him enough benefit, so he decided to get a cochlear implant. As an early adopter of new technology, Mathias was also eager to try Cochlear's newest cochlear implant technology, the Nucleus® 7 Sound Processor. He shares his story and benefits of the new device below:
"I grew up in Stuttgart, Germany, where I went to school to eventually become an engineer. I've worked in the automotive industry much of my career, using technology to advance human safety and comfort.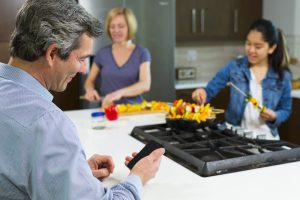 I live in the Detroit area with my wife, Lori, and kids, Nick and Sofia.
We're outdoorsy. Nick's a competitive rock climber, and his passion has taken us to beautiful mountain ranges in the U.S. and abroad. What we can't climb, we hike or attempt to bike. Sofia joined a ski club a couple years ago, which prompted all of us to take up skiing. Our interests have found us exploring some of the country's amazing national and state parks.
I love to cook, for which my wife is eternally grateful. Dinner is my favorite time of day—especially when the stars align, and we're eating together and sharing the day's events.
When these moments became increasingly compromised by hearing loss, I scrambled for solutions. That is, after faking it for months. Maybe years.
I was in my early 40s when a sudden onset of Meniere's disease prompted significant hearing loss (and weeks of debilitating vertigo). I was treated with steroids and put on a low-sodium, no caffeine and no chocolate diet. The dizzy symptoms retreated with some exceptions, but the hearing loss continued. My family grew increasingly frustrated, having to routinely repeat questions and comments again and again. I answered their frustration and 'never mind' responses with my own frustration. What was once so easy—chatting between rooms, in bed, at the table—became a chore.
I was in my 40s. I didn't want hearing aids. I wasn't an old man. Still, I couldn't decaffeinate my way back to 'normal.' I decided to get hearing aids.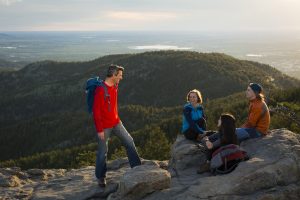 I was surprised by how much more I picked up with the hearing aids. It didn't take long to get used to the hardware either. But it wasn't long before I needed to upgrade to bigger, more powerful hearing aids. With each new model came smaller and smaller improvements. An increasing issue became the fast declining word recognition, a measure I had a hard time comprehending, as I wanted to believe amplification was the solution to all hearing problems.
High-pitched sounds and voices were especially problematic. My wife began translating for our 12-year-old daughter. I avoided situations with mixed media, multiple voices, and cavernous rooms—pretty much every work environment outside of my office.
I arrived early for meetings to claim the best position, once a power move, now survival. I shifted as much business as possible to mobile phone conversations where I had more control over volume and my surroundings. We stopped eating out. We limited dinner parties to four people.
I had lost the ability to hear and comprehend with any degree of confidence. My career was stressed. My personal relationships were strained. I was defensive all the time. My physician ascertained as much and suggested a cochlear implant as the best path forward.
I had never had surgery. And I'm afraid of needles. I don't even like to hear about surgery or needles. I nearly fainted when attempting to give my wife a shot. So, this was no small decision.
I found comfort in research. I peppered my physician and Google with questions and concerns.  Will I be able to continue to function in my current work place and career? Will my kids and wife sound like they did previously? How will I cope with a bionic device?  Will this overcome my effervescent tinnitus? How difficult and successful is the cochlear implant rehabilitation process? How will this affect my love for outdoor activities, such as skiing, biking, climbing – helmet compatibility, sweat/moisture sensitivity? What about taste? Would food and wine still taste the same?
In fact, I was still asking questions when my physician checked in on us in pre-op. Can I go home tonight? When can I get back to work? I continued pressing him in post-op. Is it ok to eat? (I was anxious to test my taste buds.)
The doctor was pleased with the procedure. All went as planned, he said. My first sound processor was activated. What a difference. So many new sounds. I'm so much more connected to the world around me.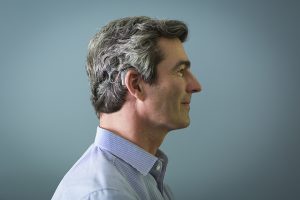 Now, I've had the opportunity to try Cochlear's newest device, the Nucleus® 7 Sound Processor. My thoughts on the first-ever Made for iPhone® cochlear implant sound processor are:
I can hear my way:
The Nucleus 7 allows me to customize features directly from my iPhone, so I can fine-tune my processor's performance to the hearing scenario I am encountering. Meaning if I am entering a boardroom with many participants, I can now change sensitivity to support this specific scenario. On the other side of the scale, my wife and I can go to a favorite local restaurant, and I can now suppress most of the surrounding noises, which lets me have a valuable and enjoyable conversation with her. Before my cochlear implant, it was unthinkable to have a conversation at a packed, noisy restaurant.
I really enjoy the appearance and functionality of the Nucleus® Smart App. It's very intuitive and self-explanatory.
I love having volume control right at my fingertip. I can dial the volume way down on the Nucleus Smart App right on my iPhone. For example, while I'm on an airplane and just want to get into that 'quiet zone' without losing the ability to swiftly hear what the flight attendant is saying, I can quickly just dial the volume back up.
The greatest benefit of the Nucleus 7 for me is the phone usage. Because of my hearing loss, I have been struggling to use the phone for a while. Now when the Nucleus 7 is connected to my iPhone (as well as my ReSound hearing aid), it provides an incredible experience. Sound is impeccable and best described as high definition. The phone ring is streamed directly into the Nucleus 7 as well as my hearing aid, and I can pick up my iPhone naturally and receive respective conversation immediately with close to no delay into my hearing devices with the iPhone microphone staying fully functional. No need for any intermediary device, which needs extra batteries, pairing and positioning.
I can connect my way:
When working out, specifically on a stationary bike or the rowing machine, I have come to enjoy streaming podcasts or music directly to my Nucleus 7 and ReSound hearing aid. I found it to be very easy to stream the audio to both of my devices, to adjust the mixing ratio of stream to microphone, and it provides a nice option on how much of the surrounding noise you want to hear versus how much you want to be in your own zone.
While at work, particularly in meeting scenarios, the 'live listening' function–an option on the iPhone which converts the iPhone in a live microphone–lets me place my phone on the conference table and use it as a remote microphone to stream audio directly to my Nucleus 7 and ReSound hearing aid.
I used to watch only movies with close caption (often in limited selection) while on flights. But, while on a recent flight to Europe, I was able to watch movies on my iPhone since the airline allows to stream the movies to your iPhone via WiFi. The audio was in excellent quality and directly streamed stereo into my sound processor and hearing aid, all without any additional intermediary device.
I can wear my way:
I've found the Nucleus 7 to be very light, comfortable and wearable. Even in hot weather and increased activity, I do not feel sweaty around the ear.
The most important thing about my cochlear implant is that it continues to prove itself as a great help for me. I am very thankful and happy to count myself as a successful Cochlear recipient."
More for information on the new Nucleus 7 Sound Processor, visit www.cochlear.com/us/nucleus7.