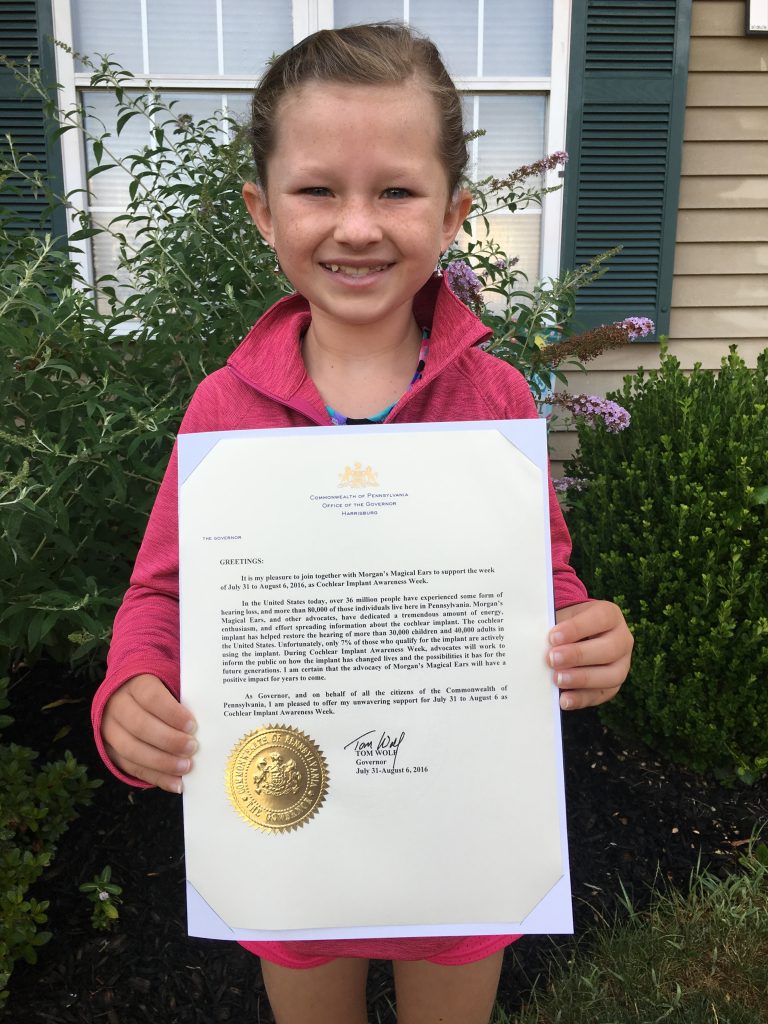 Bilateral Cochlear implant recipient Morgan K. was born deaf and received her first implant when she was a year old. Since six years old, Morgan has been an advocate for hearing loss and cochlear implants. Now at 10, she is working even harder to spread the word about cochlear implants, including getting the Governor of Pennsylvania to declare the week of July 31 to August 6 as "Cochlear Implant Awareness Week" in the state. Morgan's mom shares more below on this amazing little girl's efforts to help educate others.
"Morgan is deaf due to connexin 26 and connexin 30, which are mutations on her genes that cause hearing loss. We found this out when she didn't pass her newborn hearing screen, and it was then confirmed when she had her auditory brainstem response testing (ABR) done following.
As a parent, finding out your child is deaf was one of the hardest things to hear. After grieving about the news, I figured I can either sit around and be upset all the time, or I could start doing my research and moving on and doing the best I could do for my little girl.
We got her wearing hearing aids at three months old, and they didn't help her at all. In working with The Children's Hospital of Philadelphia (CHOP), we were able to learn about cochlear implants, find out Morgan was a candidate and got her first implant at 13 months old and her second implant when she was three years old.
An ear for advocacy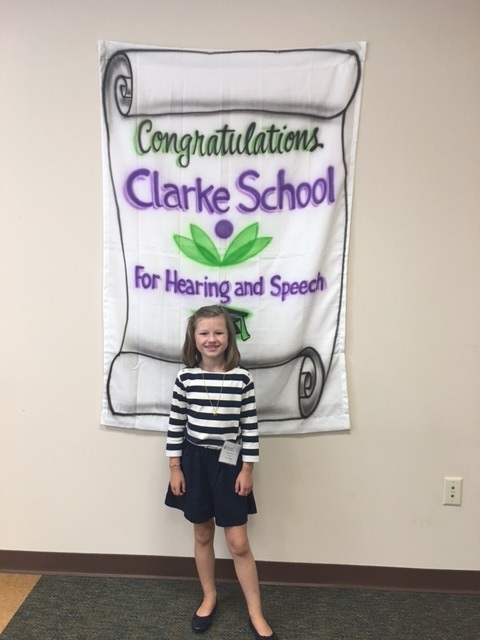 Morgan loves to educate people about her hearing loss and her cochlear implants, whether that's in a classroom or on the street with every day folks.
She started her advocacy work when she was about six years old; that's when she started her 'Morgan's Magical Ears' bucket project.
She had just received yet another surgery, and it was Good Friday. A local business had donated small little Easter gifts for the kids. Morgan just loved this because she woke up from surgery feeling pretty yucky, and on the car ride home, still groggy, she said, 'Mommy I have had so many surgeries and never got anything before; this is so special. I think every kid should get something special that needs surgery, can we do something for kids like me?'
We decided to put together a few sand buckets filled with goodies and give them to the surgery unit at CHOP Chalfont. Through additional support of a church ministry we work with, we were able to donate 12 buckets our first time!
We thought that was going to be our only time donating these buckets, but the feeling was so amazing and the love and support was so overwhelming that we have been able to continue doing it and have now donated over 1,000 buckets to date.
Morgan uses her 'Morgan's Magical Ears' bucket project in two ways: one is to pay it forward, and the other is so everyone that knows her learns about cochlear implants and what they can do for the hearing impaired world.
Morgan has also been asked to speak numerous times by several school districts to help educate young children about cochlear implants and how they help her and many other people hear.
She recently spoke at the Clarke Philadelphia's preschool graduation; she is an alumna of the language school for children who are deaf or hard of hearing (see video).
Through Morgan's advocacy, she even got the Governor of Pennsylvania to declare the week of July 31 to August 6 as "Cochlear Implant Awareness Week" in the state.
Morgan herself says, 'I love to teach people about my cochlear implants because it's really kind of cool how I can hear. They are always very interested in hearing what I have to say. Adults are always surprised what I sound like when I speak. I like to calm down parents because they are so worried about their deaf child. I like to tell them cochlear implants may help and tell them everything is going to be ok! I like to also teach them that we are really no different than a hearing child, we just use hearing implants like a person with an eye problem uses glasses.'
I have always been an advocate for Morgan's passion to educate others, but Morgan has taken the initiative all on her own. She loves her cochlear implants because they are part of who she is and she likes to share it with others. I am always there to encourage and support her.
Morgan was also recently upgraded to the Nucleus® 6 Sound Processor too. She noticed for the first time this weekend how awesome it worked in a crowded area. She was so happy."
For more resources to help parents of children with hearing loss, visit IWantYouToHear.com.