If you've ever seen a service dog in action, you have probably seen how remarkable it is that animals can be trained to help their human partners through the world in extraordinary ways. Whether it's assisting their person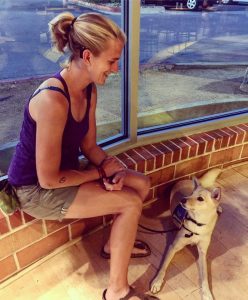 in crossing the street, answering the phone, navigating through the world or retrieving and moving objects, service dogs have an incredible responsibility.
However, that bond and inter-species communication doesn't come naturally: it takes a smart dog, a dedicated person, and lots of training.
Just ask Taylor, a bilateral Nucleus® 5 recipient who trains service dogs for clients across Texas. She said her passion is being able to rescue dogs and pair them with people who need them.
"We take dogs from shelters or rescue groups and we give them a chance to have a second life, to have a purpose and work for that one person," Taylor said. "We train the dogs to want to work for us, and they do it out of trust, leadership, and love."
She said there is an extensive process to make sure the dog is able and willing to assist the client with day-to-day tasks.
"I'm in change of going to shelters in and around the Dallas area, looking for dogs with the right temperament—friendly, people-oriented dogs who control themselves in public," Taylor explained.
The team she works with includes nine trainers, and together they take on up to 18 dogs a year. The goal is to prepare the dogs to serve clients with disabilities.
Once selected, the dogs go through a training program ranging from nine months to one year where they learn about self-control, responsiveness, sound recognition, and obedience.
"I love to see how the dogs change, from the time they're in the shelter to when they graduate, watching them as the years go by," Taylor said. "It's a really cool progression to see."
She recalls a past student who reached out after Halloween to let her know that his dog had been up all night letting him know when every single trick-or-treater rang the d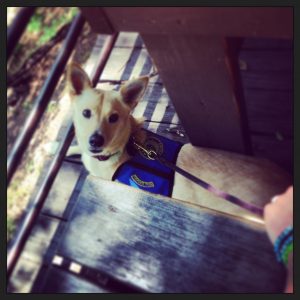 oorbell.
"(The dog) was so exhausted from going to the door but she kept doing it— she wouldn't let her handler down," Taylor said. "He knew when the doorbell went off because she let him know every time."
Working with service dogs is Taylor's passion. She has her own hearing dog named Desi whom she has been training for the past three and a half years. She also has a side business, Spirit Dog Training, where she works with clients on basic behavior and service dog training.
"I didn't know what I wanted to do after I graduated; I was just working and trying to figure out what to do with my life next," she said. "I decided to take a chance on service dog (training) and have worked with them ever since."
Although she's fairly new to service dog training, Taylor is no stranger to adapting to hearing loss. She contracted bacterial meningitis when she was 18 months old and was diagnosed as profoundly deaf soon afterwards. She received her first Cochlear Implant on her right side when she was 4 years old. She was re-implanted on the right side when she was 19 and was implanted on the left side when she was 21.
She said she is grateful that her cochlear implants have allowed her to live and work in the hearing world from a young age.
"Honestly, it made a more positive impact on my life than I could have imagined," Taylor said. "Having cochlear implants has allowed me to function in the hearing world just like everyone else."
She said her cochlear implants have allowed her to work in the restaurant industry, listen to music and have important conversations in person and over the phone.
"The cochlear implant is really a gift," Taylor said.
For more information on hearing in different situations, check out these lifestyle tips.