Born deaf, and experiencing a childhood with accessibility and advocacy challenges, Kei-Che has now dedicated her life to advocacy for those with hearing loss in the Black Deaf community. She speaks about her experiences and how her Hybrid Hearing Solution has helped in our interview below: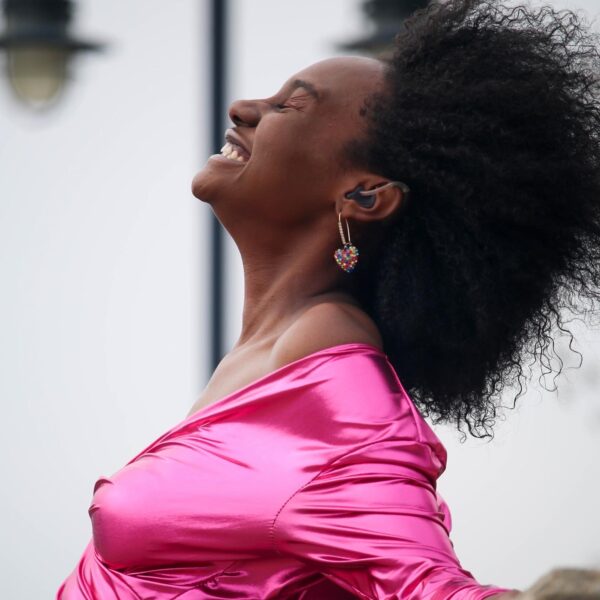 How did you lose your hearing?
"I was born deaf, with a little 'd.' That's a complex statement because society attempts to define people and place them in boxes. Being born into a hearing family, they believe I was 'hard of hearing' because I had minimal residual hearing. Teaching myself to lipread and speech therapy made me more 'hearing' than 'deaf' within my environment."
"The idea of suppressing this hard of hearing (HoH)/deaf identity that others chose for me forced me to assimilate. While I am grateful for those teachings, I now identify as Deaf with a capital 'D.' In addition, I believe I always was… but it wasn't until I accepted myself as Deaf that I was able to teach others how to refer to me.
"How did your family find out you had hearing loss?
"In second grade, I kept falling asleep in class. My teacher noticed and alerted my audiologist/speech pathologist. After an assessment, it was recommended that I receive bilateral hearing aids. For 17 years, dozens of organizations advocated for each pair of hearing aids that I lost."
"I remember hiding my hearing aids during recess in elementary school. There wasn't anyone else like me in those spaces, nor at home."
"Growing up, I didn't have representation of someone who was Black and Deaf. A friend of my mom's wore a hearing aid and loved music too. I easily related to her. We used to dance to 'Oh Sheila' by Ready for the World all the time. That was a small glimpse of joy as a HoH child."
"Later, I met one Black Deaf girl in middle school, but we were separated. She was in a special day class and I was mainstreamed."
"It wasn't until 2019, that I finally gained Black Deaf community, advocacy, and support."
"It has been life changing. Now, I'm on a mission to be that community to others."
"Be the change you want to see in the world."
"As someone who has worn amplifications for 25 years, I still understood within myself that American Sign Language (ASL) was my birthright and that I eventually needed to learn, which speaks to my movement of why 'Black Deaf Students Matter.'"
"**It's important to note that I use Black and Deaf and Black Deaf interchangeably. During Black Deaf History Month, I attended an event where Fred Beam (Black Deaf pioneer) explained this concept clearly. He acknowledges that the words separated embodies two parts to become whole. He offered a different perspective, that we are whole, as one, which is why we are changing our language to amplify Black Deaf culturally."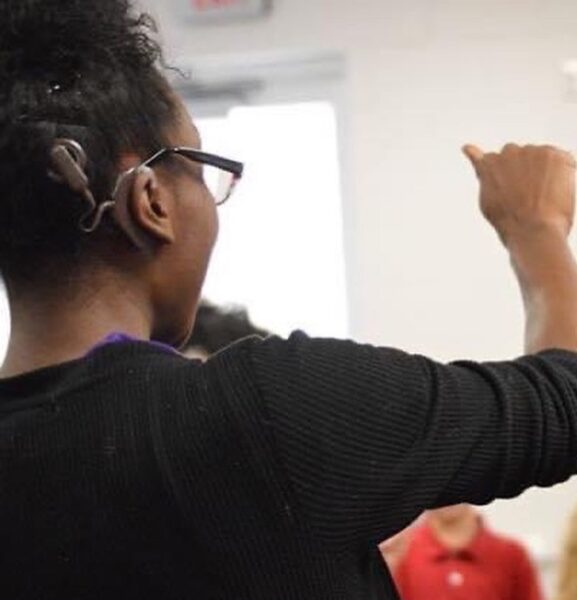 Why did you decide on Cochlear as your brand for your cochlear implant? Was there anything specific that impacted your decision?
"I was familiar with Cochlear, the brand. When attending audiology appointments, I noticed the brand in many ways. I felt they were most inclusive and progressive for Black Deaf individuals."
"At the time, I was a single mother of a 2-year-old girl. We would often have conversations that spotlighted how our worlds are different. Despite that, becoming implanted was inspired by becoming closer to my daughter. I wanted us to share audio experiences that could possibly deepen our connection. I wasn't educated about children of deaf adults (CODAs) at this time. I didn't know there was a world that she could tap into that would support her in a way that I wasn't able to."
"I just remember thinking… 'I want to hear my kid.'"
Example of the two worlds:
"I remember educating my children about the train tracks. We discussed how the signs are posted as warnings on the ground and near the tracks. I shared that the flashing lights are what gets my attention (same with ambulance and fire trucks passing by). Days later, my daughter brings up the conversation again. 'Mom, did you know that the train whistle too?' I was mind blown because I did not know that and it was refreshing that I could be receptive to her teachings/observations as well."
"Moments like these are why I wear my sound processor outside of the home; for safety concerns. However, I very much enjoy the silence within the home. In the mornings, I start the day with no devices. When I am ready to tap into music, television, and the outside world, that is when I become activated. I love the free choice surrounding amplifications."
"Fast forward to today, there are many moments when I remove my cochlear implant and allow both CODAs to make all the noise they want, excluding me!"
"This journey has been life changing."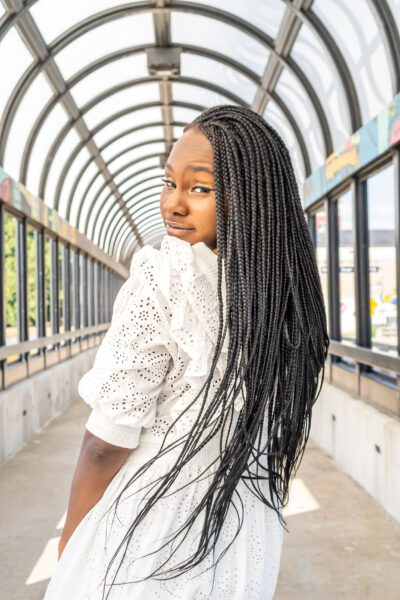 Can you explain what it has been like for you living with a hearing implant?
"Honestly, I am grateful for the Cochlear™ Hybrid™ Hearing Solution1 more than I share. Not only has it given me opportunities to be included, but it also inspired me to start my non-profit."
"Shortly after being activated, I knew I needed to learn ASL. As I built my confidence, I built a program for Deaf and hearing children. I wanted to share with the world that Deaf and hearing communities are a partnership. We do not thrive without each other. Accommodations for Deaf folks also benefit hearing people and we must thank Deaf communities for remaining steadfast through their advocacy… and joining them as allies, without taking over the space; pushing ableism."
"I've always been a music lover, so the implant made me fall in love again. I began to dream of new realms of accessibility. I began to see myself as a Deaf performer with the ability to stream2 music to my sound processor via Bluetooth®, on stage, signing and dancing with my favorite artists. I am still working diligently to manifest this dream."
What benefits are you seeing from your Cochlear Hybrid Hearing Solution?
"Enhanced Deaf pride, more passionate about bridging the gap between Deaf and hearing communities. We need for more Deaf Education for both communities – this empowered me to use my voice/signs/story."
"What makes a HoH child feel seen while exploring identity? Representation. For this reason, we need Black Deaf representation; Black Deaf community."
Are there any key accessories you use alongside your Cochlear Hybrid Hearing Solution?
"Bluetooth® compatibility has been a game changer. I never liked talking on the phone but with the sound processor, I am able to do this now."
"I was always scolded for listening to the television too loudly, so the Mini Microphone granted me personal surround sound capabilities. I use the Mini Microphone for college courses too."
What are some of your key hobbies/work achievements/extracurricular activities? How does your hearing implant play a role in that activity/your success?
I received a Public Health: Women's Health degree in 2020.
I became a Teacher of the Deaf: working with Black and Brown Deaf students in Bay Area, CA. I'm a strong community advocate for their needs.
I completed an accelerated business program with Goldman Sachs™: One Million Black Women in Business in 2022 as the first Black Deaf alumna. I was able to teach a large community about Black Deaf Education. I was received well and I was affirmed that my message/story is of value.
I became a birthing doula (I am also an aspiring midwife). I'm breaking barriers as people don't expect Deaf folks to thrive; let alone work in the healthcare field. I'm shifting the perception of Deaf people and pulling others into this world of intentional inclusion where disability justice lives.
I launched a t-shirt campaign/movement that "Black Deaf Students Matter," shedding light on how Black and Brown Deaf students often fall through the cracks with a lack of access to ASL, interpreters, and Deaf communities.
My achievements have allowed others to recognize their lack of accessible spaces and accommodations in a positive way.
What's next for you? Future goals?
STEPS by Kei-Che plans to launch a lyrical song catalog that amplifies music, signs and dance through collaboration with other Black Deaf performers/artists/interpreters. We are striving to connect with major music streaming companies to provide not just written lyrics but signed lyrics too. I'm on a mission to amplify Black Deaf advancement. Join our movement. Black Deaf Students Matter. STEPS by Kei-Che. Collaborate, Sponsor, Support. Nothing happens outside of the community.
Also furthering my education in midwifery to expand our reach. Currently a rising birthing doula/education specialist. #BlackDeafStudentsMatter
If you are experiencing hearing loss, a Hybrid Hearing Solution may be a solution for you. Find out if this hearing solution can benefit you today!
3
4
5