Developing hearing loss was frustrating and isolating for Rhona as she grew into adulthood. She went from doctor to doctor finding no answers, until a cross-country move led her to cochlear implants. Now as a bilateral recipient Rhona experiences hearing wins with her cochlear implants. Read more:
"So much of the communication about hearing is based on loss: missing the sound of music, loss of understanding words, not understanding dialogue on TV or radio, barely understanding someone on the phone and of course, failing hearing tests. I really appreciate that Cochlear™ has a new campaign with the focus on Hearing WINS and all the positive aspects that can result from taking action to address your hearing loss. I am proud to share my story.
I discovered that I had tinnitus in my early twenties. It would come and go, but gradually was more prevalent. My hearing continued to deteriorate, with my hearing switching from being 'good' in both ears, to only hearing 'ok' in my right ear, sometimes only 'ok' in my left ear. Usually, the sound felt low or muffled. This was challenging while at work, school and in my social life. I can't tell you how many times people thought I had dirty ears full of wax, or that I was ignorant because I could not hear. This was extremely frustrating and isolating.
Over the years I went to many ear, nose and throat (ENT) doctors and audiologists. One doctor really scared me when he made the casual remark that I may have a brain tumor! Others suggested steroids or allergy medicine. One ENT doctor seemed to blame me for my hearing loss! Looking back, it was surprising that so many of these doctors did not have a clue about what to do with my hearing loss. Luckily, I did have some wonderful doctors along the way. But no one had any good suggestions about what to do with my hearing loss.
A cross-country move that came with a solution
In 2002 I moved across the country to take care of my terminally ill mother. After her passing, I was trying to put my life together and went to work in sales. Somehow, I managed to succeed, though my hearing was increasingly declining (I blamed a lot of mishearing on my cell phone, allergies, etc.). After a while (2004), it was clear that I really needed to see yet another ENT doctor. This ENT doctor suggested I wear hearing aids. Hearing aids (which primarily amplify sound) worked for a really short time and were not really the solution.
In 2006, I was recommended to an ENT doctor that was a pioneer in the world of cochlear implants in Miami. I still remember this new doctor telling me that he thought I would do well with the cochlear implant surgery. Though I had never heard of cochlear implants prior to this appointment, I scheduled the surgery. I was so frustrated with not hearing and was more than ready for a solution! It really is a blind handicap.
I chose Cochlear because the company is devoted to being backward compatible (which means I would have access to the latest versions of technology without a lot of hassle). In retrospect, I should have done more research, but I still would have chosen Cochlear. They have a great customer service team, the most advanced technology in the industry and their products are water resistant1. The Cochlear sound processors used at that time (Nucleus® Freedom Sound Processor) had rechargeable batteries and disposable batteries, which is important since I travel frequently.
Hearing Wins
I had my surgery in April 2007; I was activated a month later in May (with the Freedom Sound Processor). I became bilateral in 2011, when I had the surgery on my right ear (Nucleus 5 Sound Processor). Like almost every cochlear implant (CI) recipient, I did work on hearing again. There are various methods to train your brain to understand language with a CI. Everyone has a journey that is different. Please keep this is mind. Once my brain understood language with a CI, life became amazing!
Right after I had the CI surgery and was activated in 2007, my friends pushed me to date again. Socializing is so difficult when you have hearing problems. I detested people telling me I was too loud (you can't hear yourself talking) and I was missing conversation. Now that I could hear, I had no excuse.
These were the early days of internet dating and there were many people that successfully met partners on dating sites. So, I signed up. One of the first guys to contact me was this guy who had a picture of himself sitting at a piano. Mark's profile sounded ok and he seemed nice on the phone, so we met at a dog park. He had a small, fluffy white dog. I had a medium size black and tan border collie mix. It was windy at the dog park, and my hair was blowing everywhere.
At this time, I had the Freedom Sound Processor. I noticed Mark staring at my head. I remember thinking, ok, this is new. I had dated a lot, but how do I explain a wire coming out of my ear, and going back into my head? I thought 'what do I have to lose?' I just met this guy, so if it doesn't work, he is just not for me.
So, in a rush of words, I said, 'I hear with a cochlear implant, which is the wire you see. Is that a problem for you?' He just looked at me and said, 'No, I like gadgets.' Our first date lasted over 5 hours, with us going to two dog parks. On our second date, he painted the interior of my house! Many more dates followed. We just celebrated our 10th wedding anniversary (16 years together). So, in one of the ironies of life, I am a 'technically' deaf person married to a musician.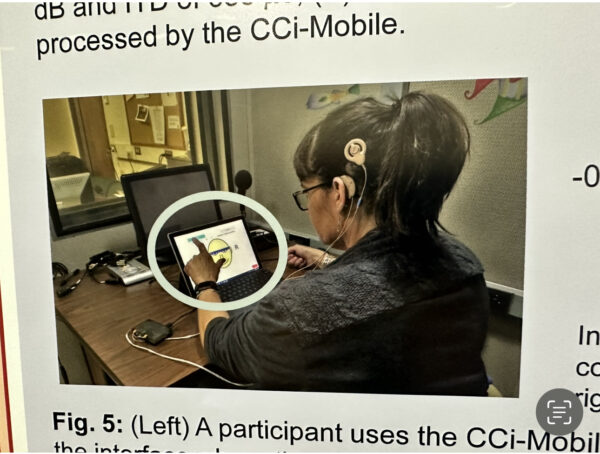 Rhona, participating in a cochlear implant research study at a local university, focusing on understanding how cochlear implant recipients hear. The research is significant to the production of future cochlear implant technology.
Getting my life back
Even though I am deaf, I never really consider myself handicapped or able to do less than anyone else. Being able to hear gave me back my life! Since being implanted, I found my life partner, was able to change careers, received a promotion and overall, greatly improved the quality of my life.
I now have the Nucleus 7 Sound Processor and LOVE the Bluetooth®2 feature! If you think you may benefit from a CI, please see your health professional for the next steps. I have volunteered with Cochlear for a long time and there are so many myths out there. Please see your ENT doctor and start your own journey!"
If you are living with hearing loss like Rhona, learn about changing that to a hearing win with cochlear implants by visiting our Hearing Wins page today!
The Nucleus 7 Sound Processor with Aqua+ is water resistant to level IP68 of the International Standard IEC60529. This water protection means that the sound processor with the Aqua+ can be continuously submerged under water to a depth of 3 meters (9 ft and 9 in) for up to 2 hours. This water protection only applies when you use a Cochlear Standard Rechargeable Battery Module or Cochlear Compact Rechargeable Battery Module. The Nucleus 7 Sound Processor is water-resistant to level IP57 of the International Standard IEC60529 without the Aqua+ accessory for the Nucleus 7 Sound Processor.