Watching your child or teen as they run, jump and play, it's amazing how their sound processor keeps up with their energy levels. But what, as a parent, would give you further peace of mind? We gave active teen, Jack, the latest lifestyle accessory to try with his Cochlear™ Kanso® 2 Sound Processors. Find out what Jack and his mom think of its capabilities.
Teens often struggle to find confidence at the best of times, so when 14-year-old Jack stood on his school stage to have his head shaved to raise funds for cancer research, no one was more surprised than his moms, Sasha and Meredith. They attribute their son's growing confidence to the discretion of his two new Cochlear™ Nucleus® Kanso® 2 Sound Processors – which he loves. Worn off the ear, sound processors have also been more comfortable for Jack to wear with his glasses.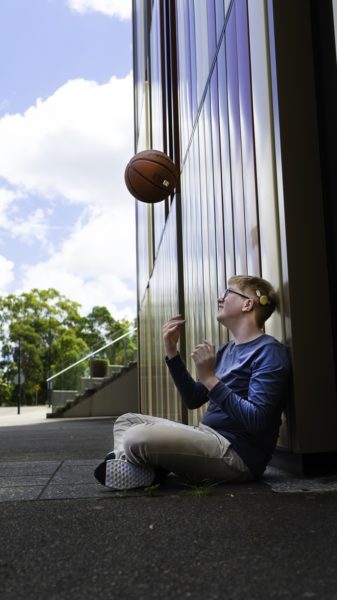 As an avid swimmer, Jack's love of water and swimming was very much affected by his hearing loss.
"Jack's foray into swimming lessons was delayed until the advent of the Aqua+, which was literally life-changing for him," says Sasha. "Now Jack can go into the water with his 'ears' on."
With his parents' plans to install a new pool at home this summer, Jack will be able to enjoy swimming with his family thanks to his Kanso 2 Sound Processors made waterproof with the Aqua+ accessory1.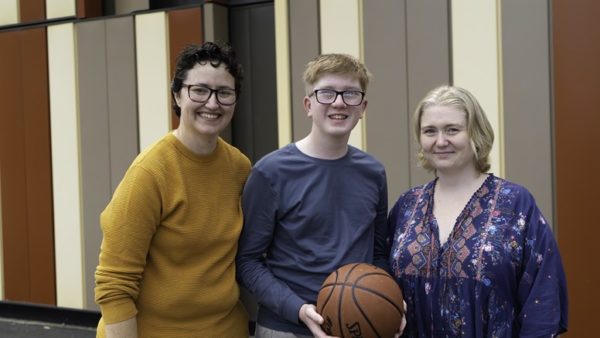 Read on to explore what Jack and his mother, Sasha, think about the new Cochlear Kanso Halo accessory – and how it can enhance children's and teens' active lifestyles. ­
What is a Kanso Halo accessory?
The Kanso Halo accessory is the latest addition to Cochlear's lifestyle accessories for the Kanso 2 Sound Processor. Designed to be used with two Hair Clips or Cochlear Safety Line with Hair Clips, its two attachment points provide extra security during high-energy activities or play.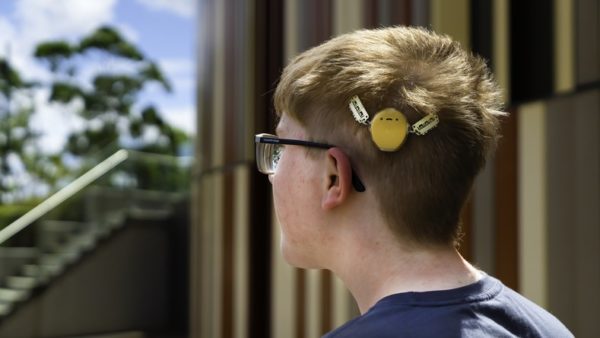 What are your thoughts about having the new Kanso Halo accessory for Jack?
Sasha: "When I think back to Jack as a baby and toddler, the idea of being able to have an off-the-ear device like the Kanso 2 still retained to the head through a small, lightweight device like the Halo would have been a real game-changer for him in terms of comfort – especially compared to the pilot caps we made him wear, even in the middle of hot Australian summers."
Why do you think the Kanso Halo accessory will give you more peace of mind?
Sasha: "Having spent the last 14 years consciously (or subconsciously) worried about Jack losing his processors and being without access to sound, the Halo gives me a lot more reassurance around this.
A couple of weeks ago, we did a treetop walk on a suspended metal walkway several hundred feet above the ground through the rainforest canopy. I made Jack wear a baseball cap, partly for sun safety, but also to try and hold his Kansos on his head."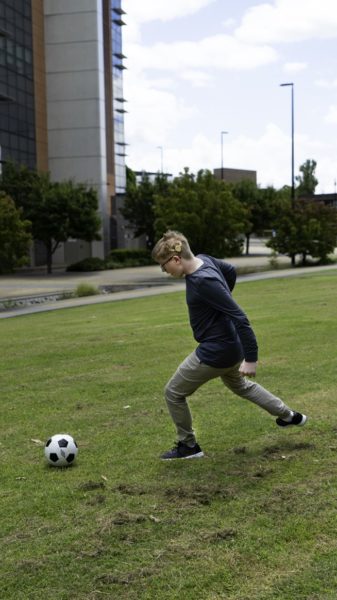 How easy was the Kanso Halo accessory to attach to Jack's sound processors?
Sasha: "With a little practice with the Hair Clips, it's very simple to get them to grip even Jack's very short back and sides. There's a knack to it, but with the assistance of a mirror Jack could put the Halo on himself – after all, he does his own contact lenses!"
Get a Kanso Halo accessory delivered right to your door via the Cochlear Store.