Gradual hearing loss had plagued Michelle for a decade or so before she was finally diagnosed with hearing loss in 2018. Fast forward to the present day, after gaining back her hearing, Michelle is living life to its fullest and is even back to teaching ukulele, thanks to her Cochlear™ Nucleus® 7 and Kanso® 2 Sound Processors.
"My hearing loss became very noticeable in the fall of 2018 when I sought assistance from my ear, nose and throat doctor (ENT). Looking back, I was probably losing my hearing for a much longer time than that, at least a decade we guessed.
Testing and diagnosis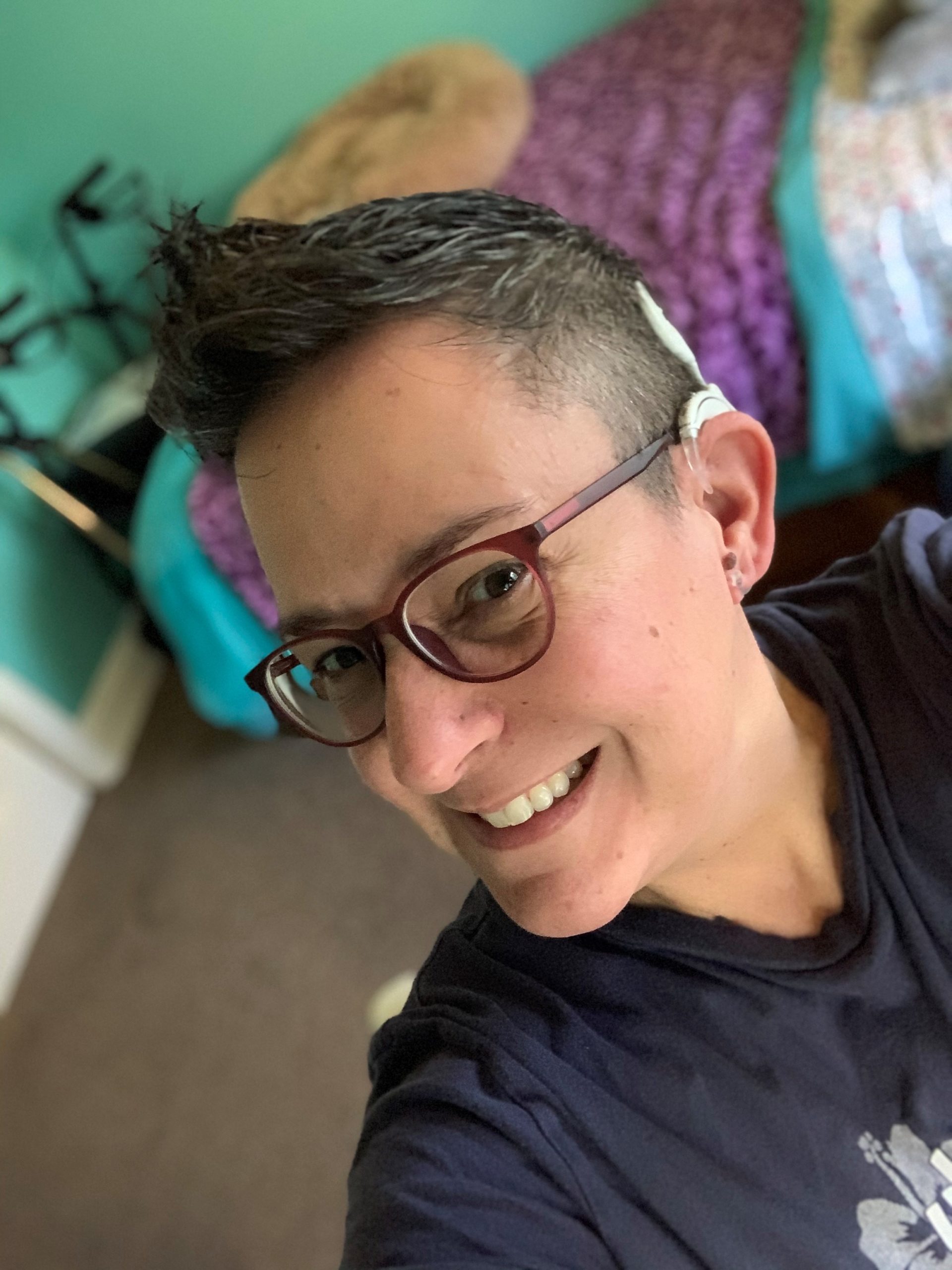 After many tests, I was diagnosed with multiple inner ear/vestibular diseases: Mènière's Disease, AIED (Autoimmune Inner Ear Disease), RA (Rheumatoid arthritis) plus another that contributed to my SNHL (sensorineural hearing loss). I used hearing aids to try to keep up with my busy life and demanding job. My hearing continued to degrade, and I had to keep getting my hearing aids adjusted. The sound distortion and hyperacusis coupled with raging nonstop tinnitus made my hearing aids more of a hinderance rather than helpful. I work in a school district in special education as support staff. My speech discrimination was close to zero and I was relying on lip reading to get by. It was a daily struggle.
My doctor as well as my audiologist referred me to a university health system in the city for a cochlear implant evaluation, being that hearing aids were no longer useful. By spring of 2020, my speech discrimination even though amplified at 110 dB, was only a crushing 0-8% of understanding. My left ear was at profound loss and my right ear (only slightly better) was severe-profound loss. After all the testing, I easily qualified for cochlear implants.
My surgeon was fantastic and incredibly upfront about possible outcomes. My team, along with myself, really hoped for environmental sound awareness and better speech discrimination. So, we moved forward with implanting my left ear. Surgery was scheduled for September 2020. The plan was after six months post op, I could discuss getting my other ear implanted.
Scheduling surgery and finally becoming a part of the Cochlear family!
Once surgery was scheduled, my next job was deciding on which implant company to go with. Knowing this is going to be a lifetime relationship, I really wanted to find the very best fit for me. I did a lot of research, and every path I embarked on all pointed to Cochlear. I was incredibly impressed with the customer service that Cochlear prides themselves with. I spoke to friends and friends of friends with have CI's (cochlear implants), as well as good friends in my school district who are SLP's (speech-language pathologists) and TOD's (teacher of the Deaf), and also a friend who is an audiologist. I asked them about their own experiences with the different implant companies. Unanimously everyone had rave reviews about Cochlear. I had meetings with each company and again, Cochlear was the company that I had my utmost confidence in. The choice became crystal clear I was going to be a part of the Cochlear Family!
Surgery and healing went extremely well, and I was looking forward to the next phase: activation! I am incredibly fortunate that my AuD (audiologist) that I have always had a great rapport with is also a cochlear implant specialist and is an amazing audiologist too!
Activation was fascinating: all bells and beeps, no words… but I was well prepared for that. I began doing aural/listening therapy immediately. I also say I am a worker by nature and a bit of an over achiever at that, so working with great drive is my jam! With each mapping session, my speech understanding was getting more and more phenomenal! I was amazed, as was my surgeon and AuD! I believe they each commended me on my relentless training and positive attitude that quite obviously was a large part of my success! My audiologist loved to say I am a CI poster child
Gaining my hearing back
In a short amount of time, I did so incredibly well that two months post activation, my surgeon put me on his surgical schedule for December 2020 for implant number two! Exactly 3 months post op of the first implant!
Being a bilateral cochlear implant recipient has been tenfold more incredible than I ever could have imagined. My ability to hear in settings with loud ambient noises is fantastic!
My sound processors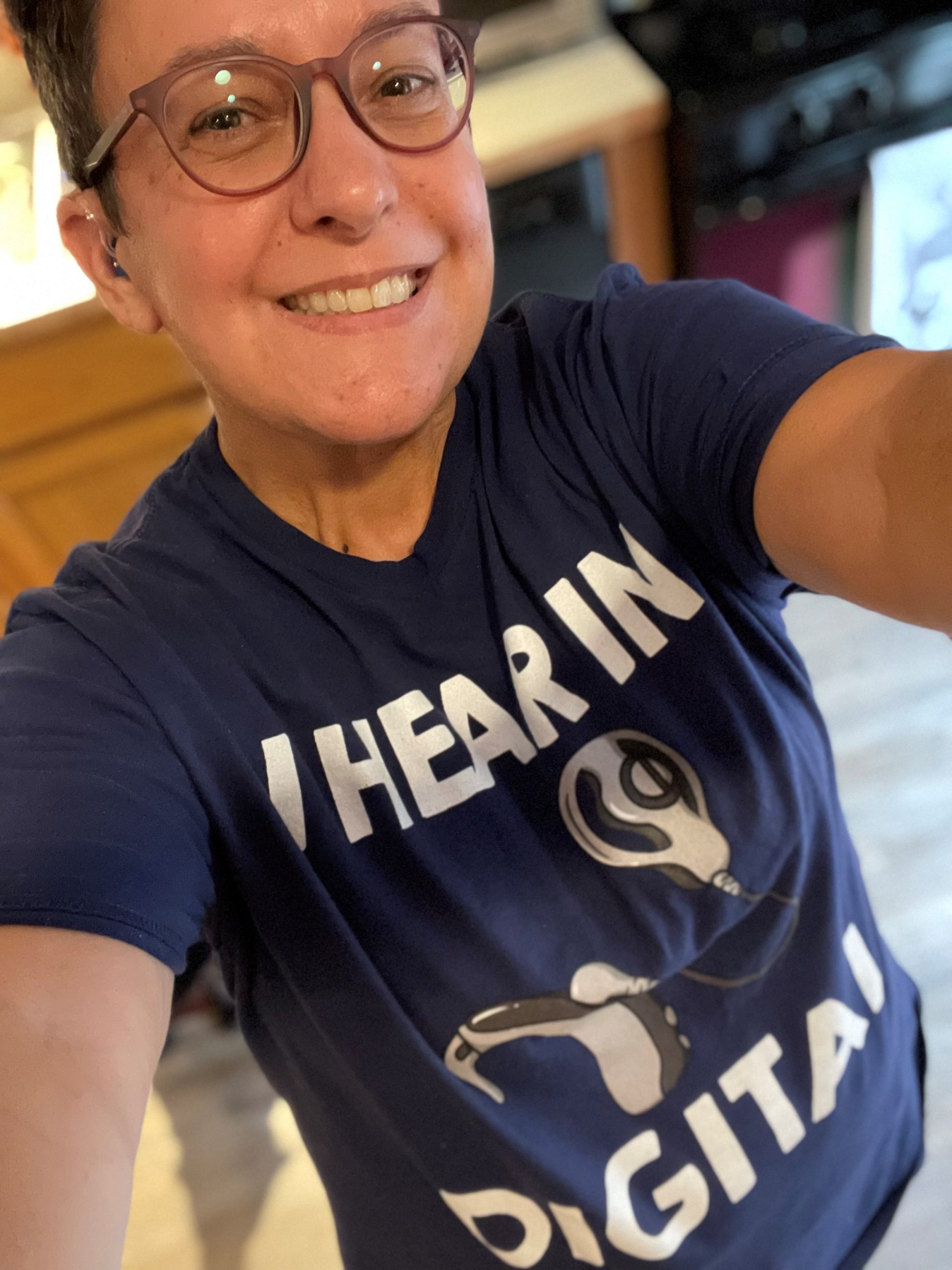 I just love my Nucleus 7 Sound Processors as well as my Kanso 2 Sound Processors! I love having the option of the on AND off the ear processor options! I really love the Kanso 2's with wearing glasses, it is nice giving my ears a bit of a break… as a wearer of glasses, I don't have a whole lot of real estate behind my poor ears after all! I must also add how much I love the streaming capability of both the N7's and the Kanso 2's! I love listening via streaming to music and podcasts on my iPhone®/iPod®12 when I work in my office or relax in my yard.
I love the wireless accessories Cochlear offers! The Cochlear Mini Mic 2+ is a game changer! I use it all the time at work in my school, for staff meetings, even in the lunchroom to hear my grade level team better in a noisy lunchroom setting! Cochlear's Nucleus Smart App is fantastic, so easy to use and seamless with the technology. I use and love Apple® products, so I have my N7's paired with my iPhone 12 and my Kanso 2's paired with my iPod Touch! This way I can had the simplicity of the Nucleus Smart App with both sets of my processors!
I am also amazed with the water kits for my N7's! The Cochlear Aqua Plus3 is a blast. Being able to hear and swim at the same time is such a new idea for me! After swimming laps in my pool, I love relaxing on a float and streaming audio! Going in my pool is a fun daily activity in the summer I enjoy, and I love that the Aqua Plus gives this option!
Settling into the benefits and joy of my life-changing choice to get cochlear implants
As of now, I am 6- and 9-months post activation. My speech discrimination is 99% at 60 dB in quiet AND in noise… incredible! I now hear better than my friends and family who have perfect hearing! Amazing! To think I have only just begun my cochlear journey too!
My life has changed in so many ways for the better. I think back to the daily frustration, incredible listening fatigue I suffered from, as well as the isolation I felt at home, in public and at work. Working in a noisy classroom pre implants was impossible and left me feeling defeated every day. I love working with the children in my school, but the worry of not being able to do my job effectively was very, very real. That worry is now so far away and no longer even visible in my rearview mirror! Thankfully.
My future is so bright, I am even back to playing and teaching ukulele – that is something I have not done in years and assumed I never would do again. And…I am only in the beginning of my life as a grateful and very fortunate Cochlear implant recipient, I can't wait to see what else my future holds!"
Are you interested to learn about cochlear implants and how Michelle regained her hearing? Click here to learn more about cochlear implants today.   
For compatibility information, visit www.Cochlear.com/compatibility.
The Nucleus 7 Sound Processor with Aqua+ is water resistant to level IP68 of the International Standard IEC60529. This water protection only applies when you use a Cochlear Standard Rechargeable Battery Module or Cochlear Compact Rechargeable Battery Module. The Kanso 2 Sound Processor is dust and water resistant to level of IP68 of the International Standard IEC60529. The Kanso 2 Sound Processor with Aqua+ is dust and water resistant to level of IP68 of the International Standard IEC60529. This water protection rating means that the sound processor with the Aqua+ can be continuously submerged under water to a depth of up to 3 meters (9 feet and 9 inches) for up to 2 hours. The Aqua+ accessory should be used when participating in prolonged water activities.