Twenty-year-old dirt bike rider and cochlear implant recipient, Nick has just faced the ride of his life: a gruelling 143 mile multi-terrain desert race against the clock. It's the culmination of a childhood filled with all kinds of sports, something Nick's hearing loss has never held him back from doing. Find out what drove this young man to test his endurance.
Hearing loss doesn't hold recipient back
Twenty-year-old dirt bike rider and cochlear implant recipient, Nick recently undertook the ride of his life: the gruelling Tatt's Finke Desert Race in Alice Springs, the Red Centre of Australia. Entering on a motorbike he built himself with the guidance of a family friend, Nick had been preparing for the two-day off-road, multi-terrain race for months. It was his ultimate challenge since first learning to ride a motorbike at age 3.
Encouraged by his parents, Nick grew up with a love of sports. Despite being deaf in his left ear since birth and losing most of the hearing in his right ear during a family holiday in third grade, Nick has never allowed his hearing loss to hold him back.
Cochlear implant helped with both school and safety
Receiving his cochlear implant at 10 years of age, Nick says it's made "a huge difference" to his life. From early on, he felt more included and his school grades improved. "I didn't really have to sit at the front of the class anymore, I could hear the teacher," says Nick. "I could play card games or do an activity with another classmate, and not have to look at them. I could just hear them."
Nick's cochlear implant system also offered the security of being able to hear cars and trams, as well as what was being said around him–something that allowed him to ride his motorbike and enjoy a wide range of sports growing up.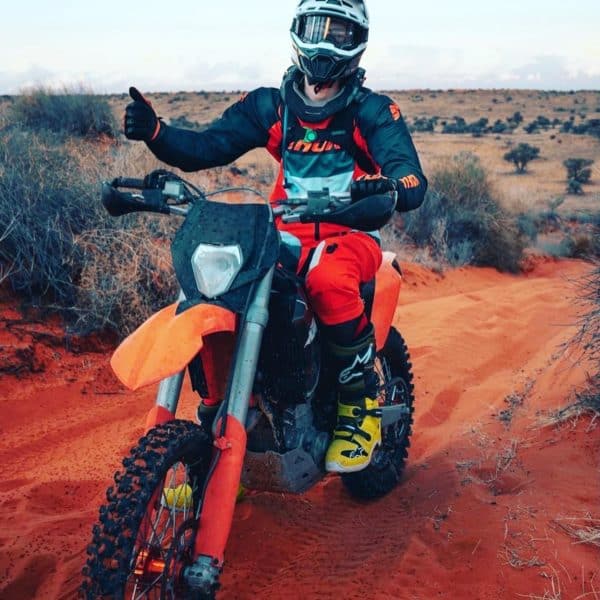 Love of sports not affected by hearing loss
"At school I played racquetball, basketball, tennis… I did everything," says Nick. "I didn't really say no to any sports. I grew up motorbike riding, I grew up wakeboarding and snowboarding." He has worked out how to accommodate his CochlearTM Nucleus® 7 Sound Processor under protective sports helmets.
Rather than motocross, which often involves clusters of riders racing together, Nick has chosen the Enduro events where participants race against the clock and with a staggered start according to their position in a preliminary time trial.
"That's a bit safer than motocross, with enhanced safety gear. In my opinion, it's a little friendlier too… there's less accidents… it's more technical," says Nick who, given the noise of the engines, doesn't need to rely on his hearing during the race itself.
As well as gym sessions and running, working full-time as an apprentice landscaper helped Nick prepare physically for this latest challenge which involved racing at high speed for the 3.5 hours continuously each day.
With COVID-19 restrictions in his home state forewarned, Nick was able to get to the race location before borders closed and compete on the 143-mile course. Racing in the competition for the first time, Nick says his aim was not to be among the fastest racers, but to finish the race and to "learn how to do it properly and safely" in the often deep sandy, desert conditions.
Being open about hearing loss educates and inspires
Many of Nick's fellow competitors were impressed with his participation in the race and genuinely interested in knowing about his cochlear implant and what motivated him to compete.
"They thought it was amazing that I had gotten this far, to be able to do the race, and not see my hearing loss as a negative," says Nick. "Being open about it helps educate them as well, so they know how to talk to another person with a hearing impairment."
With his sights already set on next year's Finke Desert Race, Nick is keen to encourage other young cochlear implant recipients to "go for it… no matter what it is–surfing, snowboarding, motorbike riding–don't let your hearing impairment or any disability stop you from having a 'crack' at anything you enjoy". He says that it's not about being the best but participating, having fun and doing it to the best of your ability.
Keep you sound processor in place while you do the high-energy activities you love. View sound processor retention devices.