Dennis K. lost his hearing at 65 due to an acoustic neuroma. The acoustic neuroma, or tumor on the hearing nerve, was removed and left Dennis completely deaf on his right side.
Dennis recalls with a wry smile, "I rather foolishly asked, 'Is there a chance that the nerve will grow back?' and after they were done laughing, they said no. So the option for me was the Baha® System. When the ENT doctor put the little Baha sound processor on a softband and held it against my head, it was amazing. I could hear what he was saying even when he had his back to me. My wife just looked at my face and immediately understood that I could hear."
Every story is different. Perhaps you woke up one morning and found that you couldn't hear or you can relate directly to Dennis' experience. Dennis is one of the many recipients who benefit from a Baha bone conduction system from Cochlear.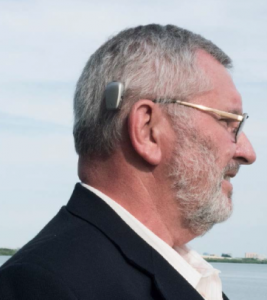 The Baha 5 portfolio of sound processors is the first bone conduction portfolio to offers three head-worn sound processors, the Baha 5, the Baha 5 Power and the Baha 5 SuperPower, each one designed to meet a different level of hearing loss.
The new Baha 5 Power Sound Processor is ideal for people like Dennis who need more power, with a hearing loss up to 55 dB SNHL. Compared to the previous generation (the Baha BP110 Power), it offers longer battery life, wireless capabilities including Made for iPhone® support, and the design is totally new.
When trying it on for the first time, Dennis was impressed; "It looks sleek. It looks nice. I like that the battery door is all self-contained."
The Baha 5 Power comes in five colors, so you can choose a color to match your hair. Dennis opted for the silver color to blend in with his hair.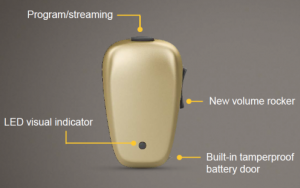 Some of the features in this amazingly smart power sound processor are
Direct-to-device wireless capabilities
New volume rocker – for easy volume control
Made for iPhone technology
Built-in tamper proof battery door
LED light – indicating if the device is working properly
For more information on the Baha 5 portfolio of sound processors and bone conduction implants as a hearing loss solution for you or a loved one, click here.
iPhone is a registered trademarks of Apple Inc.