Just as no person is the same, we know each person's cochlea (auditory portion of the inner ear) comes in all different shapes and sizes.
Should you be a candidate for a cochlear implant, we provide an extensive range of implants and electrodes to allow your surgeon to choose the best one for your specific internal anatomy and hearing needs. Implant and electrode selection is ultimately based on surgeon preference, but you should feel comfortable having a discussion with your surgeon on what implant will best suit your hearing needs.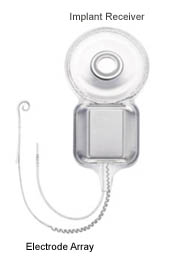 The implant is the internal part of the Cochlear™ Nucleus® Implant System that is surgically implanted. The implant's receiver includes the magnet and computer chip, and it is placed just under your skin behind your ear. The electrode array is connected to the receiver and is placed within your inner ear to provide direct electrical stimulation to your auditory (hearing) nerve.
At Cochlear, we design our implants to last your lifetime, which means less risk of additional surgeries and greater peace of mind for you.
Our implant portfolio features some of the following implants and electrodes:
The Nucleus Profile Implant – our thinnest implant
The importance of this thin implant is that it follows the curvature of the head for the potential of a better cosmetic outcome and less time in surgery.
The Nucleus Profile Implant has a higher impact resistance —up to 2.5 joules—for added durability. It is also the industry's thinnest and most reliable cochlear implant today.1-4
The Nucleus Slim Modiolar Electrode – sits closest to the hearing nerve for optimal hearing performance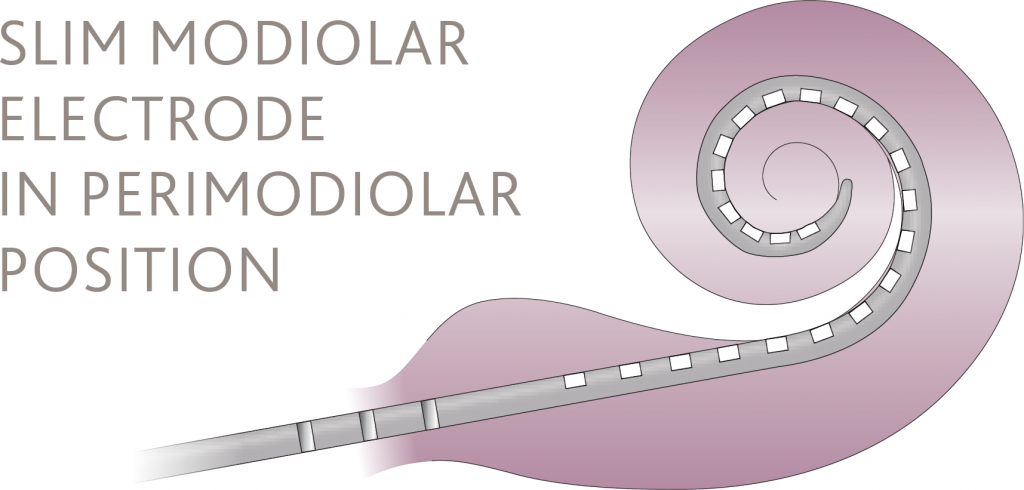 The Nucleus Slim Modiolar Electrode is our latest implant innovation. It is the world's thinnest full-length perimodiolar electrode and is designed to protect the delicate structures of the cochlea by being placed closest to the hearing nerve.5
In the Slim Modiolar Electrode, we have combined the benefits of a thin electrode with the optimal positioning in the cochlea to provide you with the potential of your best hear hearing performance.
By being inserted closest to the hearing nerve, our perimodiolar electrodes provide the most focused and efficient stimulation of the hearing nerve to maximize your hearing outcome.6-10
Hear from a recipient with a Nucleus Implant with Slim Modiolar Electrode:
With Cochlear, you will have the peace of mind that your surgeon has options in implants and electrodes that are designed to provide your best hearing performance and fit your personal hearing needs.
To learn more about our Nucleus Implants, click here.
References:
Cochlear™ Nucleus® Profile – CI512 Implant Spec Sheet, [PDF-Internet] [cited 2015 Jan 10].
Technical Specifications.HiResolution™ Bionic Ear System by Advanced Bionics, [PDF-Internet] [cited 2015 Jan 5]. Available from: http://www.shablulim.com/wp-content/uploads/2013/11/028-M129-03_CI-System-Tech-Specs-Brochure.pdf.
Concerto. World's Smallest & Lightest Titanium Implant, [PDF-Internet] [cited 2015 Jan 5]. Available from: http://www.medel.com/data/pdf/22676.pdf.
Data on file – Hi-Focus Mid-Scala Electrode brochure (028-M270-03). https://www.advancedbionics.com/content/dam/ab/Global/en_ce/documents/professional/HiFocusMid-Scala_Electrode_Brochure.pdf and Flex 2. http://s3.medel.com/downloadmanager/downloads/maestro_2013/en-GB/22676.pdf. Aug. 2016
Holden LK, Finley CC, Firszt JB, Holden TA, Brenner C, Potts LG, et al. Factors affecting open-set word recognition in adults with cochlear implants. Ear Hear.2013 May-Jun;34(3):342-60
Esquia (2013): Esquia Medina, GN., Borel, S., Nguyen, Y., Ambert-Dahan, E., Ferrary, E., Sterkers, O., Bozorg Grayeli, A. Is Electrode-Modiolus Distance a Prognostic Factor for Hearing Performances after Cochlear Implant Surgery?. Audiol Neurotol. 2013;18:406–413. DOI: 10.1159/000354115.
[3] Van der Beek (2005): van der Beek, FB., Boermans, PP., Verbist, BM., Briaire, JJ., Frijns, JH. Clinical evaluation of the Clarion CII HiFocus 1 with and without positioner. Ear and Hearing. 2005 Dec; 26(6):577-92.
Dowell, R. Evidence about the effectiveness of cochlear implants for adults. Evidence based practice in audiology : evaluating interventions for children and adults with hearing impairment. Plural Publishing. 141-166. 2012.
Cohen L, Richardson L, Saunders E, Cowan R. Spatial spread of neural excitation in cochlear implant recipients: comparison of improved ECAP method and psychophysical forward masking. Hearing Research 179 (2003); 72-87.