Hearing loss isn't enough to keep Cheyenne from achieving her dreams. Having lost her hearing as an infant, she is now an accomplished basketball athlete, she hears with cochlear implants and has big dreams of making it to the NBA. She is determined to use her story to inspire other individuals with hearing loss to reach for the stars.
"I lost my hearing as an infant after my inner ears suffered complications. I ended up getting Cochlear™ Nucleus® implants later on so I could hear and interact with the hearing world around me. I still do not know the exact cause of my hearing loss, but I refuse to let it affect my outlook on life and my basketball aspirations. Additionally, cochlear implants help me a lot because they improve my listening and communication skills in daily life.
Cochlear implants helping hearing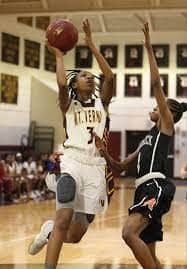 My parents found an outstanding hearing and therapy program at our local medical center where you can learn how to adapt to the hearing world. As a result of going there and finding my audiologist, I have been working with my audiologist for 21 years. My audiologist has been a great help. She has taught me to learn how to adapt to the hearing world, how to lip read, how to do hearing therapy like repeating words after her and making sure that my cochlear implant sound and programming is comfortable.
I graduated high school in June 2019, then went to college nearby. My two years at this college were a great success. I graduated with my Associates Degree in June 2021. After graduation, I transferred to another college to complete my studies in September 2021.
Basketball success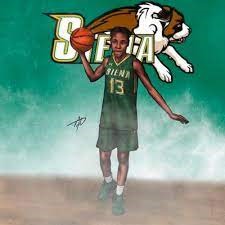 One day, I woke up and received news that I was invited to play for the USA Deaflympics1 in Poland 2019 and ended up bringing Bronze back to my hometown. This was a very happy moment for me because I knew that my energy and motivation proved my point that anyone with disabilities can accomplish anything they want to do in life. Additionally, I will be playing in the USA Deaflympics in Brazil in May 2022. This time I will be bringing home GOLD!
My future goals are to have my own business and work with people that have hearing disabilities. I want to teach and give back to the youth with hearing loss, spreading the message that you can achieve your goals no matter what they may be in life.
I am very grateful for receiving help from my mom who is my biggest supporter for my entire 21 years of my life, and I want to give back to my mom for a lot of things she has done for me. I am also extremely thankful for my family and the team at my local medical center. I am very appreciative of the support I get from coaches, teachers and friends in my hometown and in particular, my high school and college coaches.
My favorite quotes about my hearing loss
Here is a collection of quotes I have stated about my hearing journey over the years:
'When I grew up, I learned that no matter what anybody says to me about my hearing loss, just don't let them stop me if I'm chasing what I want to do. I want to go to the WNBA.'
'My hearing loss is what keeps me going. I just want to show others that your hearing loss can't stop you from anything and that you can achieve your goals and make it far in life.'
'I've been an athlete my entire life. I'm applying that commitment at the college level, and to getting my college degree.'
'I realized that even though I have a hearing loss, it's not going to make me feel like I'm not good enough. I'm always going to be a good person. I'm the same as everybody, but since I have a hearing loss, it makes me feel special.'
Here is a news article about my journey as well."
Are you interested in learning about how cochlear implants help Cheyenne hear? Learn more here.