Are you hesitant about cochlear implant surgery? Eager to understand what it involves and what the recovery entails? Read on to learn more!
Please note that surgery looks and feels different for all people and the below are the basic facts about cochlear implant surgery. Want to connect with someone who has gone through the cochlear implant process to learn about their experience firsthand? Connect with a Cochlear volunteer here.
How long is cochlear implant surgery?
Cochlear implant surgery is typically a routine outpatient procedure. After surgery, most return home on the day of with people typically back to their normal routine in a couple days.
What is the cochlear implant surgery process?
Cochlear implant surgery is performed under general anesthesia. After preparing the incision site, the surgeon will make a small incision behind the operated-on ear. The electrode is inserted into the inner ear and the implant is placed under the skin. Then, the incision is closed with (most often) disposable stitches, removing the need for stitch removal. Although the procedure is fairly routine and safe, like all surgeries, there are risks. About three to four weeks post-surgery, the cochlear implant will be turned on in what is called an activation day.
See how a cochlear implant surgeon describes the cochlear implant surgery process
Dr. David Kelsall, an otologist from Rocky Mountain Ear Center in Denver, Colorado has performed over 1,000 cochlear implant surgeries in his 28 years as a surgeon. In the video below, Dr. Kelsall explains what happens during cochlear implant surgery and what to expect from the recovery process. Watch the video to hear first-hand the cochlear implant surgery process.
Kate S. felt prepared for her cochlear implant surgery and recovery process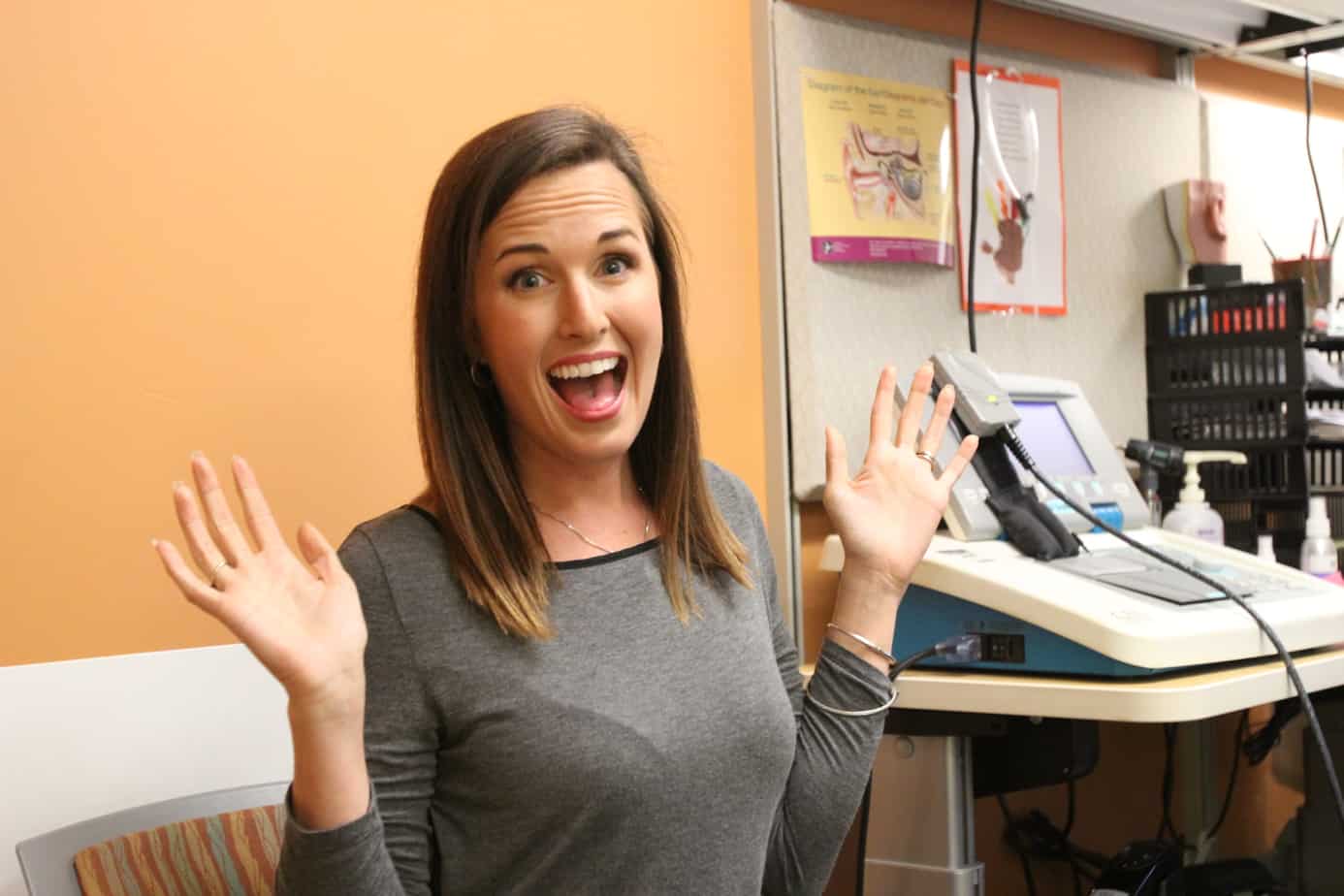 Kate had a general idea of how to navigate her hearing loss after watching her brother go through it six years prior. Watching him go through the cochlear implant candidacy process and seeing his success after cochlear implant surgery, Kate was ready to seek out her own hearing implant solution.
After learning more about the procedure and asking recipients about their cochlear implant surgery, Kate felt optimistic about her procedure. The cochlear implant surgery was successful, and her surgeon was happy with the results.
In her video, Kate explains that her recovery from surgery was a lot easier than she thought it would be. She had some aches and pains and her operated ear felt full from the fluid buildup, but her medical team assured her that the "stuffy" feeling would go away over the course of a couple of weeks.
In total, Kate took about two weeks off work and relaxed on the couch, watching movies and catching up on her television shows. With the help of her doctors and the Cochlear community, Kate felt prepared for post-surgery expectations and everything fell in line with that recipients have said is "normal." Today, Kate can live her life more fully, thanks to her cochlear implant.
If you or your loved one want to learn more about cochlear implant surgery, read more about the cochlear implant process here.