After years of battling cystic fibrosis, powerful medications destroyed Emily D.'s hearing. Emily has never let her challenges hold her back from pursuing her goals, including getting on the game show, Jeopardy!, a show she has loved since childhood. Emily shares her story below.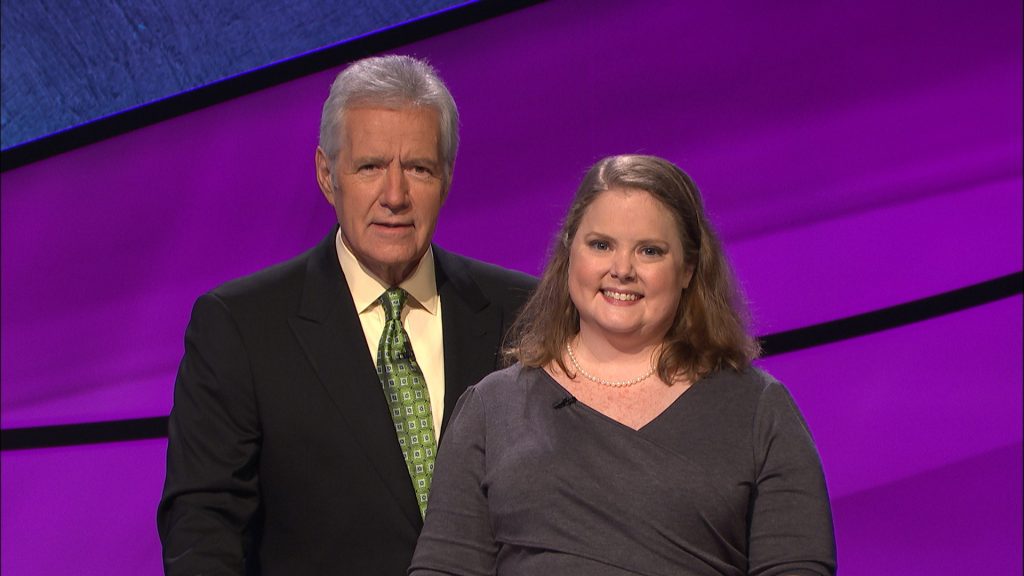 "I was born with perfect hearing, but an imperfect genetic code. I have cystic fibrosis, a genetic disease which affects the lungs and the digestive system. Due to too much sodium chloride in my cells, the mucus that lines the lungs and digestive tract becomes thick and sticky—an ideal place for infections to thrive. Eventually, the disease destroys the lungs. In that case, a double-lung transplant is often the only treatment option left.
I was fortunate enough to receive my transplant July 2005, but a lot of damage had been done to my hearing due to years of powerful medications which destroyed my hearing.
In 2008, I decided to receive a cochlear implant to get my hearing back. My cochlear implant is in my left ear, and normally it's pretty invisible, since my hair covers it.
One of my favorite TV shows is Jeopardy! I've watched the show since I was 10 or 11 years old, and I always thought it would be fun to be on the show. So after my transplant, I started trying.
In order to get on the show, you have to take an online test of 50 random questions. If you receive a certain score (you don't know what the score is), your name goes in a drawing, where you can be selected for the second audition, which includes another 50 question written test, an interview, and playing a round of Jeopardy with two other potential contestants.
I was lucky enough to be selected for the second round auditions in October 2015, and my dad and I flew to Boston, Mass., for the audition. I thought I had done well, but I was totally surprised when one of the producers called me and told me I'd be selected to appear on the show!
The show has had blind contestants before, but never one with a cochlear implant. At this point, I knew I needed to work with the producers and flag some considerations that would help me. So I talked to my audiologist and we came up with a couple things I could share with the producers to help make sure I could play my best game.
There were no video or audio clues in my game, and since the full clue text isn't provided, the producers were very helpful in making sure that I could hear throughout the entire experience. This included ensuring that I could hear and respond appropriately during game play, and that I could understand the other contestants. And that was it!
I did have my Cochlear Remote Assistant with me, so I could adjust my processor for optimal hearing, but my Nucleus® 5 Sound Processor performed brilliantly. I was able to play a good game and have a lot of fun doing it.
I made sure to bring all my extra rechargeable batteries with me to the set! I also used my Dry & Store back in the hotel room to make sure the processor was at its best. I also visited my audiologist before I left for California to ensure that my processor's programs were exactly how I wanted them.
My episode aired on July 18, 2016. Since I couldn't tell anyone how I did before the episode aired, it was nice to have people be able to watch the episode and see how I performed! This fall I'm planning on indulging one of my other loves—theater. There are several productions coming up that I'd love to audition for!"
To learn more about cochlear implants for you or a loved one, click here.