John S. struggled with hearing loss nearly all his life until he received his first Cochlear implant at 48 years old. John's Cochlear implants have changed his life in ways he never anticipated, including him finding new joys in music. John shares his story below on how life doesn't have to stop if you have hearing loss.
From struggling to hearing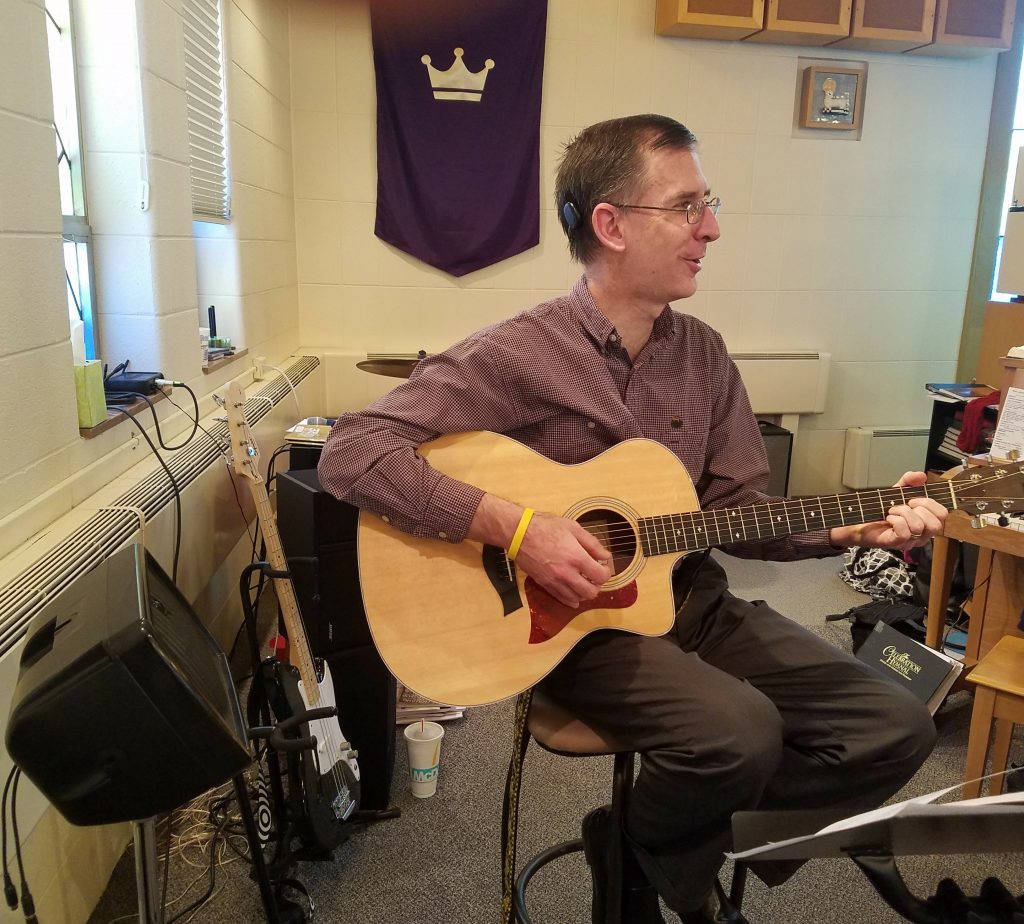 "When I was three years old, I lost much of my hearing after a bout with meningitis. I ended up with a profound hearing loss in my right ear and a moderate-to-severe hearing loss in my left. Ever since that time (which was in 1970), I wore a hearing aid in my left ear – my right ear was unaidable – and was successfully living in the 'hearing world.' In more recent years, my hearing started getting worse.
At first, I thought it was just my hearing aid needed updating, but I soon learned it was more than that. At my audiologist's suggestion, I went for a cochlear implant evaluation and was shocked to discover I could only understand about 25 percent of speech. I am very good at reading lips, so I never realized how bad it was. I was, at that point, unable to carry on a telephone conversation and was having difficulties communicating even face-to face.
I received my first Cochlear implant in my left (better) ear in October 2015 and was activated just before Thanksgiving in November.
The day after activation, we had workers in our house installing a new floor in the kitchen, and the constant hammering and sawing sounded like beeps and squeals and drove me absolutely crazy. Within a few days, however, things all of a sudden sounded 'normal' again. Within a few weeks, after some updated mapping, I was hearing better than I could ever remember hearing. We repeated the same speech testing, and I was up to 95 percent recognition!
Renewed daily life, new musical opportunities
Having the implant made such a huge difference in my day-to-day life. At work, I was able to participate in conference calls without using the captioned phone – no more dreading phone calls! My family life improved dramatically – I was able to talk with my wife and children without being exhausted from the effort (and without my family being exhausted from repeating themselves several times).
I started to come out of the shell I'd been living in for several years because I was now eager to interact with people instead of it being a chore.
One thing I never envisioned happening when I was going through the Cochlear implant process was how I would end up getting involved in music.
I had learned to play guitar as a youngster, but in 2016, it had been 25 years since I had played a guitar. Just after Easter, I picked up a guitar and started playing again with the musical ensemble at church. It did sound different than I remembered from before, but with practice (by which I mean both listening and playing) I was sounding 'musical.'
If relearning the guitar wasn't enough of a challenge, I decided to push myself by taking singing lessons! I worked with a voice teacher who had also discussed those lessons with an audiologist who specialized in auditory rehabilitation and had Cochlear implants herself.
I had heard music could be a challenge for cochlear implant recipients, but with hard work, I'm able to sing on pitch and play along with my guitar. I'm now playing weekly at church and playing with a local group of musicians. I even overcame my stage fright and sang/played a solo during Communion one Sunday.
As I look ahead to the future, I want to become a more accomplished musician and seek to find ways to help further music appreciation in cochlear implant recipients."
Learn more about cochlear implants for you or a loved one here.