Justin Piraino is an Audiologist and Associate Marketing Manager at Cochlear Americas. As a Cochlear recipient and employee, Justin was one of the first individuals to try the Kanso™ Sound Processor. Below Justin shares his hearing loss story and his journey to Kanso.
"At age four, my first ear infection brought me to an Ear, Nose & Throat (ENT) doctor, and it was there they first determined I had a hearing loss.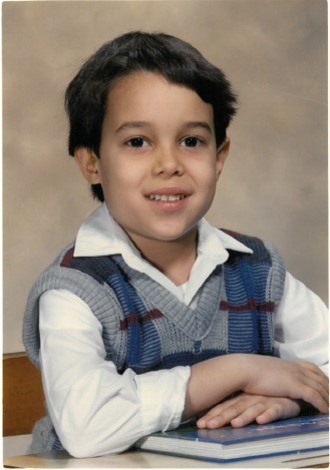 As always a mother's instinct is usually correct. She suspected something was wrong, but somehow I had always managed to pass the pre-school hearing screenings and newborn hearing screenings were not around yet.
Very soon after this, I was fit with my first hearing aids. Throughout elementary school, I used an FM system, a large box that I'd have to carry around with me, had lots of wires and only allowed me to really only hear the teacher.
I remember swimming at my uncle's pool every other weekend when I was little, and I did so in silence.
Over the years my hearing loss would drop, but always came back; however, it was always a little worse than it had been before. Later on, these drops were sometimes accompanied by debilitating bouts of vertigo.
It wasn't until college that I had my first encounter with a cochlear implant, and it wasn't really until graduate school when I realized with the progression of my hearing loss, a cochlear implant would be the logical next step.
After graduation and while working as an audiologist at a local hospital, I experienced another drop in hearing due to enlarged vestibular aqueducts. This time, things were different. I kept waiting for my hearing to come back. One month passed, nothing. Two months, three months passed and no change. In the meantime, I had a cochlear implant evaluation and found out I was a candidate.
In March 2007, I received my cochlear implant, the CI24RE Implant, and was fitted with my Nucleus® Freedom Sound Processor in April.
When I first received my Freedom Sound Processor, one of the things that always stuck with me, and still does today, was how did I get by with my hearing aids for so long? How did I even get through school? I was really struggling, and it was not until I received my cochlear implant did I realize how much. Early on, I would take off my sound processor and listen with just my hearing aid and be amazed at how much I could not hear with just my hearing aid.
Since being implanted, I have taken advantage of every upgrade Cochlear has offered. With each new technology, there has always been a 'wow' moment for me.
With the Freedom Sound Processor, it was more about being able hear again. I could not believe how much I was missing with my hearing aids.
With the Nucleus 5 Sound Processor, it was the dramatic decrease in the size of the sound processor and the much improved microphone quality.
With the Nucleus 6 Sound Processor, it was SCAN* and the ability of the sound processor to change automatically to different sound environments, helping me to hear better no matter where my day took me, especially in noisy situations. Even further, the CochlearTM True Wireless accessories have positively impacted my life. If you were to ask family, friends, and colleagues, they will likely tell you they never see me without my Wireless Phone Clip. Additionally, the wireless accessories give me the ability to hear and stream sound bimodally to my cochlear implant and to my Resound ENZO hearing aid I wear in my other ear.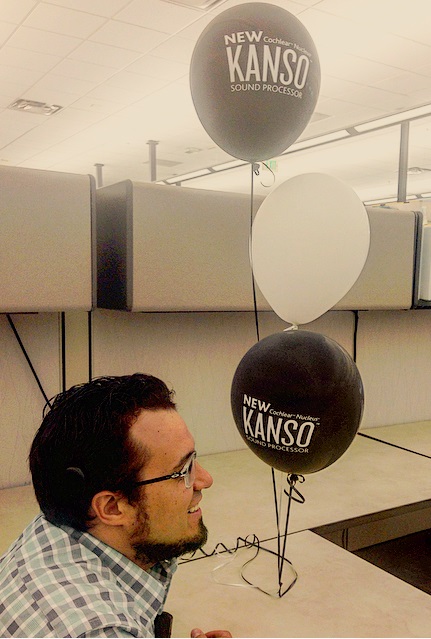 And now we've come to the latest innovation today, Kanso. The Kanso Sound Processor is a game changer for me.
With Kanso, I've been wowed by its small size.
For the first time since I was four years old, I have nothing on my ear, nothing interfering with my glasses.
Amazingly with how small it is, I still receive the same functionality and performance as my Nucleus 6.
The retention took a little time for me to figure out. At first, I used the hairclip retention line as I was concerned it would fall right off. My first test was jumping up and down in place, and, to my surprise, it stayed on. The next day I tested it out running with the hairclip retention line and again it stayed on. I stopped using the retention line after three days and haven't used it since.
When wearing a hat, I can hear and it looks like I have nothing helping me to hear (unlike my hearing aid and previous sound processors). While I've never really cared about others knowing about my hearing loss, because it's who I've always been and why I became an audiologist, but the ability to have discreet option certainly has had a positive impact on me. In fact, now if I'm out wearing my hat and I'm talking to others about my cochlear implant, I have to take off my hat to show them there is something there!
Since being diagnosed with hearing loss in the early 80's to today, things have gotten smaller and smarter. I've experienced hearing aids, FMs, cochlear implants and it feels like everything in between. For me, the Kanso Sound Processor is the best technology yet."
For more information on the Kanso Sound Processor, click here.
* SNR-WR, WNR and SCAN are approved for use with any recipient ages 6 years and older, who is able to: 1) complete objective speech perception testing in quiet and in noise in order to determine and document performance: and 2) report a preference for different program settings.