Richard E. struggled with hearing loss throughout his life, wearing hearing aids and resorting to lip reading to get by. After an audiologist recommended he looked into a cochlear implant, his life changed forever. After getting a cochlear implant, he urges others to not wait as getting a cochlear implant was the best decision he has ever made:
"I have worn hearing aids for over 33 years. As an infant and toddler, I had many ear infections. With those infections came very high fevers and my doctors believed that the high fevers were the reason for my hearing loss. My mom was my advocate and she spent countless hours with me at the doctors' offices trying to get me the help that I needed.
After I was diagnosed with hearing loss, I received my hearing aids. Following my diagnosis, I went to a local school for the deaf for two years. Because of the travel and wanting to be with my friends, my parents decided to transition me into public school. I was one of the few students with hearing aids at my rural school. That did not affect my education and I was able to work with a wonderful speech therapist. Being able to speak clearly and understand sounds at that age was so important. I believe this early intervention is what helped me to be successful with my speech and conversations, although I strongly relied on lip reading.
Hearing loss progression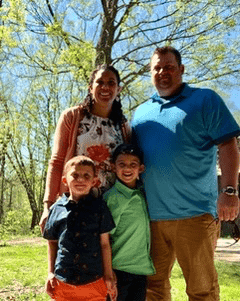 As I got older, my hearing loss progressed. My wife, Alicia, and I have two sons, Hank (7 years old) and Owen (5 years old). As a husband and father, I did not want to miss out on conversations they were having. I wanted to hear them call out to me and tell me their stories. My wife had mentioned cochlear implants a time or two, but I was told years earlier that they would not work for my type of hearing loss. I never thought about looking into it again.
My wife was having a conversation with her grandmother, who wears hearing aids, on speaker phone. I could tell that Grandma was having a hard time because Alicia was repeating herself multiple times. I have a difficult time when others use the speaker phone, so I knew just how Grandma felt. I took to Facebook, sharing this and asking those who have family members or friends who are hearing impaired to refrain from talking on the speaker phone.
An audiologist, Michelle Woodward, reached out to me about sharing my post on her office page. That was truly the beginning of my journey. I connected with Dr. Woodward and set up an appointment with her even though it was a 2 ½ hour drive to Kirksville from my home. Dr. Woodward asked if I had considered cochlear implants before and the conversation with my family started.
Cochlear implant candidacy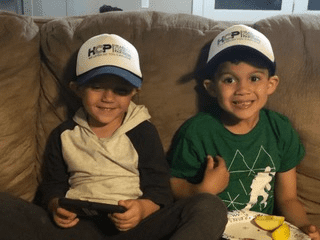 After discussing it with my wife, we went into research mode. A teacher my wife used to work with had shared her father's journey with cochlear implants. Alicia showed me the video and it was so moving. The recipients shared how they had missed so much before and wished they had taken this step sooner. Not long after, I decided to continue with the evaluation to see if I would qualify for the implant. Afterward, my evaluation showed that I met the qualifications for cochlear implant candidacy. At that point, I was cautiously optimistic. I wanted all my ducks in a row so there would not be any disappointment. My next step was to see my ENT. Again, after several tests, it looked as though everything was going to work out.
My procedure had been submitted to the insurance company and everything was set. My original surgery date was scheduled for October 31, 2018. I received a letter in the mail from the insurance company that my procedure was approved and covered. That all came to a screeching halt when my work's human resource department clarified with the insurance company about coverage. They wanted to make sure that no mistakes were made.
The insurance process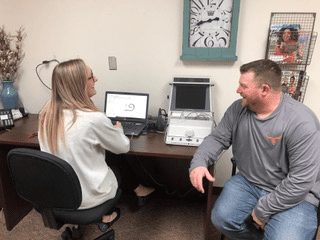 On October 22nd, I received a phone call that changed everything. They told me that the policy doesn't cover cochlear implant procedures and devices unless you are a dependent under the age of 26. This was a huge disappointment. Shortly after, I received a letter in the mail that stated there was an error made and my surgery was denied. My heart broke. Receiving this cochlear implant was going to be a life changer for my family and I. At that moment I felt like that future had just been ripped away from me.
I was not going to let that denial letter stop me. I was in Jefferson City at the time because of work. I was able to go to my work headquarters to meet with the director of Human Resources. After meeting with her and sharing my story, she said she would do whatever she could to help me. I had to schedule an appealment and that would be presented to the board. They had the power to overturn my denial of coverage or follow with their current plan coverage and deny my surgery. The benefits director worked tirelessly to compile research that showed other policies and their coverages. At the same time, individuals at Cochlear were working to find solutions. I spent many hours on the phone with Cochlear discussing options that I might have.
Cochlear brand choice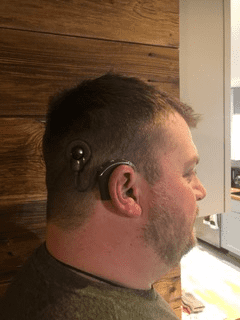 On October 31st, I received the call that they would approve my surgery. I am so grateful that they understood that receiving a cochlear implant would greatly impact my life, both professionally and personally. Not only did they approve my surgery, but they changed the plan for all employees starting January 2019. I honestly believe that all things happen for a reason. If this would not have happened, then maybe there would not have been a change in the policy and others would not get the chance to improve their quality of life.
On December 12, 2018, I received my cochlear implant. It was such an exciting day especially after such a roller coaster of emotions. It was a long three weeks until my activation day on January 2, 2019. I was looking forward to what Cochlear had to offer. I had decided on using the Cochlear brand because of the accessories, customer service and iPhone®1 compatibility2. My audiologist also felt that Cochlear would be a great fit for me.
When my surgery was denied, Cochlear's customer service immediately offered support. I needed answers and they provided me with resources and had people working to help my dream come true. I could have not asked for better support. The iPhone compatibility was a major selling point for me. The Nucleus® Smart App is an awesome feature. I can be in control of my hearing and try different programs depending on where I am. If I am in a restaurant, I might choose the ForwardFocus3 feature. This would allow me to block out other conversations and focus on those with me.
The cochlear implant features I love
In the beginning my brain was exhausted from all the new information. Being able to control the volume and sensitivity from my phone made it more comfortable for me. Currently, I have been able to hear better than I have ever heard before on the phone. The option to stream directly to the Cochlear™ Nucleus® 7 Sound Processor is spectacular! A few weeks ago, I was able, for the first time, to talk with my 5-year-old son on the phone. That was a huge milestone for me.
"Currently, I have been able to hear better than I have ever heard before on the phone."
The fact that I was also able to get the True Wireless™ TV Streamer, Aqua+4 kit, and True Wireless Mini Microphone was amazing. I use my TV Streamer daily and it is so beneficial. This summer, my wife and I are taking our boys to the beach. I cannot wait to use the Aqua+ kit and be able to hear them playing in the ocean. All these features combined made my decision to choose Cochlear that much easier.
One of my absolute favorite things to do in my free time is hunting. There are sounds prior to my cochlear implant that I was not able to hear. A couple weeks after activation, I remember hearing the leaves rustle. They sounded so crisp and this was new for me. Throughout my journey I have been able to pick up more environmental sounds. I can hear birds clearly now and look forward to hearing the first turkey gobble this spring.
Professionally, I have been able to talk on the phone with customers. I can hear their concerns and address them as needed. I also sell real estate. A large majority of my communication is on the phone. I need to be able to hear my clients clearly and my cochlear implant has improved my communication.
My advice on getting a cochlear implant: do not wait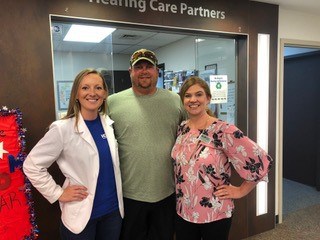 I am looking forward to the new things my cochlear implant will allow me to hear. I cannot wait to hear the baseballs hitting off the bat during my sons' games. I am really starting to enjoy music and I hope that will continue to improve. As my hearing improves with my cochlear implant, I plan to become bilateral. That will be a very exciting time for me. Because of my experience, I hope to reach out to others, have an impact in their lives and continue to be a role model for my children and community.
Throughout this whole journey, my family and community were a huge support. The best part was that I was able to reach out to others that were recipients for advice. I met many friends through the Cochlear Implant Experiences Facebook group and learned so much from the Cochlear Chapter Meetings in St. Louis.  If you are thinking about or considering a cochlear implant, my advice is do not wait. There will be ups and downs because the process is not easy, but with patience and hard work, it will be the best decision you ever made."
Did you recently learn you met the qualifications for cochlear implant candidacy? Learn more about how cochlear implants could enhance your life today.