Sarah M. left the hospital with her adopted little girl not knowing the journey that was ahead of them. Now with cochlear implants, Sarah's 8-year-old daughter, Leila, is thriving at school and in Tae Kwon Do. Recently during a Tae Kwon Do tournament while using the Cochlear™ True Wireless™ Mini–Microphone, Leila had a "cochlear implant bonus" moment. Sarah proudly shares that story and more: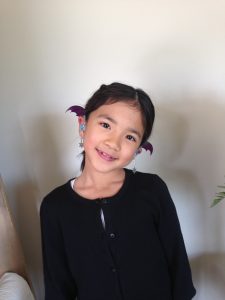 "We left the hospital with a file of adoption papers, a beautiful, healthy baby girl and a recommendation to have her hearing checked by three months of age.
They said it was 'probably just fluid' and 'not to worry.' We weren't expecting six months later to be standing in a room with an audiologist telling us our daughter has bilateral sensorineural hearing loss and auditory neuropathy.
So we began the journey that many have traveled before us, except that the doctors had never seen an auditory brainstem response (ABR) that looked like Leila's. Her scores were different. They didn't have a protocol. We would be creating a new path.
We took a deep breath and moved forward with hope, commitment and frustration with hearing aids, therapists, doctors, teachers and research studies until someone finally said it was time for cochlear implants. The Koss Cochlear Implant team at Children's Hospital of Wisconsin and the teachers from the Deaf and Hard of Hearing Preschool in Waukesha, Wisconsin, guided Leila and our family through the next steps.
Leila was implanted in one ear at age four, and we were so happy with the results we had her other side implanted as soon as our team would allow.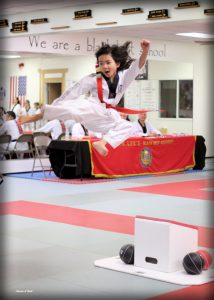 We saw a remarkable change. After listening to Leila speak gibberish for so long, she was forming sentences on her own, interacting with her peers, asking questions and soaking in the world around her. She rapidly closed her learning gaps of almost two years in some areas and was ready for mainstream kindergarten only a year and a half after her first surgery. I don't think she's stopped talking since!
She is now in second grade and enjoying the life of a typical 8 year old. She is in a private school with minimal support other than an FM system. Academically she is exceeding expectations for her age, and socially she is developing friendships and increasingly stretching her independence.
Leila has also been practicing Tae Kwon Do for two years. When we thought she was losing interest or choosing not to pay attention, we had the instructor wear the Mini Microphone. What a difference it made!
When the Mini Mic was on, she maintained her focus and worked harder. Leila is currently a red belt, will test for black belt by the end of the year, and she is enrolled in the leadership program to begin mentoring other students.
She occasionally wears a skull cap to keep her sound processors on, but overall she doesn't have to do anything different from the others in class.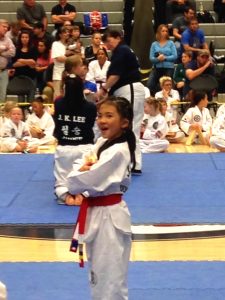 At a recent tournament, the lead judge was wearing the Mini Mic, and when it came time to tally scores and award trophies he forgot to take it off. While her competitors were anxiously waiting for the results, we caught our daughter with a look of excitement and surprise when she heard them say she had won first place before the official announcement. We call it a 'CI bonus.' Our CI kids deserve to get those every once in a while!
Leila has a very bright future ahead of her. She has become independent with her devices, and we have little to worry about when she is not in our care. She swims with her Aqua+ whenever possible, reads three chapter books a week and is interested in anything science related. We are excited for her potential knowing there is technology available to help her through the coming stages of her life."
To find more resources to help a child with hearing loss, visit IWantYouToHear.com.