Debby R. struggled with her hearing for 30 years, continuously needing stronger hearing aids. When she had reached the point where her hearing aids were no longer enough, she looked to cochlear implants as her next solution. Having received bilateral cochlear implants, she is now thrilled to be able to hear again and has regained her love of music. See why she decided to choose Cochlear as her brand of cochlear implants and what cochlear implant accessories she loves:
"Due to failing hearing, I had to start wearing bilateral hearing aids in my mid-30s. Over the next 30 years, I had to go back for stronger and stronger hearing aids. The last set I was given was all but useless, as I could not hear people. The sound was just racket and or white noise. I had to rely on lip-reading alone to communicate with others.
On May 23, 2017, I had gone on a shopping trip to my local supercenter for my regularly scheduled hearing test. I thought going in that they would be giving me a stronger set of hearing aids, as had always been the case. I was surprised to learn that I had reached a point that hearing aids would simply not help me any longer. I was shocked as that was not the news I had been prepared to receive.
Diagnosed with profound sensorineural hearing loss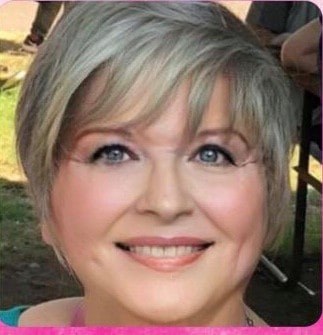 The following day I made an appointment with an audiologist at my local hospital, as I wanted a second opinion. The audiologist noticed I was clearly relying on lip-reading for communication and could not hear them. My audiogram diagnosis stated that I had bilateral profound sensorineural hearing loss. They referred me over to the department of otolaryngology, and my surgeon then ordered referrals for tests to find out if I was a good candidate for a cochlear implant.
I was given cochlear implant information and a pneumococcal conjugate 13-valent vaccine. On December 18, 2017, I had an appointment at the hospital to see the audiologist. I was really scared and I remember thinking that the audiologist would think I was faking, because I was unable to hear a single thing in the testing booth (what a way to spend my 47th wedding anniversary!). The audiologist saw the truth with my hearing, and I was diagnosed officially as legally deaf with 0 percent decibels in my right ear and 6 percent in my left ear with hearing and word recognition.
Choice of cochlear implant brands
They gave me informational brochures on the three brands of cochlear implants and advised me to be ready with my choice when I arrived to my next appointment. My follow up appointment was December 20, 2018, and I had just two days to make such an important decision. I chose to go with Cochlear over the other brands because I was very impressed with the Cochlear engagement manager, Nicole B., I worked with at a Cochlear meeting I attended. All of my questions were answered, and I was very impressed with her follow up and with the online group. The volunteers and mentors are completely knowledgeable about the product and their willingness to help was outstanding.
I thoroughly researched all three companies and even had my financial advisor check into each one. His report back to me was "Cochlear Americas, all the way. It is the most stable, and most preferred by doctors." I decided to go with the best cochlear implant brand and the founder of this miracle technology. I felt this was a company who truly cared about its recipients more than the almighty dollar.
Cochlear implant accessories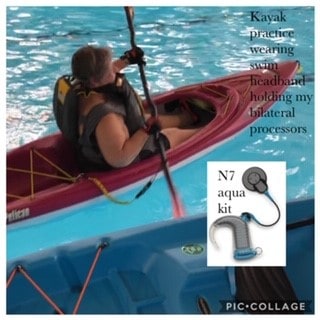 I love that Cochlear's implant systems allow access to sound processor upgrades. We ordered two Cochlear™ Nucleus® 7 Sound Processors. Not being a tech-savvy person, I absolutely loved that the Nucleus 7 Sound Processor settings can easily be controlled through the Nucleus Smart App on my iPhone®. Accessory wise, I chose the Aqua+1 kit, two True Wireless™ TV Streamers, and the True Wireless Mini Microphone.
My audiologist contacted my surgeon and said I was a go for surgery. The left side surgery was scheduled February 5, 2018 and the right side was set for July 11, 2018. Both surgeries went great and I had no complications. After many long days of silence, I had my activation day for my left implant.
My daughter said it best with her Facebook posting that said, 'I have spent years watching my mom not be able to communicate in social situations, because people wouldn't take the time to try to communicate with her. It was heartbreaking to watch her just sit off to the side, and watch everyone else socialize.' I was excited that all the years of forced isolation were behind me, as my audiologist was turning the Nucleus 7 Sound Processor on.
Post-activation joys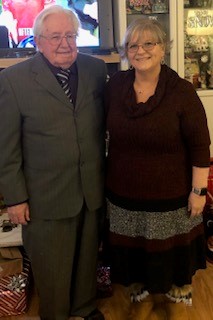 Three days after the activation I went to attend my mom's 90th birthday party at a local pizza parlor. Forty-five family members were present, plus all the other patrons. However, the most amazing thing was that I could not only clearly hear our waiter, but I could hear and understand anyone that spoke to me.
Since getting my Cochlear implants, my quality of life has improved dramatically. My favorite thing is that I can hear music again. I did not realize how much I missed it, and I love streaming music through my iPhone. I am learning more every day on how to navigate my Nucleus Smart App. Just recently, I was having lunch out with a friend and my doctor called. I did not hesitate to answer it, as I used to do before the Cochlear implants. My friend was in awe that I answered and actually carried on a conversation.
I love and use all my accessories too, but I would say my very favorite is the Aqua+ kit. I love water aerobics, but quit going when I was deaf. My husband and I recently purchased kayaks too. We start practice Saturday at our gym, and we will be ready to hit the lake with our girls come summer."
Are you struggling to hear with hearing aids? Learn about cochlear implants and cochlear implant accessories to help transform your life today.
2
3
4