Mr. Chicken Parmigiana, Sam Silberman, says his job at Cochlear is creating opportunities for others to live their best lives; he shares his own journey and how technology has evolved, and how he connects with others in unique ways to help them move forward.
Where are you located?
I'm located in Philadelphia, PA. I was born and raised in Philadelphia, but I now live in the suburbs of Philadelphia with my wife and kids.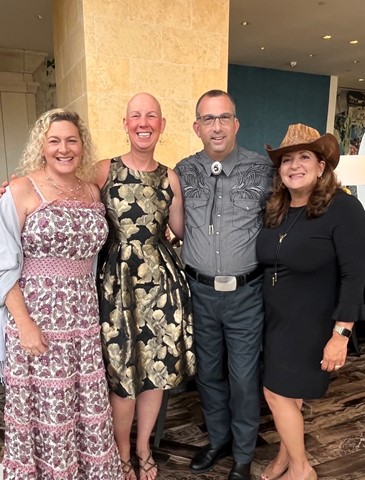 How long have you had hearing loss?

We discovered it at the age of 2.
Do you know what caused it?
I don't know exactly what the cause is. I was born early, and I have autoimmune disorders.
How did you realize you had hearing loss?
My grandmother was making pasta and I was playing on the floor nearby. She dropped the pot after she had dumped the pasta in the strainer. It would have been quite a racket, and I had no reaction to that. I was either lost in total concentration on my toy cars that I was playing with on the floor, or I didn't hear the sudden loud noise. That's when they took me to get tested and it was determined that I had a hearing loss in all ranges. It was severe hearing loss, but I did get hearing aids. So, I grew up with hearing aids.
Was there anyone in particular that influenced your decision to get a cochlear implant?
I remember when I was going through the discovery process. I was on a bus in Center City Philadelphia, and I so badly wanted to meet someone that had this technology. You're really making a decision of a lifetime, right? And the finality of the implants freaked me out. So I was that guy that interviewed all the companies and did all the research. So, I'm on a bus and I saw somebody out of the window walking down the street with a cochlear implant. I pulled the ringer thing and the bus stops. I got off and ran back to that woman I had just seen. I found her–I needed to ask her questions. I said, "I want to ask you about your cochlear implant". We went and had a cup of coffee. Once she realized I wasn't some crazy guy she was really open about her experience. It was really helpful for me, as at the time I was struggling to hear at all, and she was a living example of the benefits of a cochlear implant. That really helped move me on in the process toward getting the surgery done.
From there you scheduled the surgery?
I did, and then I cancelled the surgery three times. I just couldn't pull the trigger even after all the research I'd done. My surgeon kept saying "I'm going to give you awareness of your environment". He never told me I was going to be able to hear speech and speak again the way I was accustomed to. I wanted more than just sound. I want my life. I'm a social guy and I want to be able to talk to my friends. I want to enjoy music. I wanted to be able to do everything I had done before I lost my hearing.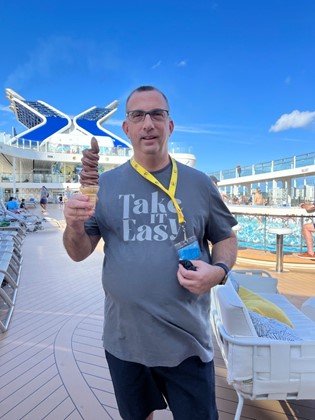 How did you get over that hump?
I come from a very positive family. My parents were big supporters of me, and they were convinced that the surgery would go great and that I would thrive with a cochlear implant. At the same time my hearing is progressively getting worse, to the point where I had very little speech understanding. I knew I didn't have a lot of options left, so with my parents' support and what was essentially an ultimatum from the surgeon of "now or never", I took the leap.
What was your first sound processor?
I started with the Cochlear™ Nucleus™ SPrint® Sound Processor, and I loved it. It was the body worn processor with a little wire up to the coil and powered by AA batteries. I had a lot of fun with that, pretending to be with the Secret Service and practical jokes and so forth. At the time, I just assumed that I would wear that body worn processor forever. Technology advancements and things like behind-the-ear and off-the-ear processors were not on my radar.
What sound processor do you have now?
I have the new Cochlear Nucleus® 8 Sound Processors.
How long have you been at Cochlear?
I started in 2001.
What has changed since then?
Tremendous amount of change. I've seen a lot of change both with the implants, the sound processors and with our company's growth. In the early days, I could walk around the office knowing the name of every single employee.
How is technology changing the recipient experience?
Something new I'm really excited about is Cochlear Remote Care.1 When remote care was being developed, I was skeptical of just how that would work. Then one day while traveling I wanted to check my MAP and complete the Cochlear Remote Check2 from 2,000 miles away and that's when I realized this was something that could be a big-time saver for recipients and improve efficiency for the clinics. A win-win.
Have sound processors' advancement impacted you?
Well, certainly the devices are getting smaller and smarter which is great. But I think for me personally the biggest thing has been the advancement in waterproof ratings of the sound processors. I was always very careful with my processor around water, dutifully removing and putting it in a water-proof case. But being at the beach or the pool or on a boat is a social experience. I hated "going dark" and not being able to stay connected to my family and friends out of fear of water damage. So, the water resistance rating of IP683 on new sound processors gives me confidence around the water. And when I get in the water to swim, I use the Aqua+4 accessory for full waterproof protection. I even have a picture of me kissing my daughter underwater the first day I tried the Aqua+. It's one of my favorite pictures to this day.
What do you do at Cochlear?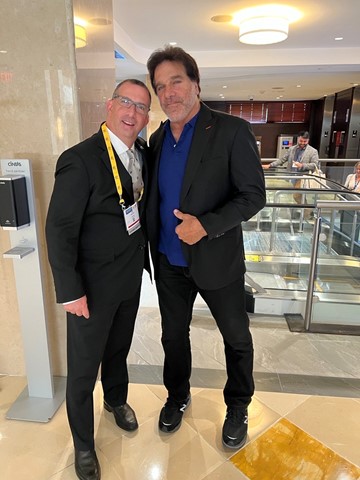 I'm a Strategic Account Manager with Cochlear, otherwise known as "SAM".  I work with strategic accounts that we identify across the country. I'm the conduit between our customer, the field teams and our Denver office as it pertains to the selected SAM accounts. I look at the goals and needs of those accounts and help understand the growth opportunities. I'm also looking at internal personnel and systems, ensuring we can support the accounts and help them meet their goals. You could say that I help the accounts paint a picture of what success looks like to them.
What's been your highlight of working at Cochlear for 23 years?
There have been so many, but an easy one is meeting Graeme Clark. What I took from him is his patience and his perseverance. He showed his perseverance in inventing something that nobody really believed in. He was told it couldn't be done–yet he pressed on. It takes a really special individual to believe in something with such commitment and to bring that vision to life is just extraordinary. It's interesting, my friends, they all have specific jobs. They're either a doctor or they're an accountant or whatever. They always ask me what I do, and I say I create opportunities. When you think about it, we create opportunities for professionals to continue to progress along in their field. We create opportunities for people within our organization to move within the organization. Most importantly, we create opportunities for children and adults to be the best version of themselves they can be. So, I think what Graeme Clark has done is given opportunities to many people.
What are your interests outside of work?
There aren't many, to be honest with you. We were joking about this last night at the dinner table. It was like I asked what's unique about me? And there's not a lot to say because when I'm not working, I really just want to spend time with my family. I travel for work a lot. I'm on an airplane every week, and I come home and so the first thing I want to do when I come home is just engage with my family. To just experience their life as best as I possibly can. When I'm not with my family, fortunately or unfortunately, I'm always thinking about work. But I do have a deep personal connection to my job and I'm proud of the fact that my best friends are work colleagues and customers, so that's cool.
Any fun facts?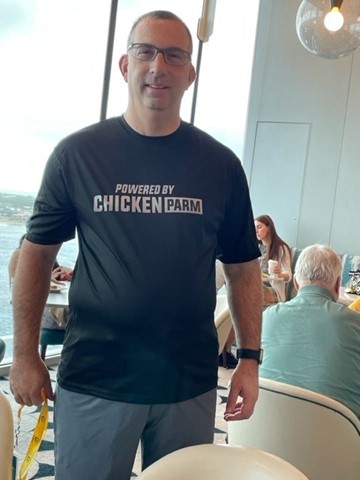 I love chicken parm. I date that back to my young childhood with my grandmother who made incredible chicken parm. It was love at first bite, and I've been eating it ever since. So more recently, I was out to dinner with my daughter, and we decided to have a little fun with it. We shot a few videos, and I created an Instagram account "hear4parm" to share my passion. The cool thing about it is people noticed it and I started getting questions from colleagues and customers about chicken parm. People send me pictures and recipes. Some of my accounts have started calling me Mr. Chicken Parmigiana. What started as a silly little project with my kid has become a relationship builder. It's an ice breaker, a way to connect with others and share a little bit about myself in a relatable way.
What challenges or problems related to hearing loss do you experience?
I think that it's always challenging to hear in noise. For me personally, I was not great at remembering to use some of the Nucleus Smart App features which can help manage noisy situations. That's why I love the new automated  ForwardFocus5  feature. It's smarter than me, so if I know I'm going into a loud environment, I turn on the automated ForwardFocus beforehand. Then it's already on and when I'm in the moment at dinner and socializing I don't have to even think about it. It has helped a great deal in these challenging situations.
What's your biggest tip for recipients?
My biggest tip is to just wear it. To be successful with anything requires time, so wear your device every day and practice with it until it becomes part of you.
Interested in learning more about the latest Nucleus 8 Sound Processor and its features and benefits? [Learn more]