When she's not riding horses, or winning game shows, Ulla Konkariloski, is hard at work as a Cochlear employee and recipient from Finland, helping the hard-of-hearing community hear better by providing them with support and help along their individual hearing journeys.
Where are you located?
Valkeakoski, Finland. Which is about 2 hours from the capital Helsinki by car.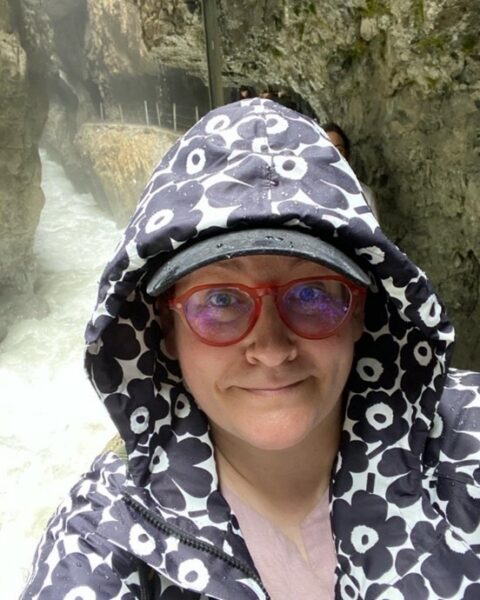 Where did you grow up?
I was born and grew up in the Finnish city, Nokia. Yes, the same company making the Nokia cell phone. Nokia started as a paper mill over 100 years ago. And Nokian Tires (car tire manufacturer) and the paper mill are still in my hometown.
How long have you had hearing loss? Do you know what caused it?
I've had severe hearing loss since birth, which was later determined to be caused by the Connexin 26 gene mutation. We found that out when both my sons who are hard-of-hearing as well, had genetic testing done. My husband has normal hearing but is also a carrier of Connexin 26. I received my cochlear implants in 2003 and 2012.
How long have you been at Cochlear?
Soon to be 5 years, since starting in May 2018.
What do you do at Cochlear?
I am an Engagement Specialist and Baha® Clinical Technical Specialist for Finland. My work is divided 50% to Baha systems and Osia® systems as a Clinical Technical Specialist, and 50% supporting people who are candidates for a hearing implant.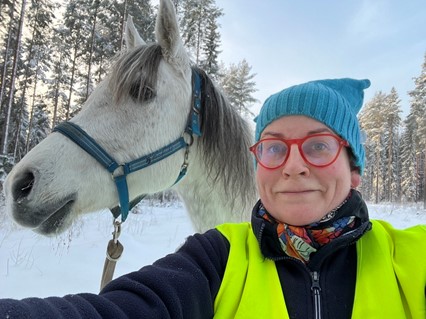 What has been your highlight of working at Cochlear?
That I can help the hard-of-hearing community to hear better by working in this field. I meet with a lot of bone conduction recipients, support hearing implant candidates and have vast network amongst cochlear implant recipients in Finland. Providing them with support and help along their individual hearing journeys is so rewarding and meaningful. And there is the possibility that both of my sons will need cochlear implants in future!
What sound processor do you have now?
I have the new Cochlear™ Nucleus® 8 Sound Processors.
What are your interests outside of work?
I have two dogs and my hobby is horseback riding. I like to also renovate old furniture and I love design and architecture.
Any fun facts?
I participated in the Finnish version of "Who Wants to be a Millionaire?" TV quiz show and won 100,000 Finnish marks (approx. $17,400) on the show before I got my 1st cochlear implant.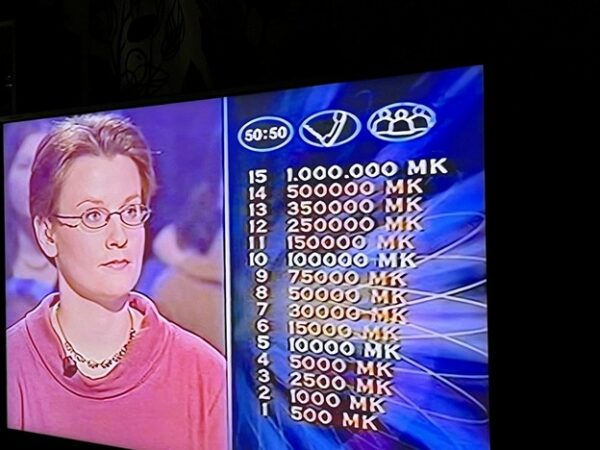 Best "advice or tip" for other recipients?
I love my Apple® Watch. I use it to wake me up with a vibrating alarm, and I've set alerts for surrounding sounds (barking dog, crying baby, fire alarm, knock on the door etc.) Perhaps best of all, I love the accessibility shortcut feature on the Apple Watch and its integration with the Nucleus Smart App1.
Now, when I am out in the world, and especially in a dark theatre, I'm able to change programs and the volume of my processor* without taking my shiny cell phone out of my bag.
To find more information about the Nucleus 8 Sound Processor click here.
The Nucleus 8 Sound Processor is compatible with all implants except Nucleus 22 Implants. The Cochlear Nucleus Smart App is available on App Store and Google Play. For compatibility information visit www.cochlear.com/compatibility