No one understands a parent calling the Cochlear Concierge line with worry, questions and confusion quite like Cristen Person.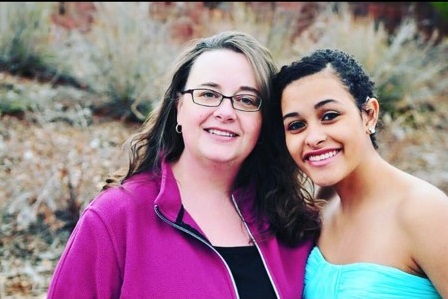 Cristen is a mom with a child who was born deaf. She is also an audiologist by trade and a Concierge at Cochlear. The Cochlear Concierge team is comprised of a group of people whose job it is to share their experiences and answer questions to help cochlear implant candidates determine if an implantable solution is right for them.
Day in and day out Cristen mostly talks to parents exploring hearing implants as an option for their children. She is passionate about her job because she's been in their shoes.
Cristen's story
Cristen was in college studying to be a teacher when her daughter, Olivia, was born. At that time, there were no newborn hearing screenings done at the hospital. At three months of age, Cristen started to question if Olivia could hear because she slept through everything. When Olivia slept through a 4th of July fireworks show without making a peep, Cristen knew.
Cristen went to her pediatrician and begged for a referral to an audiologist. The audiologist confirmed Cristen's suspicions…Olivia, who was four months old at the time, was deaf.
Cristen believed this was the first time this audiologist had ever had to tell anyone that their child was deaf. She left feeling misinformed, so she took it upon herself to do her own research.
Cristen scoured the internet, asked endless questions on comment boards, and the next semester she decided to take "Intro to Audiology" in an effort to learn more and help her child. In all her research, she hadn't heard anything about cochlear implants until she came across one paragraph on them in her course book. It sparked her interest.
After much research, Cristen had Olivia's first ear implanted with a cochlear implant right after her third birthday.
"After I saw what the Nucleus cochlear implant did for my child, I decided Audiology was the field I needed to be in and cochlear implants would be my focus," said Cristen. "I always knew I wanted to work for Cochlear Americas one day. Cochlear not only changed Olivia's life, it changed mine as well."
The Pediatric Concierge
"My passion is talking to parents," said Cristen. "I try to get them all the information they need to make a knowledgeable decision for their child. I'm a mom first, an audiologist second, and a Cochlear employee third."
Cristen, who has been in this role for almost four years, brings the personal, clinical and professional experience to her role. When a mom or dad calls the Cochlear Concierge line, Cristen understands.
"I'm very honest with parents," said Cristen. "I tell them my story and don't skip over the things that I would have done differently now. When I listen to them, I remember exactly where I was when they tell me their stories."
Cristen's calls can be very in-depth conversations, but she is happy parents are using multiple resources to help educate themselves and get information.
"Parents are doing more research than anyone. They often call with a long list of questions and concerns that take time to discuss."
There are some things Cristen underscores with parents that they may not be thinking about, including:
"A lot of people don't look into the actual business aspect of the company they are considering. What is their reputation? Are they a stable company? Have they been bought and sold? If something breaks, how fast can I get it fixed? How much are they investing in research and development for future technology? Reliability of the implant? Olivia has had her first implant for 17 years, and her internal implant is always compatible with new technology."
"Wireless accessories are a big one. A lot of people don't think about the use for very young children, so I tailor the benefits to the parents. I highlight why a Mini Microphone is important for a one year old, including speech therapy and for in places like the car when a parent isn't facing directly one-on-one with their child. The Phone Clip as well; I make sure they are aware that it's not only for phone use but can be used with any device that is Bluetooth® compatible such as computers, TVs, iPad®, etc."
"Olivia got her second implant at 10 years old, and that was hard. If you're thinking about going bilateral, I recommend doing it sooner rather than later."
"Parents are also asking about surgery. Is my child going to be in pain? How long are they going to be down and out? When Olivia had her surgery, she was up and playing in the hospital play area just a couple hours after surgery."
"I remember when I first heard, 'your daughter is profoundly deaf, and even with hearing aids she will not hear speech.' I remember thinking, she'll never hear me say, 'I love you,' and I questioned what kind of school she would go to. Will she have friends? Will she get bullied?"
"When I recall my initial worries, it actually makes me laugh because what was I thinking? With a cochlear implant, Olivia's been able to do it all. She speaks and hears beautifully. She plays the piano and guitar, took drum lessons, played sports, and is very active in school clubs. She has done everything I worried she wouldn't be able to do and much, much more. She has had a very typical childhood, and she still amazes me every day."
Update on Olivia
"Olivia is a 20 year old vivacious young woman. She has never let her hearing loss steer her away from things she wants to do. She is a great advocate for herself. She is currently in college, isn't quite sure what she wants to do yet, but is leaning towards the medical field," said Cristen.
"Olivia is a 'social butterfly,' who loves staying connected through her wireless accessories, especially the Phone Clip. She always carries it with her so she's ready to chat with friends and listen to her favorite music."
See more of Olivia's story and how much she enjoys the Wireless Phone Clip here.
Is your child a candidate for cochlear implants and you're looking for more information? Connect to the Cochlear Concierge team via email (Concierge@Cochlear.com) and phone at 1-800-216-0228.
Learn more about your child's hearing loss and treatment options at IWantYouToHear.com.