Rebecca G. struggled with fluctuating hearing loss for four years before she received her first Cochlear Implant. When she became a bilateral Cochlear Implant recipient, Rebecca had the opportunity to get the newest technology, the Nucleus® 7 Sound Processor. See why she fell in love with the new device: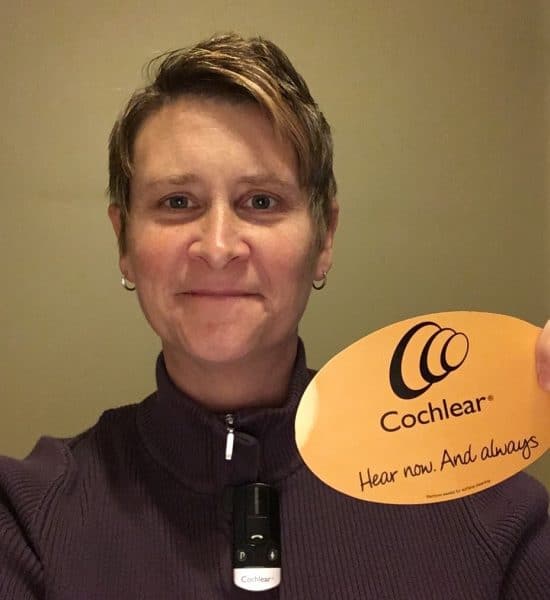 "My problems started with vertigo and dizziness in July 2012 when I was 38 years old. About a month later, I began to have fluctuation in the hearing of my left ear. I was sent for an MRI to eliminate a tumor as the cause for the hearing changes, and this was determined to be negative and not the cause. I was placed on a course of oral steroids, the first of many, and told the cause was either viral or autoimmune. Thus, began my journey.
I initially did not have any problems with my hearing on the right side; my hearing issues were all on the left. Then, I was hospitalized with an infection in October 2012 and lost the hearing in my right ear during that stay. There were no fluctuations; my hearing was just gone.
It was determined that I was not able to use a hearing aid because I did not have any word recognition with the amplification. At one point, my hearing dropped so severely in my left ear that my doctor recommended I consider a cochlear implant, and we scheduled an implant evaluation.
On the day of my evaluation, the hearing in my left ear returned to almost normal, and I was told I was no longer a candidate for an implant. Over the next year I took lots of oral steroids, had five steroid injections into my inner ear and was missing a lot of work because I did not know from one day to the next whether or not I would be able to hear. The stress from my hearing problems became overwhelming, and I decided to move back to my hometown.
After moving back, the hearing in my left ear stabilized at a nearly normal level for about 14 months. Life was great, and I became accustomed to my hearing loss. Unfortunately, my left ear decided it had enough of being stable, decided to start fluctuating again and here came the oral steroids…again. The local ENT I was seeing only offered steroids as treatment, so I decided it was time to find a different doctor.
Less than six months after my initial appointment with my new ENT, I got my first cochlear implant. Surgery and activation were in February 2016. I chose the Nucleus® 6 Sound Processor and all the CochlearTM True WirelessTM accessories. I used my True Wireless Mini Microphone and True Wireless Phone Clip to listen to audio books daily, which helped me adapt and have great success with my implant.
Eventually, my problems persisted with my left ear, and the doctor said I was probably headed towards a second cochlear implant, but the hearing would have to drop and stay down for six months before she would consider implanting the left ear.
If you or someone you love is struggling with hearing loss and you're looking for more information on cochlear implants and the Nucleus 7 Sound Processor, visit www.Cochlear.com/US.
To make an already long story short, I had surgery for my second cochlear implant on July 31, 2017.  I was activated with my second Nucleus 6 Sound Processor in August. Because of the timing of my surgery date, I was offered the option to participate in Cochlear's technology exchange program and upgrade to the Nucleus 7 Sound Processor on my newly implanted ear.
Initially I was pretty set on my decision to stay with bilateral Nucleus 6s and was not even really considering the Nucleus 7. I think my biggest concern was having two different processors that would need two different controls to operate.
Battery life ended up being a big factor in my reconsideration of taking part in the exchange program.
I had great battery life with the standard battery on my first Nucleus 6. When I ordered my second Nucleus 6 Sound Processor (for my newly implanted ear) I decided I wanted to go with the compact batteries because I have smaller ears so wanted something smaller and lighter. I ordered enough batteries to be able to use the compact batteries on both processors. I was able to get 15-16 hours on the compact battery for my older implant and was initially getting between 13-14 hours on my newly implanted side. As I became accustomed to the second implant and increased volume and programs with each mapping, I was losing battery life. At my one-month post-activation appointment, my audiologist estimated I was getting 9-10 hours of battery life. I was changing batteries around 12 hours into my day. This was become a concern for me because I never needed to worry about when my battery was going to drain on my first implant, and now I needed to be conscious of battery life.
Giving Nucleus 7 a try
After talking with my audiologist, I decided to give the Nucleus 7 a try. Because the Nucleus 7 is smaller and lighter than my Nucleus 6 and given my battery life concern, I choose to go with the standard size batteries for my Nucleus 7. I have been so happy since changing to the Nucleus 7. With the standard battery, I get 21 hours of battery life and have not needed to change my battery during my day.
I have an iPhone®, and the Nucleus 7's Made for iPhone connectivity is awesome. When I listen to books, music or answer calls, my sound processor connects almost immediately and the connection is much faster than it has been using the Phone Clip. I still use my Phone Clip daily because I like hearing calls with both ears, and I like being hands free, but it's great to be able to answer a call with the direct connection to my iPhone when I don't have my Phone Clip handy. The iPhone live listen feature is really awesome too, basically it turns my phone into a remote microphone that sends sound directly to my Nucleus 7 Sound Processor.
There are so many things I love about the Nucleus 7, and I am so happy I did the exchange. The Nucleus® Smart App is great, allowing me to know how much time I spend in speech and the "Find My Processor" feature is really cool.
What I got back with my Cochlear Implants
Before my implants, I was always a very social and outgoing person, but my hearing problems caused me to isolate myself and become quite a bit of an introvert. Since getting my implants, I am slowly becoming a social butterfly again.
Prior to my implants, I would only go to stores that had self-check out lanes because I was stressed that I would not be able to communicate with the cashier. Now I go to all stores without any worries.
One time when I was watching TV and using my True Wireless TV Streamer, my pups needed to go out for a walk. I was a couple of houses down the street and was hearing someone talking but nobody was around. I then realized I was still connected to my TV because I never disconnected my streamer. I thought to myself how awesome my implants and accessories were because none of my friends can do that.
I am so very grateful for my new 'ears,' and for everything my doctor, my audiologist and Cochlear have given me, and for the support of my family. Being a bilateral Cochlear Implant recipient is amazing, and I feel like I've been given my life back."

©2017. iPhone is a trademark of Apple Inc., registered in the U.S. and other countries.
The Nucleus 7 Sound Processor is compatible with iPhone 8 Plus, iPhone 8, iPhone 7 Plus, iPhone 7, iPhone 6s Plus, iPhone 6s, iPhone 6 Plus, iPhone 6, iPhone SE, iPhone 5s, iPhone 5c, iPhone 5, iPad Pro (12.9-inch), iPad Pro (9.7-inch), iPad Air 2, iPad Air, iPad mini 4, iPad mini 3, iPad mini 2, iPad mini, iPad (4th generation) and iPod touch (6th generation) using iOS 10.0 or later.