As we celebrate winter sports this February, we want to share the achievements of athletes with cochlear implants. Find out what motivates this young champion ski jumper to fly through the air and why he says it's important to dream big.
What motivates a young athlete to charge down a ski ramp and launch off a 100-meter-high platform and into the air?
"I just wanted to fly," says former German champion ski jumper and cross-country skier Peter. "There is no similar feeling for me. It is an exciting mix of freedom and relaxation with pure tension."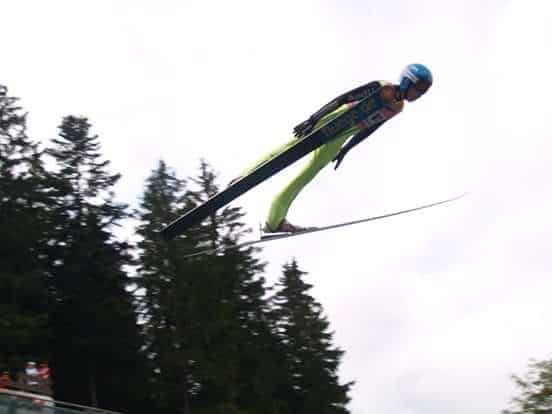 Hearing loss is no barrier to pursuing dreams and achieving success with a cochlear implant, which is why we want to highlight some of Peter's achievements.
Peter received his first implant at age 18 months, and his second when he was four. He now wears two Cochlear™ Nucleus® 7 Sound Processors. He spent a decade skiing competitively, starting when he was just six years old.
"It was not just a hobby – it influenced my whole life," he says.
To help others dream big, Peter shares what he learned from ski jumping and more.
You spent your youth as a competitive ski jumper. What did you love about it?
I loved ski jumping and always felt addicted to jump bigger hills because there was this great feeling of flying and experiencing a surge of adrenaline.
I have participated in a lot of wonderful Nordic events in a lot of beautiful places. I love big hills.
Did you ever feel intimidated by the size of the jump?
When you start ski jumping, you start on hills where you jump around 20 m. But I just wanted to fly. My Trainer said: "On this ramp you can`t jump 100m, just 25m". But I didn't want to land, just to fly. Every year you move on to bigger hills. By the time I was 15, I was jumping 100m. In the beginning, it's thrilling and after some time, you get used to it. The biggest hill I skied off was 105m.
What were your biggest achievements?
I took part in national competitions (Bavarian and German championships) and international events like the Alps Championship. Winning the German title two times when I was 15 on back-to-back days, getting promoted into the young national team and placing in international championships of the alp countries were highlights.
I was very happy that my family was there when I won these championships because they always did everything to support me and my sport. The feeling was indescribable.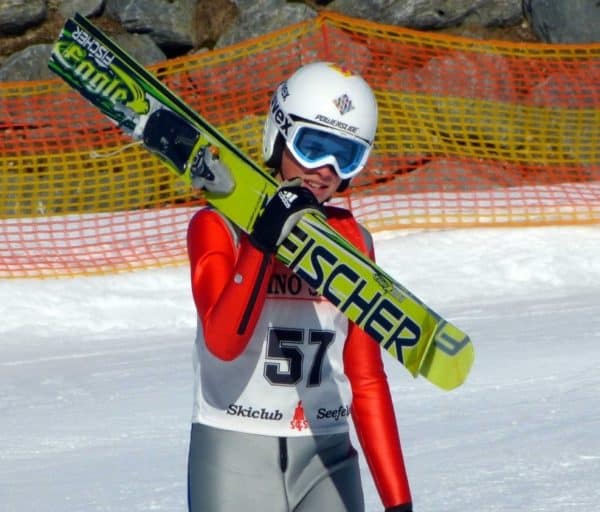 What impact has sport had on you?
Sport gives you self-confidence. It helps you feel accepted. I felt I could do everything like the others, and nobody questioned my participation. And it connects you to people. I made so many friendships and had so many wonderful adventures and experiences.
And because Nordic Combined is an individual sport, you learn a lot about yourself: self-discipline and strength of purpose. You can't make others responsible for your mistakes.
Have your cochlear implants helped you compete?
My cochlear implants have allowed me to take part in competitions – I wore my processors the whole time while training and competing. When I was heading down the hill towards the ramp to take off, I could hear the increasing speed. This was important to have a rhythm for a perfect timed take off.
My coach gave me tips and I could also hear other competitors and people cheering to motivate me. Of course, there were questions like "what is that on your head", but after explaining it, everything was fine. There was never a question about my participation.
Could you have competed without them?
Without my cochlear implants, it would have been more difficult to compete and I'm sure I would not have participated in the sport for so long. It would not have been so much fun and I wouldn't have had the same level of success.
Do some people ask you if hearing loss holds you back?
A lot of people think doing sports with hearing loss is not easy.
But I have lived my life like I don't have hearing loss. I have played many sports, visited a normal school, taken holidays in different countries. I joined in with my friends, went camping, road tripping and parties at nightclubs, visited theme parks. I also have been on a soccer team and mountain bike team for my school. And played football and basketball.
I wanted to do everything like other kids. I think every child with cochlear implants should try anything they want to try – any sport, music and so on.
When did you stop competing?
I quit when I was 16. It was impossible for me to combine competitive sports and school. But I love to watch these events on TV. It reminds me of that active time in my life and feel I like I want to jump again.
Peter and his family continue to enjoy watching Nordic events and ski jumping competitions on TV. Are you watching live sports this winter? Did you know the Cochlear Wireless TV streamer is a small device that sends stereo sound from a TV directly to your sound processor?
Visit our online store and receive a 20% discount1. Hurry the offer is for a limited time only.
Terms , Conditions and Exclusions:

This is an online exclusive offer.
The promoter of this offer is Cochlear Cochlear Americas.
The offer commences on Monday at 7:00pm, 24th Jan 2022 (MST) and ends on Thursday at 10:59pm, 9th Feb 2022 (MST).
To be eligible for the offer (20% discount) during the promotion period for purchase(s) on Cochlear Store, you must:

Be a member of the Cochlear Family with a valid Cochlear Store account.
Be a registered Cochlear™ Nucleus® and/or Cochlear Baha® implant recipient or their carer residing in the United States with a valid Cochlear Store account.
Complete purchase(s) of up to a maximum of 20 eligible item(s) in the Cochlear Store during the promotion period.
Enter promotion code WINTER-C22 in shopping cart; the promotion code will not be valid until it is applied to the eligible item(s).
You may only use this promotional offer for orders in which you personally pay out-of-pocket. You may not use this offer if you wish to seek coverage from Medicare, Medicaid, VA, Kaiser, or Tricare or when using Cochlear's Insurance and Reimbursement Service to process your order.

Offer cannot be used in conjunction with any other discount or promotional offer.
Promotion has no monetary value and cannot be exchanged for cash. In addition, it is not transferable or assignable.
Cochlear Family members are entitled to Free Shipping for purchases over $50 (after promotions and discounts are applied and where ground shipping is available and shipped to single U.S. address) for valid purchases made during the promotion period. Taxes do not qualify toward the minimum purchase requirement.
COVID-19 restriction may impact delivery times and service to some locations.
To the extent permitted by law, we reserve the right to change these Terms, Conditions and Exclusions at any time, including the discontinuance of the offer. Changes will be available on the Cochlear Store.
EXCLUSIONS: Offer is not valid for the purchase of: