William H. Shapiro, AuD, CCC-A, Clinical Associate Professor & Supervisor of Audiology, Department of Otolaryngology, NYU Medical Center, provides his perspective on the new Kanso™ Sound Processor for cochlear implants. 

"As an audiologist who has worked with cochlear implants since 1984, I have seen technology explode – particularly in recent years. I find it amazing to witness how patient performance has improved alongside these technology advancements.
In the early days of cochlear implants (CI), we hoped patients could distinguish presence versus absence of sound and maybe tell the differences between speech and environmental noise.
Today, patients are now able to talk on the phone, carry on conversations in noisy environments and connect wirelessly to everyday devices with their CI. If you had told me 20 years ago my patients would enjoy wirelessly streaming music – I would not have believed you.
So I was intrigued when Cochlear asked if I would be willing to fit their newest sound processor — the Kanso — on patients.
From my perspective, CI recipients want things to be simple, easy to use and effortless. I found this to be true when fitting Kanso. Recipients were impressed with the ease of use—only one button to push and they were ready to go! My patients have enjoyed the automaticity of the device, including the automatic scene classification offered by SCAN*.
When counseling on device choice during the candidacy process, I saw patients quickly gravitate toward an off-the-ear option. In fact, their eyes would light up at first glance. As a center that offers two sound processors, this was a nice opportunity to offer recipients the wearing flexibility to have an off-the-ear option and a behind-the-ear option as their product selections.
My next question was 'can this device deliver on performance?' I wanted to verify this very simple off-the-ear device was equivalent to the Nucleus® 6 Sound Processor (N6) that I have been fitting successfully for the past several years.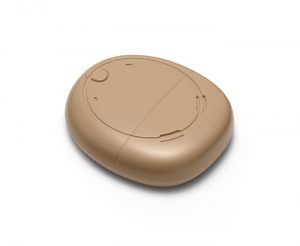 Kanso offers dual microphones, SmartSound® iQ with SCAN* and access to the same True Wireless™ technology as the N6 Sound Processor. This is a truly remarkable innovation. In fact, I found that recipients wearing Kanso demonstrated essentially comparable hearing experience to that of their current N6 device.¹
To my surprise, retention of the device was not an issue with most of the recipients I fit. I found if the recipient was extremely active, using the very transparent retention wire assisted with any concerns that the device may fall off when used during a particular activity.
There was a definite reduction in the time it took to counsel on the device use, wear, and care during the initial fitting too. This was particularly nice for my recipients as the information I needed to provide on the device operation was straightforward, easy to understand and not overwhelming to them, which is not always the case! Because of the reduction in time, I was able to focus on other aspects of the fitting process like rehabilitation and use of the wireless accessories.
A final question I always ask myself is 'would I wear it?' And that answer is 'absolutely!' To me it is important that when I make a recommendation to recipients it is one I can personally stand behind, which is unequivocally the case with Kanso. It is truly an extraordinary product that offers great flexibility and is discreet and easy to use for adult and pediatric patients alike."
To learn more about cochlear implants for you or a loved one, click here.
1. Jones, Marian, Mauger, Stefan. Cochlear™ Clinical Investigation Report. Acceptance of the CP950/KANSO sound processor with experienced CP810/CP900 series BTE sound processor participants. Version 1.0. Clinical Investigation Plan Number CLTD5591 v.5. Windchill No. 582225. CIR D1072418. Aug 12, 2016.
* SNR-WR, WNR and SCAN are approved for use with any recipient ages 6 years and older, who is able to: 1) complete objective speech perception testing in quiet and in noise in order to determine and document performance: and 2) report a preference for different program settings.