Shelly S. describes her true passion as being a teacher. So after waking up with sudden hearing loss, she was committed to find a way to restore her hearing—and her life. After hunting for a solution, she found the Baha® Bone Conduction System.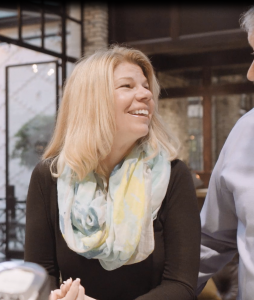 "I remember the day that I woke up and I couldn't hear. It took my life away," she says. "I was worried I'd never be in the classroom again."
Shelly loved being a teacher, but her job increasingly became a struggle with hearing loss. She would come home exhausted and frustrated, to the point where she was unsure if she would be able to continue going into the classroom.
Then Shelly heard about the Baha System with the Baha 5 Sound Processor.
With her Baha 5 Sound Processor, Shelly was able to reconnect with her love for teaching and connect to other parts of her life she had been missing as well.
Now, Shelly can sit on the porch and listen to the birds, the fountain and the rain coming down while she has a conversation with her husband. She can now hear the cashier at the grocery store and all the sounds at the movie theater—all things she missed before her bone conduction implant.
Shelly also uses the Cochlear™ True Wireless™ accessories to help her connect with her loved ones. With the Mini Microphone, she can go shopping with her husband and still hear him from a different vicinity of the store.
Using the Baha 5 Sound Processor's Made for iPhone® technology, Shelly can get a phone call from her son and stream it right to her sound processor with no intermediary device.
"Getting the Baha 5 has changed my life," she says. "Giving me back my classroom, my family, my friends, the ability to go out and socialize."
With the help of the Baha System, Shelly is able to continue to pursue her love for teaching and enjoys being in her classroom again.
"Teaching is my passion, and the Baha has given me back my life, my true passion."
Watch Shelly's full story and see what a difference the Baha 5 Sound Processor can make:
To learn more about the Baha System and the Baha 5 Sound Processor for you or a loved one, click here.
iPhone is a trademark of Apple Inc., registered in the U.S. and other countries.