We spoke with an audiologist, George Cire, who shared tips and tricks for adult recipients with bone conduction hearing solutions including the Cochlear™ Baha® System and the Cochlear™ Osia® System. Cire provided advice for improving your hearing outcomes, using accessories strategically to hear better in challenging environments, and hearing rehabilitation resources to help you hear your best.
For those with hearing loss, practicing your hearing can be an important step in achieving the full potential of your hearing device. Whether your bone conduction hearing device is treating conductive hearing loss, mixed-conductive hearing loss, single-sided deafness, or another type of hearing loss, there are strategies to get the most from your device and use resources to your advantage. We spoke with audiologist George Cire for tips and tricks to help Cochlear™ Baha® System and the Cochlear™ Osia® System recipients hear their best.
I recently received a bone conduction hearing device, and I'm excited to hear my best. What should I do next?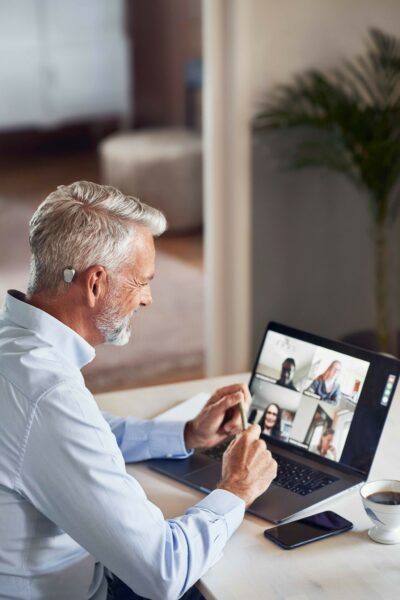 1. Understand the features of your device
"When a new Baha or Osia recipient is in my office, the first thing I focus on is making sure they understand the way their device works," shared Cire. "I walk them through the device basics, the battery life1, the ways they can control volume and the features like Bluetooth®2 and direct streaming." For new recipients, we also offer great resources for understanding your device, including videos that explain the features and benefits of the Cochlear Baha 6 Max Sound Processor, the Cochlear Baha 5 Sound Processor Portfolio and the Cochlear Osia 2 Sound Processor.
You'll want to spend some time getting to know your hearing device, including:
– Learn how to care for your device. Learn how to manage your battery life, change your batteries, replace your microphone protectors, and clean your device.
– Use the Baha Smart App3 or the Osia Smart App4 to control your device. You can practice switching between the different maps your audiologist has created for your unique hearing needs or adjust the volume settings to hear the world around you at different volumes.
Your Baha or Osia Sound Processor may also come with a variety of accessories to help you hear your best, including True Wireless accessories like a Cochlear Wireless Mini Microphone 2+, Cochlear Wireless Phone Clip, or Cochlear Wireless TV Streamer; options for keeping your device in place; and more. You'll want to spend some time learning how your accessories work with your sound processor and experiment with using them.
2. Optimize your hearing performance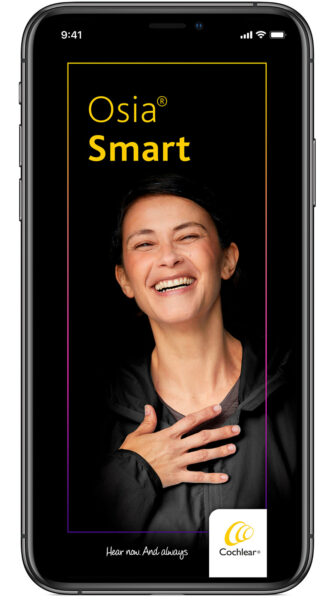 "Once you have a strong understanding of the features of your device, you can begin to practice your hearing in more challenging scenarios," Cire said. "Recipients will have different reasons they're excited to try out their device. Some recipients will tell me, 'My family lives three states over and I haven't been able to talk to my grandchildren on the phone in years.' Or they'll say, 'We go to church every Sunday and I can sometimes hear the sermon if I sit close enough, but it's so noisy at the potluck afterwards that I can't follow the conversation.' No matter the recipient's goal, I work with them to find the right accessory or practice activity to help."
You can use Cochlear accessories to improve your hearing performance in a variety of scenarios. The Cochlear Mini Mic 2+ can help you hear better in noise, like at a busy restaurant or backyard party. It can be worn on your conversation partner's shirt collar to help amplify their voice and remove background noise, or it can be placed on a table to help you listen and engage in conversation with a group.
Another great way to optimize your hearing performance is to practice listening activities. The Telephone with Confidence resource is a great way to improve your skills on the telephone and test out different ways of listening to phone calls. You can call in to 1-800-458-4999 and listen to the phone prompts each day while you follow along. You can also test out streaming the call directly to your sound processor.
3. Continue to practice your communication skills
"I always remind my Baha and Osia recipients not to abandon the communication skills they've developed," Cire shared. "With your hearing device, you may have access to more sound and better sound quality than you had before. But in challenging listening environments, like a noisy bar or a loud concert, it's still a good idea to use those communication strategies. For example, make sure to sit face-to-face your conversation partner, so you can see their face and their lips and their expressions, and you can fill in the gaps. If you're having trouble hearing, you can ask them to speak more slowly or a little louder. And if you need to ask clarifying questions, it can be helpful to rephrase the parts you did hear, which lets your conversation partner know that you're listening and just missed one part of the message."
I understand how my device works and I have access to sound, but I'm still struggling with my hearing in conversations. What should I do next?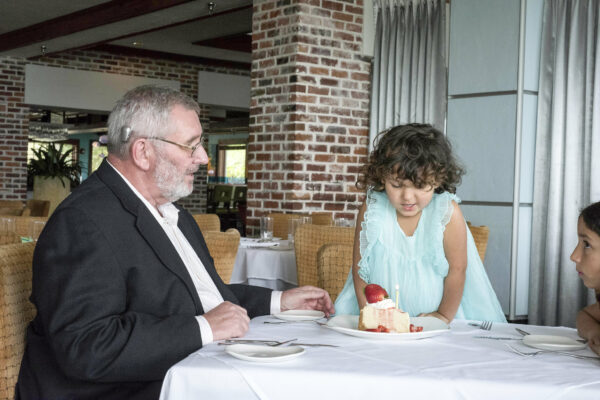 "If a recipient is still having some trouble hearing with their bone conduction hearing device, I'll ask whether they're having trouble with volume or with understanding," Cire explained. "Audiologists work to improve hearing in two domains, audibility and intelligibility. So essentially, if the recipient says they're not getting access to the sound or it's not loud enough for them to hear that sound is occurring, I'll be looking at the device itself and at their settings to try and solve for that. If the recipient says, 'I can hear that there's sound, and it's loud enough, but I'm having trouble understanding speech or telling different sounds apart,' that's when I'll recommend hearing rehabilitation exercises."
For recipients who want to improve their hearing to better understand speech or to communicate better in conversations with their loved ones, Cochlear offers several self-guided activities to practice your listening skills. The Cochlear CoPilot® mobile app5 for iPhone®6 is an interactive, self-guided app that gives you the opportunity to practice your listening with a variety of games and activities. If you have a partner, family member or friend who can practice with you, the auditory training exercises can help you practice how to distinguish different sounds, recognize words and sentences in context, and develop your conversation skills.78
Looking for more ways to practice your hearing with a Cochlear Baha or Osia Sound Processor? Visit our Rehabilitation Resources to find more ways to hear your best.