One of the great things about a direct-to-device connection between your Baha 5 Sound Processor and iPhone is that you can discreetly control it, without anyone noticing. You'll just blend in with everyone else who use their iPhones, in the grocery store, waiting for the bus, waiting for someone in a restaurant…
The Baha 5 Smart App has all sorts of exciting capabilities that allow you to personalize your listening experience.
The app will allow you to:
Program in locations where your sound processor will automatically change to a set program
Find your missing sound processor
Change your programs
Adjust your volume
Fiddle with your bass/treble ratio
Get troubleshooting help
Interested? Even if you don't have the Baha 5 Sound Processsor, you can download the app and do some exploring! So let's get started!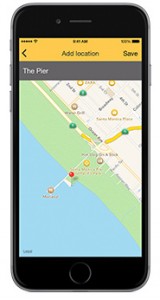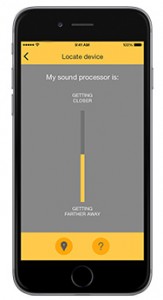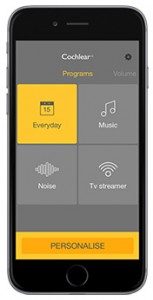 First, you need to download the Smart App. Just click here or on the icon and it will take you directly to the App Store:
If you don't have a Baha 5 Sound Processor, you can choose the option to explore the app in demo mode.
If you do have a Baha 5 Sound Processor, then you need to pair your iPhone to your sound processor:
Ensure your Baha 5 Sound Processor is turned OFF by opening the battery door
On your iPhone, turn on Bluetooth under Devices
Go to Settings > General > Accessibility >Hearing Aids
Turn ON your Baha 5 Sound Processor by closing the battery door. It's now discoverable for 120 seconds.
Tap the name of your sound processor, once it appears
Accept pairing request
If your Baha 5 Sound Processor is paired, has a live battery, and is turned on, it will automatically connect once you start the Baha 5 Smart App. When the app is connected for the first time, it may need additional time to read required data from your sound processor.
All done? Great!
You can now change volume, programs and check your battery status – all discreetly done via your iPhone!
Not all products are available in all markets.
For full details on Smart App compatibility requirements, read more here