Recruitment Consultant and Cochlear™ Baha® 5 recipient, Kelly, believes in being upfront about your hearing loss and advocating for your needs. Kelly shares her top tips for securing a job and succeeding at work.
Comfortable with her Cochlear Baha 5 Sound Processor
From her first job as a Marine Technician in the Navy to her current role as a Recruitment Consultant, Kelly has been an advocate for herself and others with hearing loss.
She is comfortable wearing her Cochlear Baha 5 Sound Processor at work. It's her fourth Baha sound processor upgrade since being implanted in 2004.
"I wear my hair however I want and put [my Baha] on. Whether it's visible or not, it doesn't matter," says Kelly. "I used to be precious about it, but I got up one day and thought 'I'm just going to wear it.'"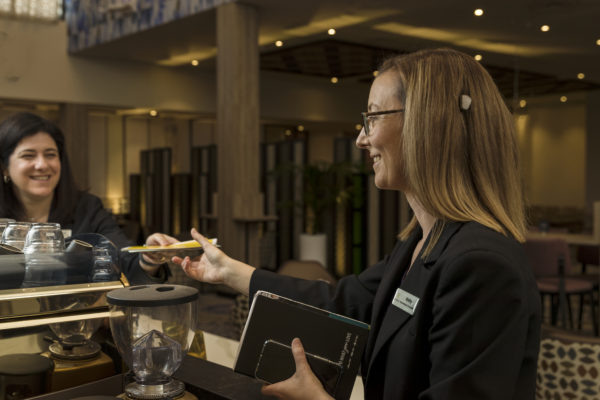 Health issues made work difficult
Kelly is doing well, but working life has not always been easy. While in the armed forces, numerous serious ear infections led to multiple mastoidectomies, where part of Kelly's skull behind the ear was removed. Being unable to perform her duties aboard naval vessels, Kelly's hearing difficulties culminated in a medical discharge. Moving to roles with an accounting firm and then Defence Housing, her health issues continued, and further surgery resulted in more hearing difficulties.
"[The hearing issues] did not stop. I was so drained," remembers Kelly. "Going out anywhere was so difficult, you couldn't have a conversation or eat dinner. I'd lost my career… It was the darkest time of my life."
With the help of the Baha System and retraining therapy, Kelly conquered her tinnitus and confidently performs her current role as a Recruitment Consultant for a large social and entertainment club.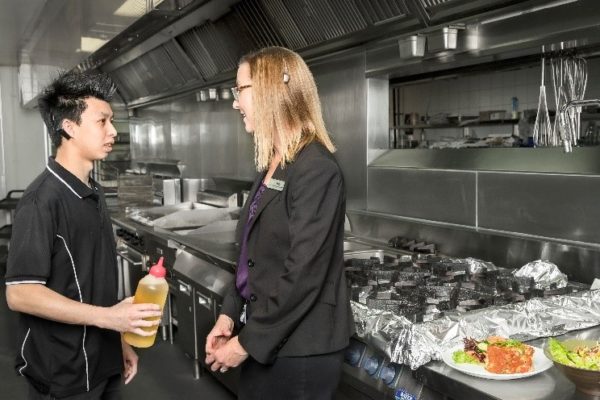 Being your own advocate at work
She is passionate about encouraging others with hearing loss to advocate for their needs with their employer and colleagues.
"Be open and tell people about it," says Kelly. "If people don't understand that you have hearing loss, they can't help you… They are generally more than interested and happy to accommodate you."
Kelly can work from home to perform tasks, such as interviewing job candidates by phone, where it's important to have a quiet environment. She uses her mobile phone to take calls directly to her sound processor and connects her Cochlear™ Wireless Mini Microphone 2+ to her computer to listen to training videos and stream webinars. "I just plug it in and off I go," says Kelly. "It's perfectly clear and super easy."
For a one-on-one interview with a candidate, Kelly meets in a quiet location without background noise. For team meetings, she likes to use the Cochlear Wireless Mini Microphone 2+ to clearly hear the conversation.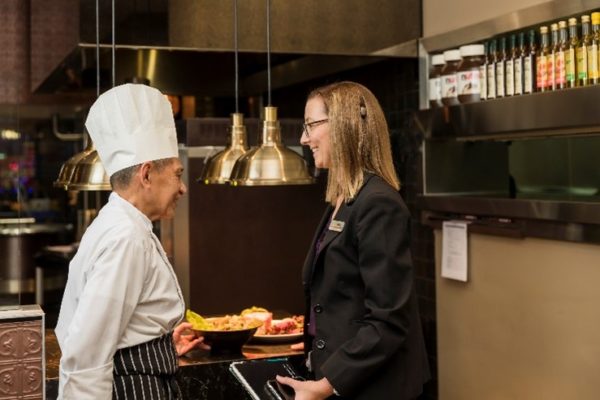 When applying for a new job, Kelly has three top tips:
1. Be upfront and honest from the start. Explain your hearing loss to the recruiter and give examples of how you will be able to succeed in the role.
"If you turn up to the interview having not flagged your hearing issues and they see the Cochlear [sound processors], the first thing they are going to think is 'Can you do the job?'," says Kelly.
2. Let the recruiter know your preferred method of contact – by email or phone – and be responsive.
"If you struggle with phone calls but don't communicate this to a recruiter, they are going to wonder why you're not taking their calls," says Kelly. "They are not going to be able to get the information they need [to progress your application]."
3. Be prepared to discuss any adjustments you might need to help you with your responsibilities and how these adjustments might easily, or in the case of a small business inexpensively, be implemented.
"If you attend the interview and let them know that there is nothing extra you need or you have, say, three things that would make the job easier for you, you'll have a much better chance of succeeding," says Kelly. These adjustments may already align with workplace health and safety guidelines, or with the organization's diversity and inclusion policies.
Kelly recently recruited Danny, who has a  CochlearTM Nucleus® 7 Sound Processor, as a kitchen hand. "We put some additional measures in place to ensure that Danny is safe in the kitchen," says Kelly. "He is on the register to ensure he is safe in an evacuation should an alarm go off – just simple things that can make work life easier for people with hearing loss."
Check out the Cochlear True Wireless Accessories>