Before Rose was even born, her family was aware of the likelihood that she could be diagnosed with a rare condition called trisomy 18 or Edwards syndrome. Her mother quickly learned that the Cochlear™ Baha® Sound Processor on a Baha Softband was helping other children hear. Shortly after her second birthday, Rose received a Baha Sound Processor on a Softband and the gift of sound. Now she has shown significant improvements in all forms of her development. Read more:
"Rose is almost 5 years old! She is a happy, silly, fun girl who loves to dance, giggle and play with her siblings. Rose is your typical little girl with many extraordinary features!
Rose was diagnosed with a rare chromosomal condition called Trisomy 18, also known as Edwards syndrome. We were aware of her likelihood of this diagnosis as early as 12 weeks gestation, but it was confirmed by 17 weeks gestation. There was a lot of time to learn and prepare but there were even more unknowns. Her diagnosis was further complicated by her heart condition that was complex. Securing heart care for Trisomy 18 is very controversial.
Moving forward from the Edwards syndrome diagnosis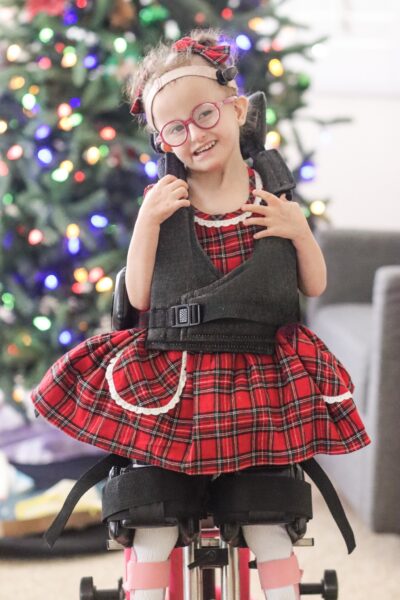 We went on a quest to find full care for Rose and were met with a lot of 'no's' and statements that she could not live, meaning major interventions would most likely be denied! As we built a care plan and assertion of our parental rights for her to have access to life saving care, there wasn't a lot of time to worry about her lists of risks of developmental complications/needs.
We did find care! Her early weeks of life were filled with ups and downs. After a denial of heart repair in our home state, Rose transferred out of state to receive the full heart repair she needed to live! Rose's hearing evaluations at her first few weeks of life were inconclusive, followed by more testing that showed that Rose was unable to hear many sounds if any at all.
At 10-weeks-old, we were told that the anatomy of Roses ears was 'disabled.' Her ear canals so tiny and one almost seemed fused shut. After an MRI, we were told that one eardrum was virtually nonexistent and the other didn't seem to respond to sound. We were to follow up with audiology further once back in our home state.
I had been online following families and their beautiful children with the diagnosis of Trisomy 18 since my pregnancy. I noticed that many of the children wore these elastic head bands with a little oval piece protruding out. I quickly learned this was called a Baha Sound Processor on a Softband. This little head band helped them hear! I started to develop these questions for our audiologist:
'How can we get a Baha Softband for her?
When can we get this so our baby can hear us?1'
The Baha Softband as a solution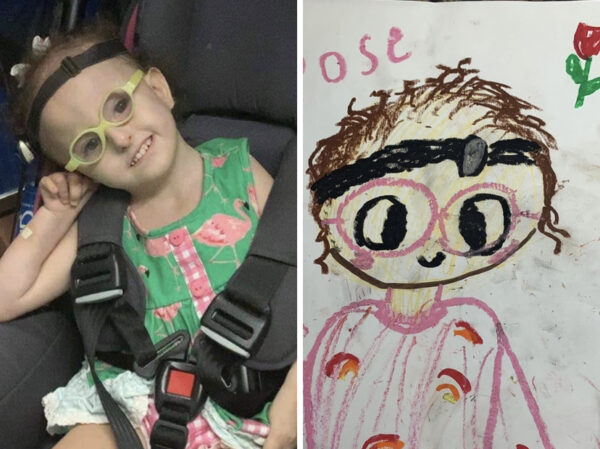 I was determined to get this for her as I knew that with her list of limitations as a child who was nonverbal, non-ambulatory, not hearing speech and spent her first months of life in intensive care, I knew that hearing would be helpful in her development both cognitively and socially.
We were initially told that the Baha Sound Processor would not be helpful for her type of hearing loss. I was crushed, confused and concerned. So many of her peers had them, why can't she? We pushed it further as we saw the Baha Sound Processor helping so many young children.
When Rose was 20 months old, she had a sedated hearing test. I will never forget the day: two audiologists came to meet with me after. They began with sharing the anatomy of her ear and then said that she would not do well at this point with hearing aids. That her ears and canals are so small the practicality of them working or fitting were near impossible. I hung my head; I so wanted her to hear but I was already told that the Baha Sound Processor was not going to help and now hearing aids weren't an option.
I so wanted my daughter to hear my voice! I wanted her to hear sounds of this beautiful world. Music, her siblings, birds, heck even the chaotic beeps and sounds she was around often due to her devices for feeds and oxygen. I wanted her to know the sounds of her world, her family and her own sweet coo's. A lady put her hand on my arm and said: 'we think she will benefit nicely from a Baha Softband.' With tears on my cheeks, I began to giggle and shake with joy. What wonderful news!
Rose is given the gift of sound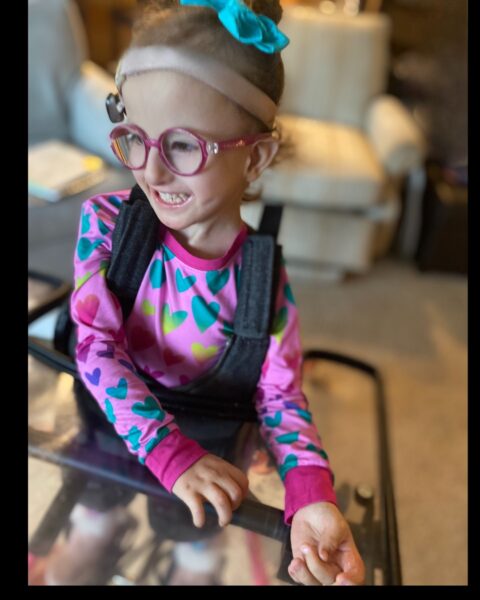 A few weeks later Rose was able to receive her Baha Sound Processor on a Softband! We were so happy! By her second birthday she was able to have the gift of sounds!
When Rose first received her Baha Sound Processor, the audiologist had me hold her and we placed the band on her head; once I closed the little door and heard three dings I gently said 'Rosie…' her little eyes focused, her pupils widened, she went very still. 'Rosie hello sweetie, it's mama,' she moved a bit then became still again and then, a big smile. She heard me. It was a wonderful day. The Baha Sound Processor brought her sounds and she responded very well!
Her eye contact improved, her focus on books and pictures also improved. She loves music and can now dance and rock to the beat. She has started to babble more and move her tongue and mouth more which also helped in her occupational therapy and feeding therapy. Rose loves hearing her siblings as they play with her. They loved getting to look her in the eyes and say 'I love you Rosie' for the first time.
Rose is now almost 5-years-old and we get to say 'I love you' daily, nightly and all the in between. She loves it! She leads a beautiful life. Full of all sorts of sounds and experiences! Her social skills and communication skills are doing wonderfully. Her quality of life and developmental progress is heightened by her Baha Sound Processor on a Softband – we are very grateful and hope that the Baha Sound Processor on a Softband helps children have the gift of hearing as soon as possible!
Thank you for this wonderful device that is giving our daughter the gift of hearing!"
If your child has been diagnosed with Trisomy 18 or Edwards syndrome, learn how a Baha Sound Processor on a Softband may increase their access to sound.
In the United States and Canada, the placement of a bone anchored implant is contraindicated in children below the age of five. In the United States, the placement of an Osia System is contraindicated in children below the age of 12. In Canada, the Osia System is indicated for children ages five and older.