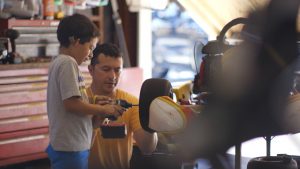 Whether your child has had a Baha system for five days or five years, there are simple steps you can take to make sure the processor remains in top shape. Here are 12 tips to ensure your child can hear their best every day:
Tips for post-surgery care:
1. DON'T rub the implant area dry. Instead, gently pat it with a towel to avoid irritation.
2. DO wash your child's hair carefully and use an alcohol-free abutment cleaning wipe to keep the skin clean. Maintain good daily hygiene to avoid redness or soreness.
Tips for Baha® Connect abutment care:
3. DON'T let dirt get into the abutment, and don't leave any hair wrapped around the abutment. Use the press-on abutment cover whenever your child is not wearing the Baha sound processor.
4. DON'T ignore soreness or inflammation – contact your health care professional right away if your child is sore or if the abutment feels loose.
5. DO clean the outside of the abutment daily using mild soap and plenty of warm water. Clean the inside of the abutment weekly using the abutment cleaning wipe.
Tips for Baha® Attract magnet care:
6. DON'T place any other magnets (e.g. fridge magnets) over the implant.
7. DO keep the magnet away from magnetic cards (e.g. credit cards, bus cards, etc.) as the magnetic strip may be affected.
8. DO keep the magnet clean by using a soft wipe.
Tips for Baha® Softband care:
9. DON'T tumble-dry your child's Softband.
10. DO hand-wash the Softband in hot water (40°C or 104°F) and leave it to air-dry.
Caring for the Baha sound processor:
11. DON'T leave the battery inside the Baha sound processor after use, as this drains battery life
12. DO clean the sound processor regularly with a sound processor cleaning wipe and clean the snap with the small sound processor brush
Contact your healthcare provider if you suspect your child may have a medical condition such as severe skin irritation or infection. If you have additional questions about maintaining your child's sound processor, check out these lifestyle tips for parents.